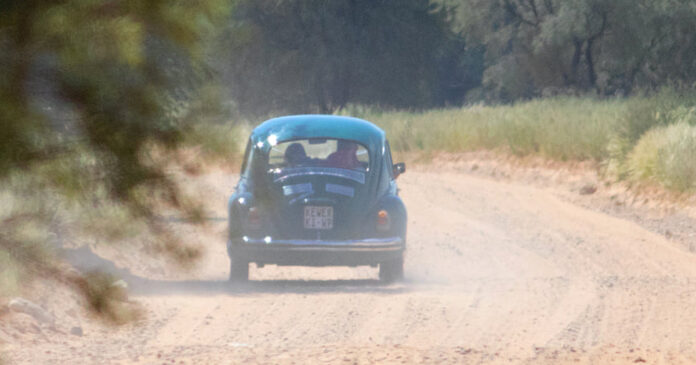 A romantic honeymoon in Kgalagadi Transfrontier Park in the Kalahari, South Africa, nearly turned into a heart-stopping disaster when the newly wed couple's gorgeous 1970s VW Beetle wouldn't start. And there just happened to be two lions only a couple of metres away from them.
The kind Samaritan who ingeniously managed to help them, shared the story to the Kgalagadi Sightings Facebook group yesterday, as he was trying to track down the couple.
Tinus Lamprecht from Cape Town, said he met the newlyweds earlier this week, on Monday. They had married on Saturday and were on their way to Urikaruus for their honeymoon, with celebratory ribbons still dangling from the front of their bonnet to the doors.
"We first chatted near Auchterlonie and about 20 minutes later met up with them again at Batulama where they were watching 2 lions about 2 meters away from them on the right hand side of the road," wrote Tinus. "After taking our photos, we parked next to them and that's when they shared their problem… their little Beetle (personalized plates of Kewerkie1.WP) had flooded and after too many attempts to restart it, the battery was now completely flat."
Tinus had a tow rope in his car but none of them wanted to volunteer to get out of the car to attach it to the VW "as the lions were right THERE next to the VW."
So, like all good South Africans, they made a plan!
"New hubby put ignition on, VW in 2nd gear, clutch in and I gently put my bull bar against their chrome bumper and slowly pushed them away from the lions, we gained momentum and he dropped the clutch, Kewerkie fired up and off they went on their honeymoon waving their thanks as they raced off into the dust…"
Apart from over 1,500 people liking the story on Facebook, there has been an outpouring of messages shared from others with similar stories of honeymoons in their beloved VW Beetles, and holidaying in the stunning Kgalagadi. One expat told of her honeymoon in a beetle in the '70s when they too broke down in the park. There were no animals around thank goodness, but apparently lots of snow! They're still happily married 49 years later.
It wasn't long before others identified the couple – Jaco and Michelle Delport – whose Beetle is apparently named Green Charlie! Tinus reports he's now been in touch with them.
We wish Jaco and Michelle many wonderful years of marriage and adventure together!
P.S. The lions apparently didn't even open their eyes!