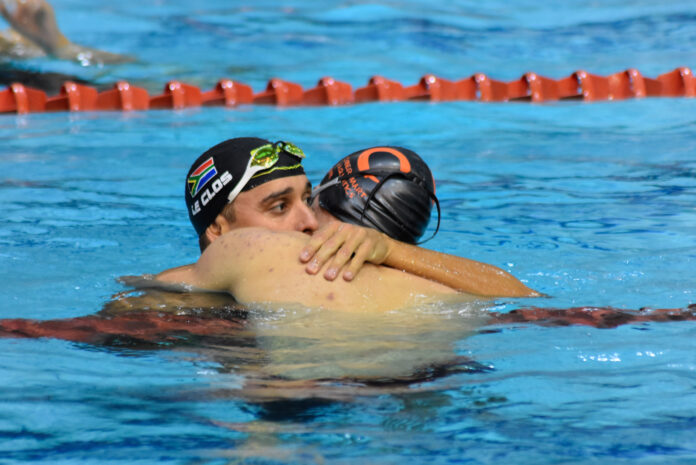 South African swimming champion Chad le Clos has won the battle of the ages, claiming the men's 200m butterfly title at the National Championships being held in Gqeberha (formerly Port Elizabeth) this week.
It's incredible to be referring to Le Clos as 'the senior' as he was still only 20 when he pipped Olympic legend Michael Phelps to win 200m butterfly gold at the 2012 London Olympics, but here he is, days short of his 29th birthday, a South African champion again.
In winning in an Olympic qualification time of 1min 55.88sec he had to fend off the challenge of the 17-year-old Ethan du Preez, who could not be happier with his silver medal in an Olympic qualification time of 1:56.44. The bronze in the event was claimed by Ross Hartigan in 2:01.73.
In the men's 100m freestyle final, Matthew Sates won with a time of 49.29, just 0.72sec short of the required 48.57, with Matthew Bosch and Douglas Erasmus rounding up the medal podium in 50.65 and 50.77, respectively.
Erin Gallagher just missed out on an Olympic qualification time in the 100m freestyle when she sprinted to the gold medal in 54.89, 0.51sec off the required 54.38, while Aimee Canny finished a close second in 54.91 and Emma Chelius was third in 55.04.
It was gold for Dune Coetzee in the 200m butterfly, touching the wall in 2:13.87, over 2.77sec ahead of Trinity Hearne in 2:16.64 and Leigh McMorran in 2:19.09.
In the multi-disability section, Kat Swanepoel (S2) was over the moon with her Paralympic Qualification and new South African Record time of 2:14.78 in the 100m backstroke, while Paula van Zyl won the silver in 1:28.33.
Swanepoel (SB2) also went on to break another SA Record, this time in the 50m breaststroke, where she shattered S. Shannon's 2005 time of 4:20.93 by clocking 1:16.79, while Paralympian Alani Ferreira (SB13) broke her own 2020 SA Record of 39.92 to win the event in 39.13.
Silver medallist Cornelle Leach also broke her old SB12 50m breaststroke SA Record in 40.18 during the morning heats, to her 2019 time of 42.58.
Christian Sadie (S7) posted his first Paralympic Qualification time of the competition, clocking 1:15.01 in the 100m backstroke, ahead of Matthew Moss (S9) in 1:17.09, while in the S13-14 category race, it was Aaron Putz (S14) and Ethan Paulse (S14) that won the gold and silver in 1:13.04 and 1:13.44, respectively.
Sadie also managed a new SA Record in the 100m backstroke heats session, dipping under his own time of 1:17.15 to 1:14.67.
Putz also claimed the gold in the 50m breaststroke in 35.64, while Kaleb van der Merwe (SB8) took the honours in the S1-13 category in 39.87. During the morning heats session, Van der Merwe broke his own 2017 SA Record of 38.70, posting a new time of 38.57.
Michaela Kretzen (S14) scooped the gold in the S14-15 100m backstroke and 50m breaststroke in 1:26.15 and 46.50, respectively.
UPDATED OLYMPIC QUALIFIERS
Chad le Clos (200m butterfly) 1:55.88
Ethan du Preez (200m butterfly) 1:56.44
PARALYMPIC QUALIFYING TIMES
Christian Sadie (S7) 100m backstroke 1:15.01
Kat Swanepoel (S2) 100m backstroke :14.78
Source: TeamSA