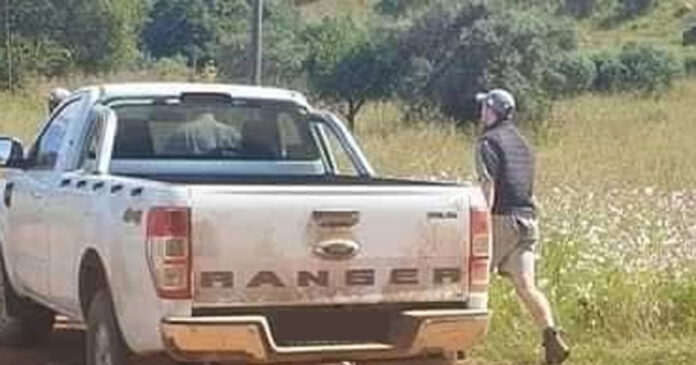 Following the murders of two men, believed to be brothers, near Mkhondo (Piet Retief), the devastated family has called for a thorough investigation. AfriForum has also called on the public to remain calm and refrain from spreading their own assumptions about the four murder suspects. AfriForum urged people to wait for a thorough investigation since so many different versions have already circulated that it's difficult to know which is the truth, they say.
The four murder suspects were arrested in Dirkieskop on Friday for the murder of the two men, as well as on other charges including the assault of a third man.
The incident took place last Friday. A photo of the scene went viral in which two bodies were seen lying on the ground next to a vehicle. The murders have again raised interest in the EFF's attempt last year to have an ad hoc committee investigate the living conditions of farm workers in South Africa. The ANC blocked the EFF's motion in Parliament in November 2020.
Today Ernst Roets, Head of Policy and Action at AfriForum, said there are several versions of what happened during the incident.
"Emotions are running high without any certainty on what really went down," said Roets. "The fact that two people were killed and one hospitalised is regrettable. There is however too little verified information available to make conclusions about what really took place. The different versions also vary to such an extent that it would be irresponsible to simply come to conclusions and publish it as the truth without having all of the facts."
The murdered men – Mgcini Coko (36) and Zenzele Coko (39) – were allegedly searching for jobs on a Bampoen farm that belonged to one of the accused, according to Mpumalanga police spokesperson Colonel Donald Mdhluli.
The four suspects, who appeared in court yesterday, are Orchard Klingenberg (53), Danie Malan (39), Cornelius Greyling (25), and Ignatius Steinberg. The case has been postponed until 19 April.
Mdhluli said in a statement that the murdered men had been part of a group who had gone to the farm in search of seasonal work.
"It is said that the farm owner informed these men that they are not welcome on his premises. It is said that those who came to ask for employment then decided to leave the farm, but later realised that one of them was left behind. They then went back only to find that he was kept at the farm by the suspects.

"It is said that as the men demanded that they let him go, a scuffle broke out where two men were reportedly shot and died at the scene. Three other men sustained serious injuries."
According to Time's Live, Mpumalanga's premier said this wasn't an isolated incident and that Greyling is "allegedly involved in an incident where another person was fatally assaulted at the farm".
Refilwe Mtshweni-Tsipane said there are other cases in the region too, and that "we are saying enough is enough".
A Mpumalanga family in Mkhondo is seeking justice. This after two of their loved ones allegedly died at the hands of a farm owner. Newzroom Afrika's @mwelimasilela has the details.#Newzroom405 pic.twitter.com/kEhvzUCEeH

— Newzroom Afrika (@Newzroom405) April 11, 2021