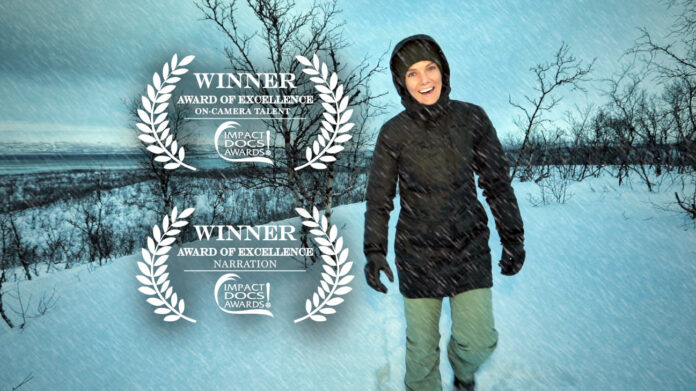 Fabulous South African filmmakers Susan Scott and Bonné de Bod have scooped multiple awards at an international festival for their latest enchanting film, Kingdoms of Fire, Ice & Fairy Tales (available to view on Showmax).
Known for their acclaimed first film STROOP, which documented South Africa's rhino poaching crisis, director Susan Scott and television presenter Bonné de Bod, took an entirely different approach from their investigative filmmaking by embarking on a quest to film earth's epic wild spaces.
Kingdoms takes place in pristine wildernesses ranging from the world's greatest national park, Yellowstone to the iconic Black Forest and then to the frozen lands of the Arctic Circle.
Held in the United States, the Impact DOCS recognize exceptional achievement in craft and creativity in documentary films. Receiving entries from 30 countries, the Impact DOCS awarded Best Documentary, Cinematography, Script and Title design awards to Kingdoms. But that wasn't all…
The two stand-outs were Awards of Excellence given to Bonné de Bod for her on-screen presenting as well as for her narration of Kingdoms of Fire, Ice & Fairy Tales.
The film's director, Susan Scott was delighted with de Bod's recognition, saying:
"This is an incredible achievement as there were films narrated by Hollywood heavyweights Woody Harrelson, Liam Neeson, Samuel L. Jackson and Juliana Margulies at this year's Impact DOCS! So this award for her narration as well as her presenting recognizes her gift, her ability to connect with viewers no matter where she is in the world."
Acclaimed film critic Leon van Nierop added:
"Kingdoms is breathtaking, but it is the enthusiasm and respect with which Bonné de Bod observes nature, that makes it so remarkable. The way in which she almost becomes one with the landscapes, is what is the driving force behind this film."
Earlier in the year, Kingdoms of Fire, Ice & Fairy Tales was awarded Best Travel/Nature Documentary at the New York Cinematography Awards. The film has also been officially selected for half a dozen film festivals worldwide. Most notably in the United States, Kingdoms premiered at the prestigious Jackson Wild and Kingdoms and Kingdoms is also nominated at the upcoming International Wildlife Film Festival (IWFF) for Best Feature Documentary.
The IWFF has chosen 65 films for their festival this year with Kingdoms picked for their feature event on May 8th, a large public outdoor screening at the Ogren Baseball Park in Missoula, Montana.
The magazine Supernova has just featured the film in an 8-page article, so a special edition will be handed out at the Ogren Park IWFF event.
Kingdoms of Fire, Ice & Fairy Tales first premiered on Showmax in December 2020 (available to view for SA expats too in most countries), and will be broadcast on M-Net's Movies 1 (DStv104) in May 2021.
The premium DStv channel will continue broadcasting Kingdoms throughout the month and into June. CEO of General Entertainment at Multichoice Group, Yolisa Phahle said recently that, "in our quest to remain Africa's most-loved storyteller, innovation and quality will always be key. Local movies will also play an increasingly important role, alongside handpicked Hollywood films."