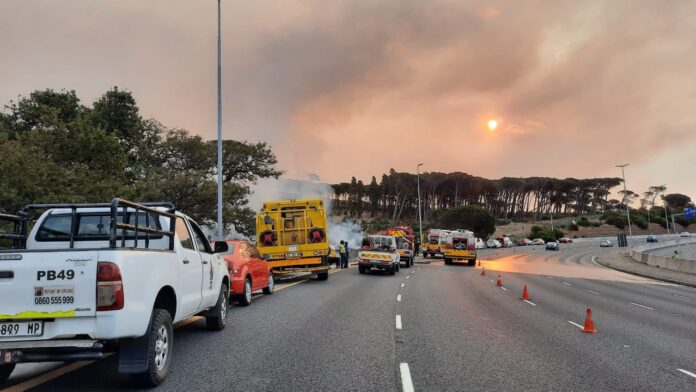 Two firefighters have been injured in today's horrific fire that has raged in parts of Table Mountain. The wildfire has also destroyed some of South Africa's heritage buildings in Cape Town, including several buildings on the University of Cape Town campus.
"Unfortunately two firefighters have been injured and taken to hospital," reports Anton Bredell, the minister of Local Government, Environmental Affairs and Development Planning in the Western Cape. Bredell said between 150 and 200 firefighters have been on the fireline today.
Injured fire fighters. Lord save Cape Town ??? #tablemountain #capetownfire #uctfire pic.twitter.com/a5nUEm64WL

— Nandz ?? (@QueenNands) April 18, 2021
Four helicopters have been waterbombing the firelines and teams from the City of Cape Town, Working on Fire and SANParks are continuing to work non-stop to bring the fire under control, according to Bredell. They will continue their firefighting efforts throughout the night, although Working on Fire (WoF) has tweeted that "after flying from 10am to 6pm aerial resources have been stood down".
WoF reports that firelighters from the Mamre and Helderberg Teams have arrived in Newlands for the night. "Tomorrow morning they will be relieved by The Hotshot Crews from Newlands and Wolwekloof as well as the False Bay Team for the day. 80 firefighters in total," said WoF.
Provincial disaster management continues to monitor the ongoing fire, and support the City of Cape Town and its partners, said Bredell.
In an update this evening Alan Winde, Western Cape Premier, confirmed that the fire on the slopes of Table Mountain National Park continues to burn. He said:
"The fire which started around 08h45 this morning close to hospital bend, moved up towards Rhodes Memorial and then towards the University of Cape Town upper campus. Students living on campus have been evacuated. The city is working with the University in coordinating alternate accommodation for affected students."
Bredell says the fire jumped the M3 earlier this afternoon and caused some damage to infrastructure including destroying the historic Mostert's Mill next to the M3.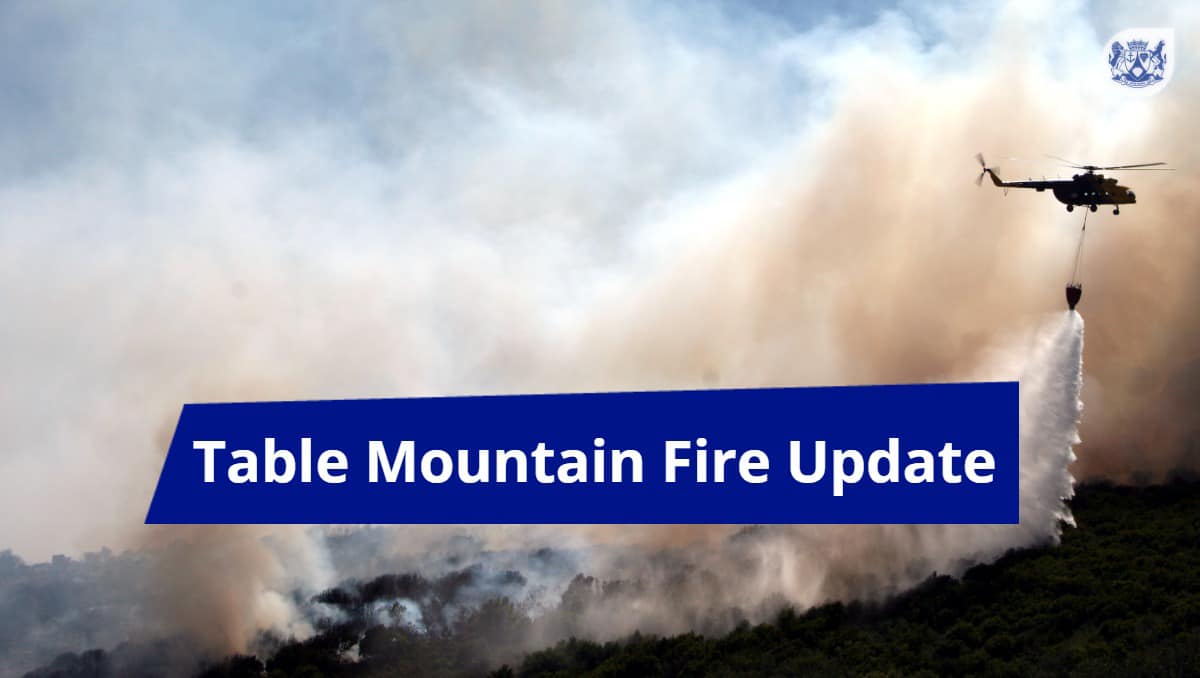 Full damage reports remain a work in progress with the priority currently active firefighting efforts. Bredell says:
"The public is urged to avoid the area and allow the authorities to do their work. The city has not called on any residents to evacuate. The public will be alerted immediately should the situation change and any evacuation be needed."
What caused the fire on Table Mountain in Cape Town today?
The cause of the fire has not yet been officially disclosed. We are waiting for confirmation.
Tips for Residents
Residents in the vicinity of the fire are advised to take some precautionary steps including:
?Remain Hydrated.
?Keep windows and doors closed until further notice as protection against smoke and heat.
?Keep pets indoors where possible.
?Move garden furniture that is flammable under cover where possible.
?If the situation gets worse, residents will be alerted timeously.
In the event of an emergency please contact:
?City of Cape Town Emergency Services Landline: 021 480 7700 Cell phone:107
?Provincial Emergency Number – 112
?Table Mountain National Park – 021 957 4700
#FireUpdate: After flying from 10am to 6pm aerial resources have been stood down.

The fire is ongoing. #WOF_WC pic.twitter.com/JA20PNFcIu

— Working on Fire (@wo_fire) April 18, 2021
WATCH UCT Library in flames and how to help the firefighters and students