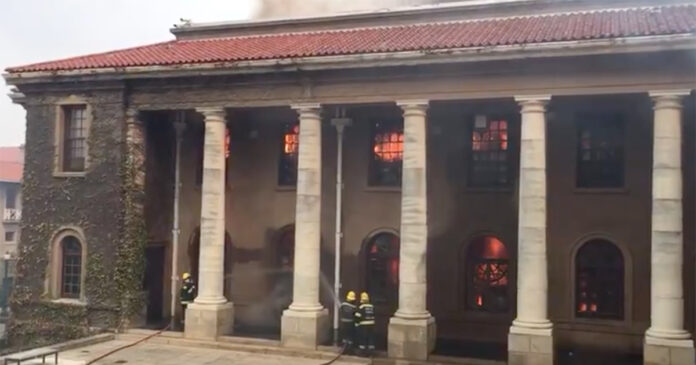 Over a century of history has gone up in smoke as the University of Cape Town's library is the latest victim of today's horrific fire on Table Mountain, South Africa. Other buildings as well as several vehicles have also gone up in flames. According to a witness the fire has now spread to the other side of Devil's Peak too, but it appears the wind has fortunately started to die down.
WATCH Video of UCT Library in flames.
Unbelievable — the UCT libraries with priceless rare books is being gutted by the #CapeTownFire (Video from WhatsApp) pic.twitter.com/7RI4dsxD3U

— Kimon de Greef (@kimondegreef) April 18, 2021
UCT Professor Anton Eberhard also posted photos of the historic Mostert's Windmill (1796) which has been another casualty of the fire today, along with the tearoom at Rhodes Memorial Restaurant. The windmill in Mowbray was the only surviving and complete windmill from that era.
According to the Cape Argus, UCT residences and upper campus building are also currently burning.
HWP building near Jammie Steps is on fire. Video: @Traceyleighadam
UCT students have been evacuated- @UCT_news #capetownfire pic.twitter.com/9Jm4CR7YHn

— Weekend Argus (@WeekendArgus) April 18, 2021
The fire is believed to have begun at around 08h45 on Sunday morning. Firefighting services, including three helicopters, have been fighting the fire all day.
Evacuate Evacuate! Students evacuated
UCT students were earlier evacuated by emergency services support staff. (Watch video of UCT students evacuation here.) Stranded students have now been housed. Mmusi Maimane's One SA Movement was one of the first to secure emergency accommodation for some of the students.
UCT said: "PLEASE NOTE: All UCT students have been evacuated from campus by emergency services support staff. We have taken them to pre-determined locations. We will continue to work with & support Sanparks & the City of Cape Town to extinguish this fire. Please stay safe first & foremost." (However some students have said on Twitter that they have not yet been housed.)
Besendisith we going extinct…this happened right in front of me #capetownfire pic.twitter.com/6ngYIqDDjB

— Ncumisa Garishe (@GarisheNcumisa) April 18, 2021
House on fire, Cape Town
There are also reportedly houses on fire in Newlands:
Houses on fire in Newlands. This is so scary. Footage by Anton Crone on IG https://t.co/VFcII1U4wN #capetownfire pic.twitter.com/58mdbL5CqZ

— Diana (@miss_moss) April 18, 2021
If you would like to help at the Cape Town Fires:
Please consider donating to the Volunteer Wildfire Services heroes.
Drop off supplies (eg. water, energy drinks, energy bars, light snacks and sandwiches) at Woodstock fire station, Lakeside/Sea Point/Roeland stations. Please do not go to the fire or command line.
If you'd like to open your home for students in distress – click here. (Link supplied by Mmusi Maimane)
If you are a student who needs somewhere to stay, please click here. (Link supplied by Mmusi Maimane)
Spar Rosmead has donation trolleys (and they're also matching all donations made).
Please don't take video – please stay away from the affected areas and let the firefighters do their job.
These people risk their lives to save lives ??????#capetownfire table mountain UCT pic.twitter.com/7vfb4zCAVt

— ㄥ乇乇 (@LeeCore_) April 18, 2021
UCT Library up in flames video
According to UCT's website, the University Libraries – a rich storehouse of information – celebrated its centenary in 2005. It was in 1905 that the SA College "set about establishing an organised library on its premises in Orange Street, Cape Town. The seed for the Libraries was first planted in 1829 when the founders of the South African College expressed their determination to establish a library for the use of students and begged the public to donate books and money to this end."
Heritage and priceless rare books went up in flames today, including the Great IsiXhosa Dictionary…
Heritage went up in flames today?. The Great IsiXhosa Dictionary as well as both Isigidimi Sabantsundu & Izimvo Zabantsundu were housed right there at Special Collections library. Just like that, it went up in smoke. Thoroughly heartbroken by this. #capetownfire pic.twitter.com/vSaMEu69lt

— Akha Tutu (@AkhaTutu) April 18, 2021
Historic Mostert's Windmill (1796) another casualty of the fire raging around the University of Cape Town pic.twitter.com/e0rT0KImrc

— Anton Eberhard (@AntonEberhard) April 18, 2021
Respect and gratitude for our amazing fire fighting teams#capetownfire pic.twitter.com/ZBVdOIA18t

— Sam Linsell ???? (@drizzleanddip) April 18, 2021
Attention- if you are a student who is stranded because of the #capetownfire the @OneSA_Movement has secured some emergency accomodation.

The details are in the poster. Capacity is limited. pic.twitter.com/tLUPsthV7L

— Mmusi Maimane (@MmusiMaimane) April 18, 2021
A powerful picture.

Strength to our firefighters trying to contain the Table Mountain fire #capetownfire pic.twitter.com/GrBxudJUIp

— Maggie (@Magdeline_MM) April 18, 2021
Madness #capetownfire pic.twitter.com/wOVWDYUfGj

— Robyn Silverstone (@RobsSilverstone) April 18, 2021
How misleading!?
If you can pick up a student and take us somewhere else please do! Many are on the street. #capetownfire https://t.co/E1meidqzwz

— Donell (@D_o_n_e_l_l_) April 18, 2021
My car has been destroyed in the fire with other vehicles and the restaurant, but thank God we are safe ? Never have I experienced a fire that spread so unpredictably fast. I have so much respect for our firefighters ???? Thank you ? #capetown #fireforce @wo_fire @cptfrs pic.twitter.com/MK6iEGgENy

— Lisette Lombard (@LisLombard) April 18, 2021