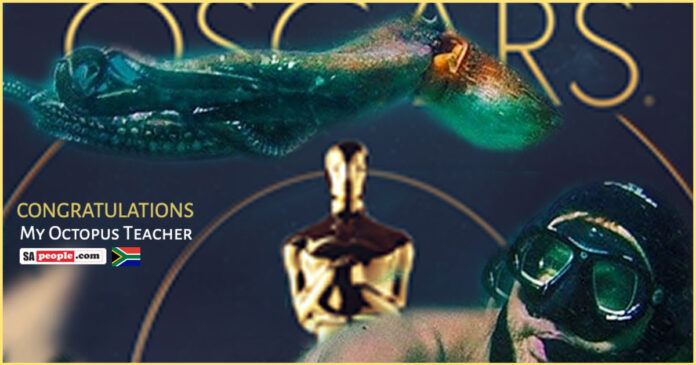 My Octopus Teacher has WON the Oscar! A huge win for South Africa's tiny octopus. Whoop whoop! The mesmerising underwater doc, which was filmed in the Cape Peninsula waters, emerged as the winner of the Best Documentary Feature category at the 93rd Academy Awards last night. The film charts the special relationship a man develops with a little octopus… who sadly died before the end of the film, but not before she captured the hearts of all who view this beautiful cinematic piece.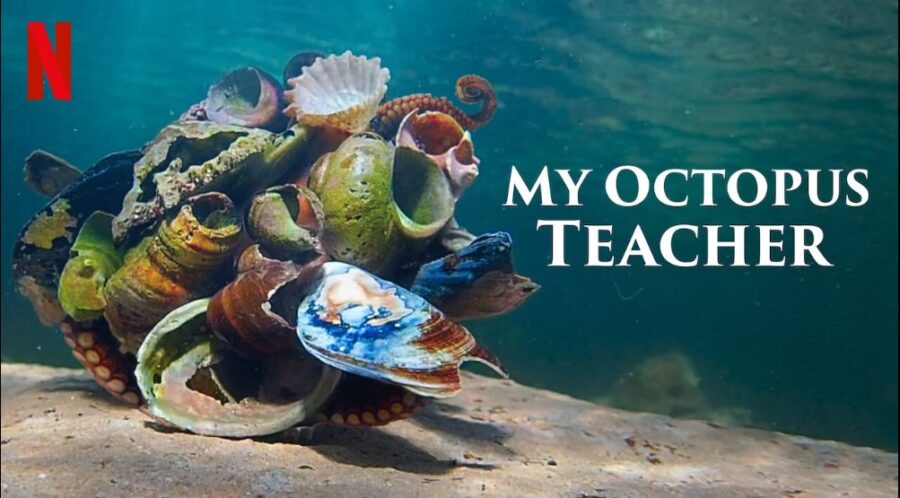 The film took a decade to complete, and started as a personal video project for SA filmmaker Craig Foster during a challenging time in his life. Together with co-directors Pippa Ehrlich and James Reed, he went on to create a moving story that has been hugely popular on Netflix internationally, and was South Africa's first Netflix Original Documentary.
Pippa said:
"I know there are many South Africans awake watching right now. In many ways this really is a tiny personal story that played out in seaforest at the very tip of Africa, but on a more universal level I hope that it provided a glimpse of a different type of relationship between human beings and the natural world."
James added that Craig "kind of showed us if a man can form a friendship with an octopus, it does sort of make you wonder what else is possible."
Speaking to News24 before the Academy Awards show, Pippa said: "I'm feeling grateful and overwhelmed and amazed and proud. Very proud as a South African especially. I do have this feeling that the whole of South Africa is behind us. It's a huge privilege to feel like I'm representing this place that I love. So that's amazing."
Craig says he is so "honoured" that the film has won this award, and that it was true teamwork (although much of the filming underwater, he did on his own) – "a group of dedicated people from South Africa and all parts of the world who put their hearts and souls into making this film".
Craig said he is most excited that this is all helping the kelp forest – recently rebranded as the Great African Sea Forest – get on the world map. "It's one of the most biodiverse places on the planet and it's absolutely critical that we look after it," he said. He said this award and exposure will go a long way to "warming the human heart to the incredible wonders of our natural system and how critical they are for our human survival".
President Cyril Ramaphosa praised the film last week, and said: "Conservation of our natural world, and our oceans in particular, is a national priority for South Africa. This documentary has opened a window into the natural beauty and diversity of South Africa's oceans and marine ecosystems. Importantly, this documentary will encourage a greater appreciation and advocacy for marine conservation at a time when ocean degradation is a growing global problem."
My Octopus Teacher has also won a BAFTA award, and a Producers Guild of America award, as well as a nomination from the Directors Guild of America.
Several famous people have given glowing reviews to the film on their social media pages, with the best – for Ehrlich – being Jane Goodall's revelation that her favourite films are 'Lord of the Rings' and 'My Octopus Teacher'.
WATCH Trailer: My Octopus Teacher (South Africa's Oscar-Award Winning Documentary)