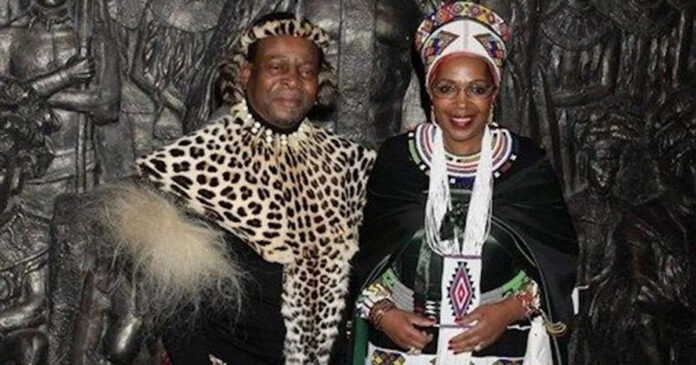 The Zulu Queen,
Her Majesty
Queen
Shiyiwe Mantfombi Dlamini
Zulu, who stepped in just over a month ago as the interim Regent of the Zulu nation following the death of her husband, King Goodwill Zwelithini ka Bhekuzulu, has herself died. She was 65-years-old.
On Thursday night, Prince Mangosuthu Buthelezi, founder of the Inkatha Freedom Party and traditional prime minister to the Zulu monarch, said: "It is with the deepest shock and distress that the Royal Family announces the unexpected passing of Her Majesty Queen Shiyiwe Mantfombi Dlamini Zulu, Regent of the Zulu Nation."
Earlier this week, on Tuesday, the family had confirmed the Queen had been admitted to hospital, but said she was recuperating. At the time, her brother-in-law Prince Mbonisi Zulu told local reporters that the family were not shocked when she was admitted because "she had been unwell for s long time". He did not reveal the nature of her illness.
Tonight, Prince Buthelezi said: "This has taken us by surprise and left us utterly bereft. It is true that the Lord alone knows the days that He has allotted to each one of us.
"On behalf of the Royal Family, I wish to assure the nation that while we are all rightly grief-stricken, there will be no leadership vacuum in the Zulu Nation."
According to reports, the successor is likely to be the King and Queen's eldest son Prince Misuzulu (47).
Buthelezi said: "Further announcements on Her Majesty's funeral and the necessary arrangements will be made in due course. May Her Majesty, our Regent, rest in peace."
Queen MaDlamini Zulu had married King Goodwill Zwelithini in 1977, becoming his third wife. They had eight children – five sons and three daughters. She came from royalty, with her brother being Eswatini ruler (formerly Swaziland) King Mswati III.
King Zwelithini ka Bhekuzulu, who was 72, died in hospital last month on 12 March after being admitted for treatment for diabetes. Under his will, his wife was appointed regent pending the installation of a successor.
The Zulu are South Africa's largest ethnic group, accounting for around a fifth of the country's population, most living in the coastal province of KwaZulu-Natal. The monarch has no formal government powers but upholds Zulu tradition and controls millions of hectares of land through a trust.
KwaZulu-Natal Premier Sihle Zikalala called the news "heart-wrenching" and said the Queen was a bridge between the Zulu and eSwatini nations. He called her leadership role an inspiration for women, which helped to "administer the final burial rites to the backward, patriarchal and chauvinistic tendencies that considered women as inferior beings".
In a statement, President Cyril Ramaphosa said:
"Personally and on behalf of government and all South Africans, I offer my sincerest condolences to the royal family and the Zulu nation.

"We extend our thoughts, prayers and hearts once more to the royal family who, in the midst of mourning the passing of the beloved King, are now called upon to bid farewell to the Regent in sadly short succession.

"We stand by the royal family and the nation in this hour of compounded grief."
(Reporting by Jenni Baxter/SAPeople and Nqobile Dludla/Reuters; Editing by Peter Graff/Reuters)
Prince, King then Queen… I'm too Zulu to think this is a coincidence!! https://t.co/4BsQpKleS2

— iLife-Bigger than us! (@_sinegugum) April 29, 2021
Always and forever will be our Swati Princess. Rest In Peace LaDlamini, Queen of Zulu.
Queen Mantfombi Dlamini Zulu. pic.twitter.com/j0xRFZRYDN

— Warden of the North (@Retarded_Ape) April 29, 2021
Meanwhile the BBC frustrated many readers with a typo on 'regent' which said 'recent' instead. They have since updated the article on their website, but have not deleted the post from Twitter yet:
Zulu Queen Mantfombi Dlamini dies a month after becoming recent https://t.co/52UFLk75tq

— BBC News (World) (@BBCWorld) April 29, 2021