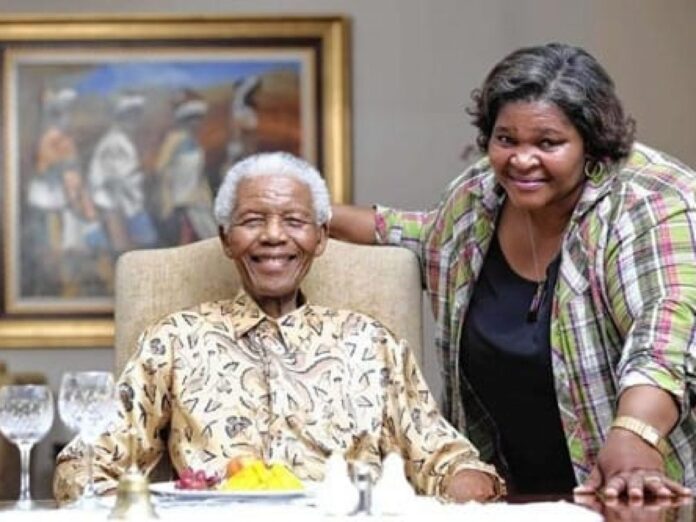 Xoliswa Ndoyiya was Nelson Mandela's private chef for 22 years, from the time he was released from prison until his death in 2013.  Madiba always treated Xoli more like family than an employee – even paying for her children to go to school and asking her to look after his grandchildren.
Xoli often travelled with Mandela and his wife Graca and cooked for many heads of state, politicians and celebrities including Princess Diana and Oprah.
Xoliswa even brought out a cookbook in 2011 called Ukutya Kwasekhaya (isiXhosa for "home cooking"), which is filled with recipes of Tata Madiba's favourite dishes from around the world as well as typical South African dishes – many of them with stories and special memories attached.  The secret ingredient? Always love.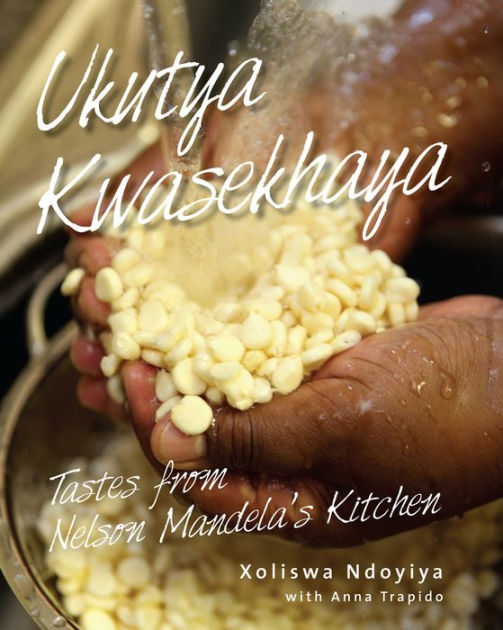 Recipes include a butternut squash soup, which Xoliswa prepared for his wedding to Graça Machel on his 80th birthday as well as the lamb bredie that was smuggled in to prison for Mandela and his comrades by his lawyer!  It even includes koeksisters (a type of Afrikaner doughnut in syrup) – which he shared with the widow of Apartheid Prime Minister HF Verwoerd soon after his release – in an incredible act of reconciliation.
However, it is well known that Madiba was a man of simple tastes so the book also includes traditional Xhosa foods such as amahewu (a fermented maize drink), umsilo wenkomo (oxtail stew) chakalaka (spicy relish) and umfino (porridge with spinach). It also includes handwritten notes from Mandela himself and Oprah.
Xoliswa visited London as part of the "Taste of Madiba" centenary celebration at the SA High Commission on Trafalgar Square in the run-up to what would have been his 100th birthday on 18 July 2018, along with Christo Brand, Mandela's former prison guard.
Unfortunately, in recent years, Xoliswa has fallen on tough times. When Madiba passed away in 2013 she initially went to work in the presidential kitchens as a contractor, but since that ended she has been unemployed and has struggled to find work as jobs are few and far between in rural Queenstown in the Eastern Cape.  Then Covid hit – and things got so much worse for the family.
Xoliswa sadly receives no royalties from her cookbook – but a group of expats in London who met Xoli and tasted her delicious food at that event are now trying to raise money for her family, using the last few copies of her book for raffles and hopefully a few other events/campaigns – all in the spirit of Ubuntu.
Her big dream? To ultimately start up her own catering business and run a cooking school from her kitchen to teach young children how to cook Madiba's traditional Xhosa meals and others from scratch.
Well known SAFFA expat moms Tolene van der Merwe and Claire Roadley, who have a mutual love of tourism and believe in Madiba's spirit of Ubuntu, both attended the event in London and met Xoli… and ate her delicious food.
They say: "We are trying to come up with a plan that will sustain Xoli's family long term and get her children back into school – as she is not one to simply accept handouts … be it a job – or perhaps even a sponsor to start up her dream kitchen.
"We fully appreciate that Xoli is just one person amongst the millions back home who desperately need help – but her story touched our hearts and inspired us to help.  We have also created a Facebook page for her to share her stories of Madiba and her recipes going forwards so please give  XoliswasKitchenDreams  a follow?"
HOW TO HELP NELSON MANDELA'S CHEF XOLI:
To enter of our first raffle for a copy of the cook Book send £5 per ticket via PayPal to roadleyshome@gmail.com. Xoli will get every single penny if you send it as friends and family with no fees to pay.  Just leave your name and mobile number in the note for the lucky draw. (SAPeople has known and worked with Claire and Tolene for years, and can vouch for them and their generous spirits!)
You can also buy Xoli vouchers to buy food at her local Checkers via Computicket, sending the credit immediately to her mobile phone on +27 (79)606-1395. £5 is the equivalent of their R100 voucher – so just let me know if you have done this instead so I can allocate you a raffle ticket.
Share her story – or let us know if you know of any opportunities for her.
"Xoli, our home is warm and welcoming because you have always been there. With a smile you treat our children as your sisters, our grandchildren and great-grandchildren with the love of a mother.  You welcome and serve all of our guests with distinction."
– extract from a letter written by Mandela's wife, Graca Michel.
For more information contact Tolene and Claire via the Facebook page or:
Tolene on tolenevdm@gmail.com
Claire on claire@umlingo.co.uk