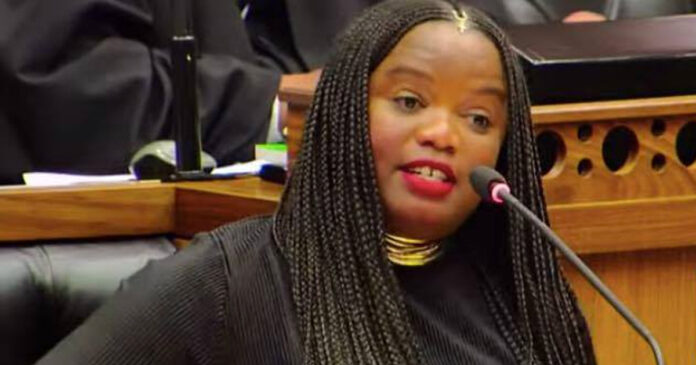 Phumzile Van Damme has resigned as a Democratic Alliance (DA) Member of Parliament (MP). In a statement issued early on Thursday evening, Van Damme stressed that her resignation has nothing to do with accusations that the DA is a 'racist party'… and is rather because "of a clique of individuals".
She said: "To be clear I will not be joining another political party, nor will I be using my time to launch attacks on the DA." Her decision, she said, was not easy to make, and was "done with a heavy heart".
However, in anticipation of any gun fights, Van Damme appeared to take the first shot, saying she would not be "drawn into any negativity that may emanate from the DA. Should the party choose to destroy my reputation and impugn my character, I will not engage in a back-and-forth. My good record of service and work speaks for itself, and I will not partake in any gun fights I am called to be part of."
The DA has accepted her resignation, and praised Van Damme for her "extraordinary service" which included "taking on Bell Pottinger, fighting for an independent SABC and her tenure as DA National Spokesperson" (the party's longest serving spokesperson from 2014 to 2018).
Van Damme posted her statement on Twitter just over an hour ago, saying "Thank you so much, South Africa".
She said she had tendered her resignation to the Speaker of the National Assembly and that in looking back she believes she had a full and life-shaping journey with the DA.
Van Damme said as an MP she worked with a "determination to always serve the people of South Africa and make this beautiful country a much better place"; and that she is happy with her career and the mark she has left on SA politics.
Van Damme said: "I leave on my own terms, having made my own decision. Nonetheless, in a climate of rumours and the need to create heroes and villains, my resignation as an MP is not because the DA is a so-called 'racist party' but because of a clique of individuals – and in order not to make the good women and men still in the DA suffer – I will not delve further into this."
With a "sore heart" she thanked the public who've stood with her. "As politicians we often forget that we are servants of the people first and foremost, and our work as public representatives is because of them and for them.
As for the future, Van Damme said she will not be conducting any interviews, and will "continue with my work on the growing dangers and influence of misinformation in society, and spend some much needed time writing my memoirs".
"You know that feeling of relief of no longer having to carry a monkey on your back" – Van Damme
Messages of support have poured in. For some it felt that Van Damme's resignation was a long time coming. A couple of hours before posting the statement, Van Damme had hinted: "I have some big news coming. Give me a few hours."
And then she tweeted: "You know that feeling of relief of no longer having to carry a monkey on your back? That feeling." Two hours later she posted her statement.
Fellow DA MP Nomsa Marchesi responded: "To see you go like this Phumz hurts. One of my saddest days! Look after yourself my friend. You are dear to me ❤"
@linley_sa said: "It saddens me that @zilevandamme is leaving politics. Brave when it was easy not to be. Outspoken when it was more profitable to be silent. A warrior with empathy. My comfort is, she is free to soar to incredible heights. Soar she will!"
IFP spokesperson and MP Mkhuleko Hlengwa said: "It has been an absolute pleasure and privilege having you as a colleague in Parliament; you have run a good race. For all that you have achieved, well done; and for all that lies ahead, all the best!"
Journalist Nickolaus Bauer tweeted: "A monumental loss for @Our_DA & South Africa. Phumzille helped bring down #BellPottinger's misinformation. She actually got @Facebook to agree to appear before @ParliamentofRSA before it chickened out. @Google still coming BTW. We clashed often. But ALWAYS I salute her."
Van Damme's 'extraordinary service' – DA
DA National Spokesperson Siviwe Gwarube issued a statement saying:
The DA has received and accepted the resignation of Phumzile Van Damme as a Member of Parliament and from the Party.

We extend our best wishes to Phumzile and thank her for her extraordinary service to the DA in Parliament and by extension, the country.

From taking on Bell Pottinger, fighting for an independent SABC and her tenure as DA National Spokesperson – Phumzile demonstrated her talent as a political communicator and a parliamentarian.

The DA wishes Phumzile well in her future endeavours.
Van Damme responded minutes ago, saying: "Thanks @Our_DA. Very kind of you."
To everyone else, she tweeted: "Thank you for your kind messages. I'll respond to each one tomorrow. Much love."
I have today tendered my resignation as a DA MP. Thank you so much, South Africa ❤️🇿🇦 pic.twitter.com/3Z1N1rSJD5

— Phumzile Van Damme (@zilevandamme) May 20, 2021