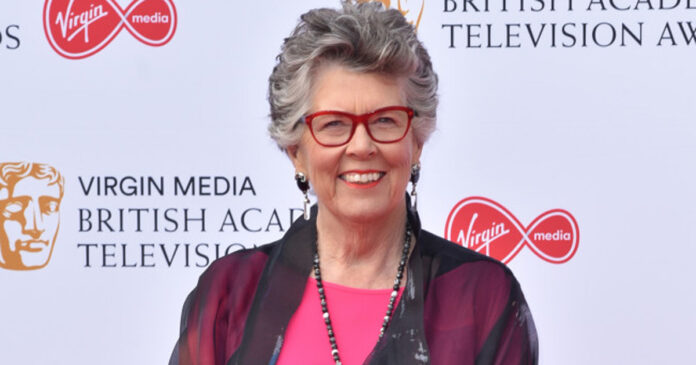 South African born and raised chef and businesswoman, Prue Leith (81) is set to be made a dame in the Queen's Birthday Honours.
The 'Great British Bake Off' star was made an OBE in 1989 and a CBE in 2010, and will now receive a damehood ahead of Queen Elizabeth II's birthday this month, according to The Sun newspaper.
It comes after Prue advised UK Prime Minister Boris Johnson on how to make hospital food healthier, after she took part in an independent review and set out a series of recommendations for hospitals.
She said: "The review provides best-in-class examples of how hospitals can serve delicious, nutritious and nicely presented meals on a budget. Food is not only important to health, but to morale.
"Hospital mealtimes should be a moment of enjoyment and a pleasure to serve. They should inspire staff, patients and visitors to eat well at home."
Boris added: "It's massively important for patients and staff to have hot, nutritious meals."
Prue – who has children Danny and Li-da with her late husband Rayne Kruger – was born and brought up in South Africa, but moved to Europe in the 1960s after leaving UCT (University of Cape Town) without a degree. She studied at the Cordon Bleu school in London and embarked on a hugely successful career in food (gaining a Michelin star with her former Leith restaurant, and publishing books) before she took over from her friend Mary Berry on the popular baking competition. She is also the Patron of the Prue Leith Culinary Institute in South Africa.
Prue says when she left SA, she had never had an interest in cooking. In an interview with Big Issue in 2018, Prue explained that growing up in SA "we had a wonderful Zulu cook, Charlie, for that. In my family food was rather like money and sex – you didn't talk about it. It wasn't until I got to Paris that I found everyone was interested in food and took it seriously."
She also discovered for the first time what life was like without Apartheid. Despite her mother – actress Margaret 'Peggy' Inglis – being a founding member of the Black Sash, and Prue thinking she was liberal, she admitted "I had no idea what a non-segregated society was like until I came to Europe. I found it quite amazing, almost shocking, the amount of black people in Paris. I could just sit down with them in public, have coffee with them." She found it wonderful but was shocked by her own "lack of awareness".
Prue attributes a lot of her success to her childhood in South Africa where she had two brothers, one younger and one older. "My mother was an actress, my father was a businessman. We were a ridiculously happy family, all very close. We didn't have a lot of outside friends, but we did a lot together as a family. I think we had an idyllic childhood. I would attribute all my success to being constantly encouraged as a child. No one treated me differently because I was a girl, I was just expected to do well."
Prue still has close ties with SA, and told Food24 last year: "There is nothing like South Africa for warmth, hospitality, beautiful scenery and lovely people."