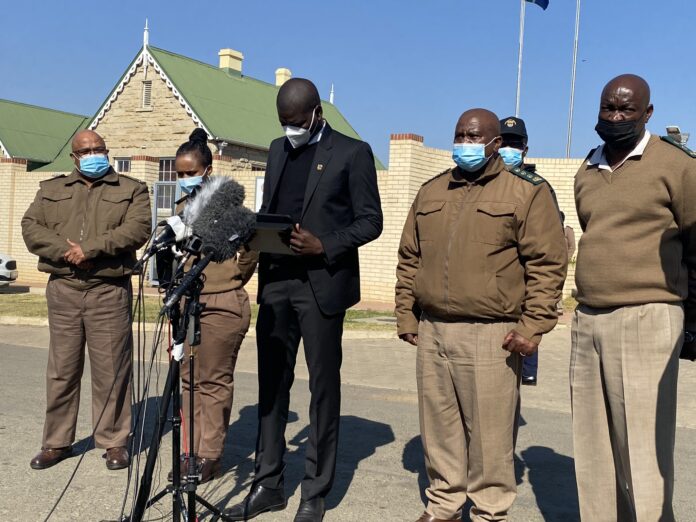 Former South African President Jacob Zuma will be eligible for parole after serving a quarter of his 15-month sentence for contempt of court.
Justice Minister Ronald Lamola said at a press briefing on Thursday (watch below) that since a stipulation for a period of no parole was not given, it automatically means that Zuma – like other inmates – would be be eligible after serving a quarter of the given sentence.
uma will be held in isolation for 14 days in line with COVID-19 protocols, Justice Minister Ronald Lamola said on Thursday, outside Estcourt Correctional Centre, eastern South Africa, where Zuma was being held.
He said: "This is not a moment of celebration or triumphalism, it's a moment of restraint and to be human."
The former president, who handed himself in to police at the Estcourt Correctional Centre late last night, will apparently not receive any preferential treatment. He will, for instance, "use a public phone just like everyone" and be assessed according to the same process as all offenders – which includes an initial immediate health check (within six hours) to ascertain any special medical needs, followed by a more in-depth holistic assessment. This is to ensure an offender's health needs are met and he receives "appropriate classification" in the facility, ensuring his incarceration is "humane" rather than retributive.
He will be held in isolation for 14 days, according to the current Covid-19 protocol.
Now that Zuma has been handed over, he is in the care of Correctional Services and no longer in the hands of the Presidential Protection Care unit. He is apparently in good spirits.
Correctional Services said the former leader will be treated with "dignity throughout his term of incarceration".
Opposition parties respond to Zuma's Arrest
DA Leader John Steenhuisen said the DA welcomes the arrest "but it's just the tip of the iceberg".
Steenhuisen said in a statement on Thursday: "This is an important victory for the Rule of Law in South Africa, and sends a message to all those who have aligned themselves with the Zuma faction and who have become emboldened by his dismissive attitude, that the law cannot be mocked and challenged with impunity. If the leader can go to prison, then so can anyone.
"Last night was a warning flare for the architects of State Capture and the handmaidens of Zuma. They must know that the DA will pursue them as doggedly as we did Zuma. And they must also know that this 15 month sentence is merely the tip of the iceberg. The contempt of court charge, while serious, does not represent his actual crimes against the people of South Africa, and we must still see justice for the charges of fraud, corruption, money laundering, tax evasion and racketeering.
"We are relieved that his eventual late night arrest went ahead without violence, despite all the bluster and war talk of his supporters and family. However, this doesn't mean we should not take their threats seriously. Zuma might be behind bars, but the RET gang still has many other senior ANC leaders in its ranks – many of whom still serve in President Ramaphosa's cabinet or occupy ANC benches in the National Assembly and other legislatures – and their fightback is guaranteed.
"Last night's arrest also confirms that, while Zuma might have done untold damage to many of our institutions of democracy throughout the ANC's State Capture project, the one institution that has managed to remain largely intact is our independent judiciary. This is something we need to guard fiercely, as it is the final bulwark against a government or state that thinks it can act with impunity.
"There are still several loose ends that must be tied up, most notably the unprecedented letter sent by the Police Minister to the Constitutional Court in which he claimed that neither he nor the Police Commissioner would press for Zuma's arrest until all the frivolous legal actions had been exhausted or until directly instructed by the court to do so. They didn't need this, as their instruction was already clear and unambiguous. Minister Cele needs to come and explain in Parliament his reluctance to do his job," said Steenhuisen.
"The Rule of Law and our Constitution have been under relentless attack of late, and we now need an unequivocal statement by the President that no such future assaults on our democracy will be tolerated."
AfriForum also welcomed the arrest, saying: "This is a short sentence but at least it is a start in ensuring that Zuma is held accountable."
Meanwhile EFF Leader Julius Malema has tweeted: "Why are the descendants of Jan Van Riebeeck happy?"
He also tweeted: "No constitutional court is meeting bloody fakes. Mxm" in an apparent reference to the JG Zuma Foundation. The Foundation today said: "Please be advised that the spokesperson of the Foundation, will not participate in any media engagements for the best part of today. He needs time to reflect on the tragedy that has just happened. The Patron of the Foundation, HE Prez Zuma was jailed without trial."
Zuma's daughter Dudu Zuma-Sambudla tweeted late last night, as her dad was on his way to the correctional centre: "Just spoke @PresJGZuma en route and he is still in high spirits. He said that he hopes they still have his same overalls from Robben Island and we laughed hard that at least he won't struggle with Afrikaans this time round. We salute dad! Amandla"
WATCH Justice Minister Ronald Lamola's briefing on Jacob Zuma incarceration
#JacobZuma Minister of Justice & Correctional services Ronald Lamola briefs the media on the incarceration of former President Zuma. "This is not a moment of celebration, it's a moment of restraint" #sabcnews pic.twitter.com/j4eSKS9xLL

— #TheLordOfTheMedia (@samkelemaseko) July 8, 2021