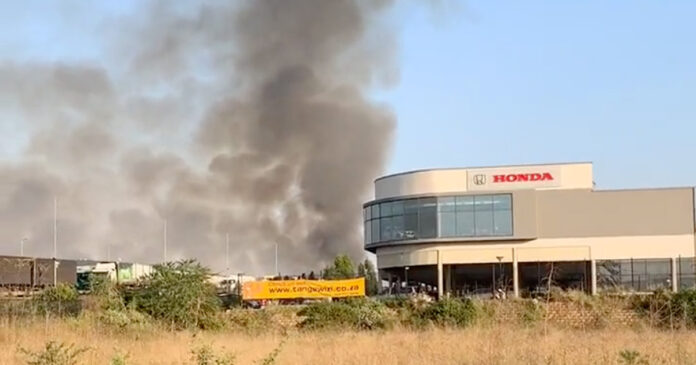 The Durban Chamber of Commerce has condemned the ongoing protests and violence in Durban and across the KwaZulu-Natal province, and called for "urgent intervention" as supporters of former President Jacob Zuma attempt to shutdown KZN in a demand for Zuma's release from prison.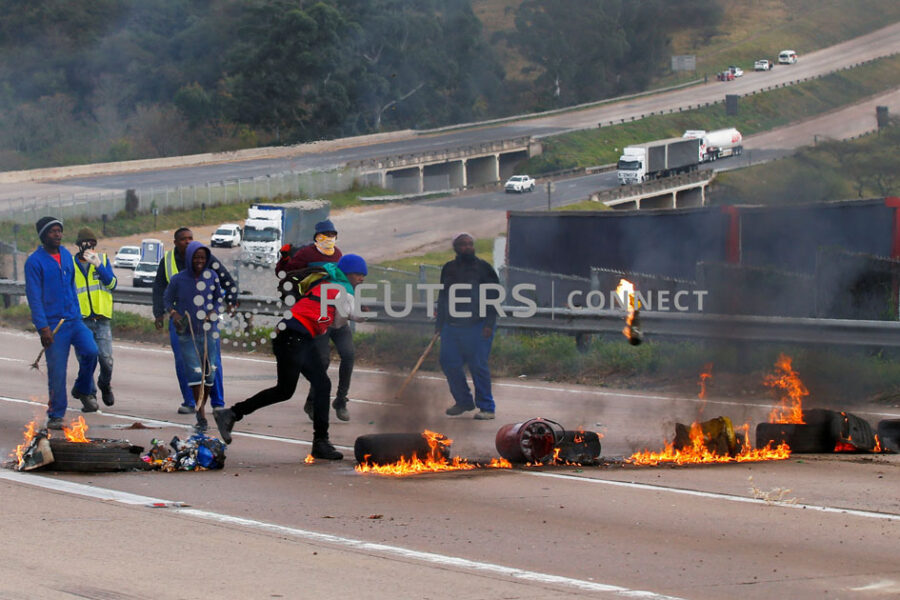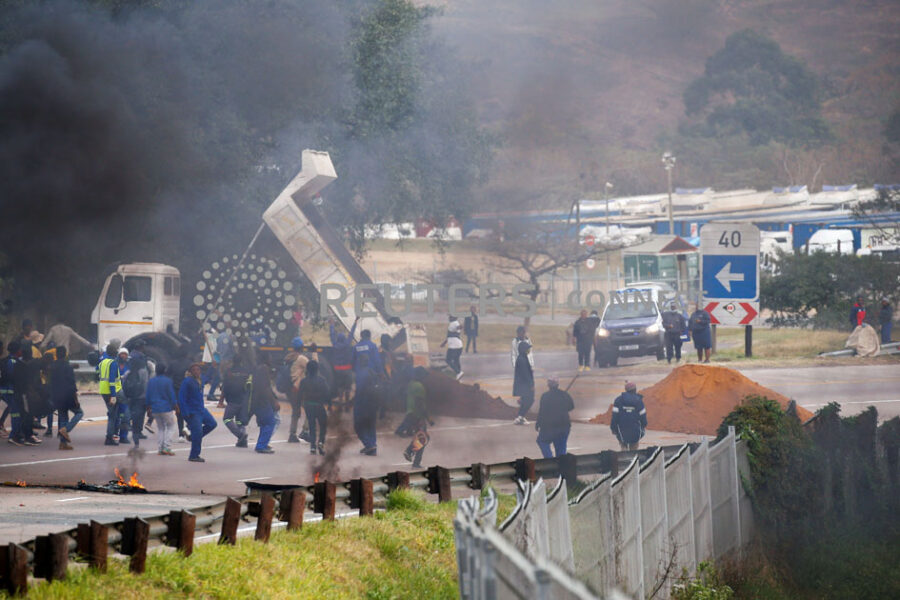 Zuma was sentenced to 15-months imprisonment for contempt of court (failing to appear at the Zondo Commission of Enquiry when ordered to do so). His incarceration began late on Wednesday night.
Fellow inmates at Estcourt correctional facility have gone on a hunger strike in support of Zuma's release; and videos and photos have been shared on social media from across the province of escalating violence as Zuma supporters call for the ex-leader's freedom. There are reports that Durban, including the harbour, has ground to a halt.
Nigel Ward, President of the Durban Chamber of Commerce and Industry, says the Chamber condemns "this disorderly behaviour and calls for urgent intervention from all spheres of government. We encourage law enforcement to take the necessary steps to arrest the situation."
In a statement on Friday afternoon, Ward said the Chamber has been "monitoring disruptive groups protesting across the city and shutting down businesses, in the Province of KwaZulu-Natal. The reason for this disruptive behaviour is known and is currently circulating in the media space following the arrest of the former President.
"Such behaviour has a negative effect on the business community which impacts the economy. As of this morning the impact has been devastating, from the traffic disruption on major highways, to the commuting of workers to their workplaces. We believe this unruly behaviour is detrimental to businesses and the economy."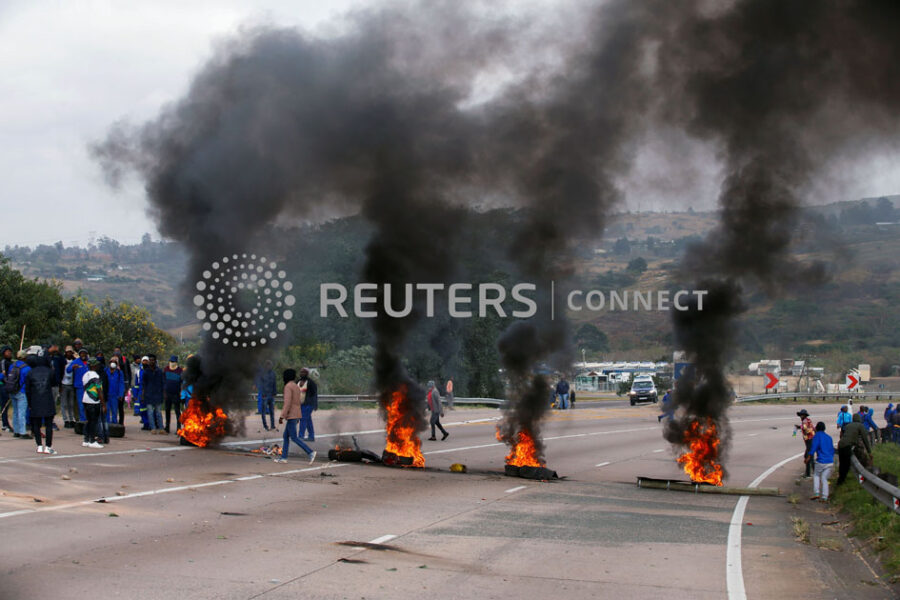 Ward added that with the current Covid-19 lockdown regulations, the province's economy cannot afford the added strain, "more especially in high commercial areas such as the north region and N3 highway. Other confirmed areas include Umgeni, Alpine Road Opposite shell garage, N2 between Umhlanga, Sibaya, Ntuzuma E section, Canelands R102, Shongweni around Polo pony, and Verulam M27 past Spar Waterloo."
Ward said: "Disruptive behaviour of this nature increases the country's risk profile and threatens the return on investment."
He said: "As organised business, we call for political stability and order. We remain committed to working with the public sector on co-curating workable solutions."
WATCH: Just a few minutes after @eThekwiniM Metro Police leave Curnick Ndlovu Highway, which runs through KwaMashu & Inanda, protesters again block the main road. Bottles were thrown at my vehicle for recording. @News24 @TeamNews24 pic.twitter.com/sdPbiGVV3J

— Kaveel Singh (@kaveels) July 9, 2021
BREAKING NEWS: Durban is completely on shutdown. The Metro Police have been deployed.

Wenzeni uZuma?#KZNshutdown #FreeJacobZuma pic.twitter.com/5fMq7lJBqR

— Mfundoyakhe Shezi ?? (@Mfundoyakhe_S) July 9, 2021
#KZNShutDown The situation in KZN is deteriorating. The province is coming to a total standstill. On whose instruction is mainstream media maintaining radio silence on these critical developments? Broad day light censorship! #FreeJacobZuma pic.twitter.com/GWRZG1laWR

— Pursuit Media SA (@Sa_Pursuit) July 9, 2021
Durban Habour have been closed. #FreeJacobZuma #KZNShutDown #AceMagashule pic.twitter.com/23eTFxz0xw

— Typical Zulu (@UmzuluWaseNatal) July 9, 2021
Here is it #KZNShutDown, N2 by uThukela Bridge. #FreeJacobZuma pic.twitter.com/Z3t0xwExIz

— Nkosie Mkhize SA (@theblessing01) July 9, 2021
Guys taxi drivers are killing each other in Port Shepstone, and Duduzile Zuma is busy continuously inciting further violence for ego. #KZNshutdown pic.twitter.com/TCp5cZE3cy

— decor girl ? (@MsTK_77) July 9, 2021
Guys it's getting hectic. If you're on the N2 towards Richards Bay Empangeni area, be vigilant and stay safe. #KZNShutdown pic.twitter.com/ASKasm21Kk

— Njiyela (@Njiyela6) July 9, 2021
Estcourt prisoners have embarked on protest to demand the release of former president Jacob Zuma!

Zuma was taken in without trial for failing to appear before the Zondo Commission!#FreeJacobZuma #KZNshutdown #ZumaArrest #RamaphosaMustFall #Malema pic.twitter.com/sNxzlA78LR

— BMacM (@1BMacM) July 9, 2021