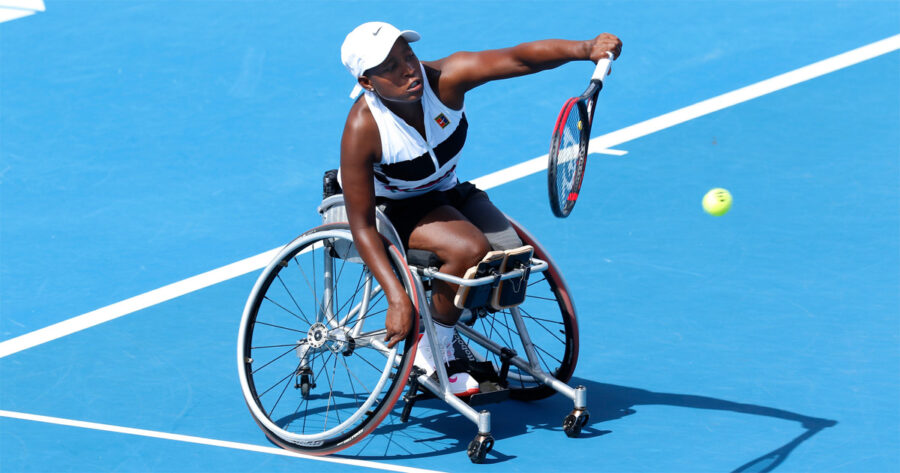 SA Wheelchair Tennis Star Kgothatso Montjane into Wimbledon FINAL
South African wheelchair tennis star Kgothatso Montjane is through to the FINAL at Wimbledon 2021 in London. The proudly South African player, nicknamed KG (or Special K!), beat Momoko Ohtani from Japan in the semi-final match today – 7-6(3), 4-6, 6-4. She'll be flying the flag high for SA when she competes in her first […]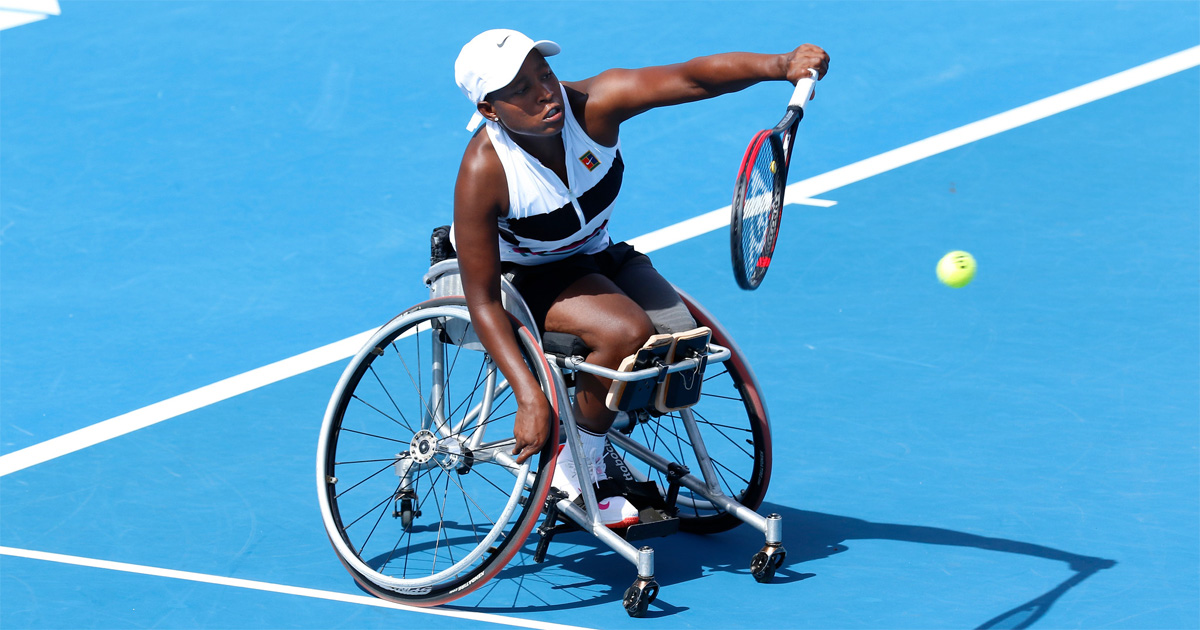 South African wheelchair tennis star Kgothatso Montjane is through to the FINAL at Wimbledon 2021 in London. The proudly South African player, nicknamed KG (or Special K!), beat Momoko Ohtani from Japan in the semi-final match today – 7-6(3), 4-6, 6-4. She'll be flying the flag high for SA when she competes in her first Wimbledon singles final… becoming the first black South African woman to reach the final!
Tennis South Africa said: "She's done it! ✌️??? It's a historic kind of day today. Meet South Africa's first black woman to reach singles final at @Wimbledon… ? The #Wimbledon dream is one win away! ?"
Thirty-five year old KG will face 25-year-old Diede de Groot from the Netherlands in the final. De Groot is Wimbledon's top seed and world number one. KG is currently ranked fifth in the world.
On Thursday, KG overcame a tough second set to reach the Wimbledon semi-final round in three sets, beating Angelica Bernal of Colombia 6-1, 2-6, 6-4.
In 2018 KG became the first black African woman to play at Wimbledon, and the first African wheelchair tennis player to compete, according to Paralympics.org.
KG is using Wimbledon as a warmup for the Paralympics. As the Sports Trust (SA) says: "Mzansi is behind you". And the country sure is! Watch below as KG receives countless messages of support from fellow SA sports stars and Discovery CEO Adrian Gore, as well as the CEO of Macsteel which donated a special customised wheelchair to her.
KG won South Africans' hearts in 2018 when she made her Wimbledon debut on a wildcard, making it through to the Wimbledon semi-final for the first time through sheer guts and determination. With no sponsor (and not enough money for her coach to join her), she could barely afford the ticket over to the UK… but still found a way to make her dreams come true – thanks partly to the wife of former President Thabo Mbeki, Zanele Mbeki, who donated generously through her WDB Trust.
In following her heart, KG made history for South Africa, becoming the first black South African woman to play at Wimbledon. She even received a good luck tweet from President Cyril Ramaphosa. She played again the following year, also reaching the semi-final.
This year, she has made that breakthrough to the Final! At the handover of the R200,000 state-of-the-art wheelchair in February, KG pledged to Macsteel that she would increase her ranking… and she's keeping true to her word.
Everything you need to know about Kgothatso Montjane
KG was born in Polokwane, Limpopo with a congenital disorder which affected both of her hands and a foot, with the other foot being amputated by the age of 12.
In previous interviews the world class wheelchair tennis player has admitted: "I never imagined I'll get at this level and play amongst the best in the world, this is a great feeling."
KG became South Africa's number one ranked women's wheelchair tennis player in 2007, and Africa's number one two years later.
In February this year, her sporting excellence was recognised and her aspirations boosted with the Macsteel wheelchair, and by being appointed a Discovery Vitality Ambassador.
Mike Benfield, Group CEO of Macsteel said at the handover: "KG represents perseverance, she epitomises what it means to never give up… We sincerely hope these new wheels of steel will assist KG in becoming even better than she already is and inspiring the Nation even more than she already does."
So far, so good!
KG's accolades
According to Macsteel, "from the Australian Open to the Japan Open, NEC Singles Masters, Doubles Masters, and the 2008, 2012, and 2016 Paralympics, Montjane has played in many tournaments around the world, including the Swiss Open, her favourite tournament. She is a champion of the sport, having represented South Africa at the 2008, 2012 and 2016 Summer Paralympics, and a World Team Cup participant on the SA team in 2009 and 2011."
In Australia in 2013, KG became the first African player to compete in a Grand Slam, and by the end of 2018 she had become the first African wheelchair tennis player to compete in all four Majors in a calendar year.
According to the Paralympics website, it's not all been 'straightforward' for KG. With the financial problems in 2018, she apparently struggled mentally and was on the verge of quitting… until an email announcing she had been granted a wildcard to Wimbledon changed everything!
She told the Paralympics: "It was one thing that made me forget everything I was going through that year. I just wanted to cherish the aura and eat strawberries and cream."
Remembering the event, she says: "It was a life-changer for me. It taught me that you need to have the courage to go for whatever you really want in life."
KG (who is playing in the double semifinals this afternoon!) currently has 39 singles titles to her name and 10 successive Grand Slam appearances. It would be so exciting for the ambitious tennis player to grab her 40th singles title this weekend!
The Paralympics says: "Montjane is hungry for more success, most notably for the Tokyo 2020 Paralympic Games. But whatever happens, she wants to be a development officer when she hangs up her racket."
She told the organisation: "When I get opportunities I just go out there and spread the word of hope. I would like to believe that's what my life is centred around, hope."
We HOPE you win KG!!!!!
UPDATE: KG won the Doubles Semi-Final, and tennis legend Billie Jean King sent South Africa's wheelchair tennis champ a message.
BREAKING NEWS: I'm ecstatic to be the new Discovery Vitality Ambassador 😍 #DiscoveryAce ; https://t.co/S8ysIqPIHZ @Discovery_SA @Vitality_SA @OptimizeAgency pic.twitter.com/fPih9rxN0U

— Kgothatso Montjane (@KGmontjane1) February 9, 2021
WATCH messages of support for KG at Wimbledon
Messages from: Lucas Radebe, former Bafana Bafana and Leeds United captain; Lukhanyo Am, Springbok rugby player and Sharks captain; Wayde van Niekerk, Olympic champion and world record holder; Chad le Clos – Olympic, World and Commonwealth swimming Champion; Springbok and Sharks rugby player Makazole Mapimpi… and Discovery CEO Adrian Gore.
The @Discovery_SA team is backing @KGmontjane1 at @Wimbledon ❤️ Good luck and smash it, KG! 🎾 pic.twitter.com/VMvt7qLazm

— @Discovery_SA (@Discovery_SA) July 7, 2021
On behalf of Macsteel CEO #MikeBenfield, we wish you @KGmontjane1 all the best in your first match at @Wimbledon make us proud #Macsteel #TeamMacsteel #DiscoveryAce #TeamOptimize #TeamKG pic.twitter.com/b2C7w93J5W

— OPTIMIZE (@OptimizeAgency) July 7, 2021
She's done it! ✌️👏🇿🇦

It's a historic kind of day today. Meet South Africa's first black woman to reach singles final at @Wimbledon. 👇@KGmontjane1 defeats Momoko Ohtani 7-6(3), 4-6, 6-4 to reach her first Wimbledon singles final. 💪

The #Wimbledon dream is one win away! 🤜 pic.twitter.com/yK1TpfAJl7

— Tennis South Africa (@TennisSA) July 9, 2021