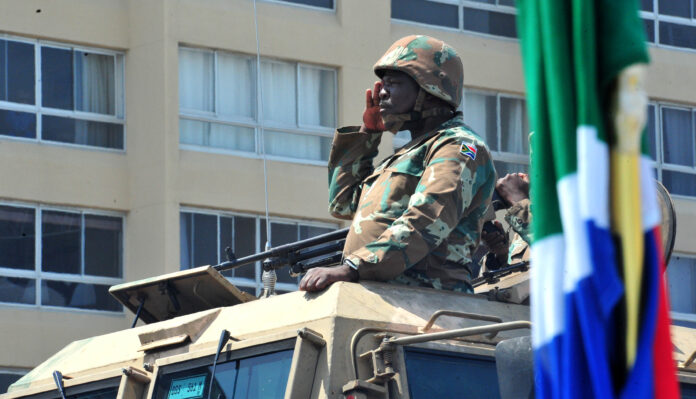 The SANDF said in a statement that it has begun "pre-deployment processes and procedures". Video footage has shown soldiers in Pietermaritzburg (where Brooklyn shopping centre has been burning). 
Soldiers spotted in Pietermaritzburg KZN. @SANDF_ZA pic.twitter.com/QckM0Ld3aq

— Yusuf Abramjee (@Abramjee) July 12, 2021
The request for army assistance was received from the National Joint Operational and Intelligence Structure (NATJOINTS), said the SANDF.
The soldiers are being brought in to assist law enforcement agencies already deployed in Gauteng and KZN to "quell the unrest that has gripped both Provinces in the last few days". 
The army said in a statement: "The duration and number of deploying soldiers will be determined based on the assessment of the situation on the ground by the relevant law enforcement agencies.
"Furthermore, it must be emphasised that the SANDF`s deployment objective is to provide safety and a safe working environment for members of the SAPS and other law enforcement agencies whilst they carry out their Constitutionally mandated law and order duties."
Brookside Mall, a fairly new shopping complex, in Pietermaritzburg has gone up in flames this morning. The mall is situated alongside the N3 freeway as it passes through PMB. The city, which is situated in a valley, is being engulfed by smoke. @CyrilRamaphosa DO SOMETHING!!!?? pic.twitter.com/DVWGesBVwY

— Rianté Padayachee (@RianteP) July 12, 2021
Earlier calls for army deployment
Earlier today, after a night of unrest and looting, several South Africans, including DA Leader John Steenhuisen called on President Cyril Ramaphosa to deploy SANDF and immediately reconvene Parliament.
Steenhuisen said: "The unfolding crisis in KwaZulu-Natal, which has now also spread to other provinces, requires an urgent and firm response from government." He blamed the ANC's internal war for reluctance to deal with the protests.
"It is critical that government and law enforcement get ahead of this curve, and that President Ramaphosa takes immediate steps to quell the violence and looting," said Steenhuisen.
He called for Parliament to be reconvened to discuss the SANDF role, deployment of police reservists and allocation of further budget.
Meanwhile in KZN, where hashtag #KZNisBurning is trending, the Premier has agreed to a DA request for an urgent briefing of political party leaders within 24 hours.
"As the province of KwaZulu-Natal remains gripped by fear and anarchy, the Democratic Alliance is pleased to report that Premier Sihle Zikalala has conceded to our request for an urgent meeting of all political party leaders within the next 24 hours," says Francois Rodgers, Leader of the DA in the KZN Legislature.
Rodgers says the current situation in KZN is "out of control" with SAPS unable to restore law and order and the "people of KZN are living in fear".
Covid-19 concerns amidst violent protests
The Gauteng Government has issued a statement raising concerns that not only are the protests super-spreader events, but they are also leading to less people getting vaccinated because staff cannot access vaccine centres; as well as problems with emergency medical services being unable to get to patients.
It is sad to witness how the country is burning. The current situation is fueled 2 fires.

1.Political
2. People who are frustrated with lockdown regulations, unemployment, poverty and hunger.

It takes more than a speech to resolve this current #ShutdownSA

— Christo ?????? (@ChristoThurston) July 12, 2021
This looting is so much bigger than Jacob Zuma, although his odious children & their tribalist minions will claim otherwise. Our country is stalked by poverty, hunger, unemployment & desperation in this pandemic. People believe they have nothing to lose by joining the madness. ?

— Lindiwe Mazibuko (@LindiMazibuko) July 12, 2021