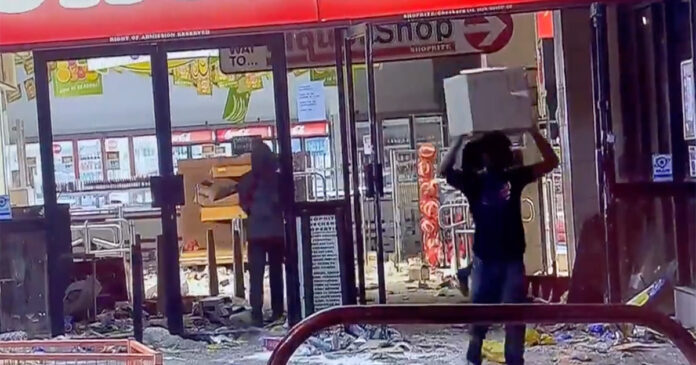 Shocking video footage from Gauteng and KwaZulu-Natal has been shared over the past 24 hours showing the chaos, destruction and looting by protestors in South Africa, claiming to want to see former President Jacob Zuma freed from jail. (
UPDATE Mon afternoon

: SANDF deployed!)

On Monday morning, roads leading in and out of Durban's CBD are no-go zones. While buildings and cars burn, footage from Durban shows a shopping centre emptied… with looters – who are either desperately poor or frighteningly greedy – running out with arms full, even pushing overloaded trollies. The extended Adjusted Alert Level 4 restrictions announced by President Cyril Ramaphosa on Sunday night appeared to mean nothing to them.

Brookside Mall in Pietermaritzburg is on fire at the moment. Too many shopping centres now to mention. There's unrest in Fourways.

In Alexandra township in Johannesburg, an ATM pharmacy was just one building destroyed, a pharmacy that the community itself critically needs for its TB, HIV and other medication. Joburg's M2 is still blocked off, with the road closed at Denver.

Police have confirmed they've arrested 219 people. Six people have died.
OR Tambo Airport ContingencyPlan for Protest Action
Close by, this morning OR Tambo International Airport has announced that "as a contingency plan to the protest action, please note that the departures drop-off road and arrivals pickup road have been closed. All traffic will be directed to Parkade 2 South level 2 where passengers can be picked up and dropped off. We apologise for the inconvenience."
NatJOINTS Intensifies Deployments
The NatJOINTS (the operational arm of the Justice Crime Prevention and Security Cluster of the SA Government) says it has intensified deployments to those areas in Gauteng and KZN which were affected by the violent protests and looting overnight.
NatJOINTS says it is receiving intel from its committee (which includes SAPS Crime Intelligence, Defence Intelligence and State Security Intelligence) to allow law enforcement to counter the 'sporadic' violent protests.
What is President Ramaphosa waiting for?
Social cohesion advocate Yusuf Abramjee tweeted this morning: "What is President @CyrilRamaphosa @GovernmentZA waiting for? Do they want more malls to burn? Do they want more looting? This lawlessness is not stopping. ACT!! The country is on fire."
He tagged the SA National Defence Force, the Presidency and the South African Police Service (SAPS).
According to Abramjee, the "police clearly cannot cope. Bring in the @SANDF_ZA now to support the cops! The lawlessness is continuing and it must be stopped."
Many South Africans agreed, calling for the army to be deployed.
Some however claimed that the Minister of Police is the one failing to do his job, and said that the SANDF have not managed to stop the violence in the Cape Flats since their deployment there.
Well known SA writer Max du Plessis asked: "How do you protest the jailing of your political hero? You follow his example: you loot". Du Plessis said: "So Jacob Zuma and the RET gang's legacy is going to be violence, looting and economic sabotage? Sounds about right. Finishing the job that Zuma had started in 2008."
President Ramaphosa did last night condemn the increasingly violent protests. He said: "Key infrastructure like national roads have been affected, slowing down the transportation of goods and services that keep our economy running. Property has been destroyed. Cars have been stoned. People have been intimidated and threatened, and some have even been hurt.
"These acts are endangering lives and damaging our efforts to rebuild the economy."
The President said some of these acts of violence are based on "ethnic mobilisation".
"This must be condemned by all South Africans at all costs as we are a nation committed to non-racialism and non-tribalism that is underpinned by the diversity and unity of all the people of South Africa, whatever their language, culture, religious beliefs and race," said Ramaphosa.
The President warned that those who are involved in acts of violence will be arrested and prosecuted.
Zuma's Challenge in Court
The court is today hearing Zuma's challenge against the 15-month sentence he received for contempt of court (after he failed to appear before the Zondo Commission of Enquiry when ordered to do so).
Reuters reports that in the virtual hearing, "Zuma's counsel has asked the court to rescind his jail term, relying on a rule that judgments can be reconsidered if made in the absence of the affected person or containing a patent error".
SANDF #ShutdownSA #Ramaphosa Good idea pic.twitter.com/p6PpX8Y2pk

— Phila (@PhungasheP) July 12, 2021
Don't get it twisted

The demonstrations have nothing to do with poor old Zuma

People are taking advantage to sort themselves

SANDF #ShutdownSA | Ramaphosa | Ntsiki pic.twitter.com/X83hwWQbau

— Jo (@DrJude9) July 12, 2021
Live visuals coming from Point Rd Shoprite in Durban CBD. Non stop looting throughout the night into the morning. No police presence.
(Visuals sped up) #ShutdownSA pic.twitter.com/E8E1liGELl

— Leanne Manas (@LeanneManas) July 12, 2021
These people were in a convoy & heavily armed to arrest one man called Zuma in Nkandla, where are they now when there is looting everywhere #ShutDownGauteng #ShutdownSA SANDF Zuma Ramaphosa Tribalism Zulus pic.twitter.com/GWPbLM50RX

— Africa Mkhize (@Khabzo_19) July 12, 2021
Re busy as a country ??? not even a single Mandela day advert ko SABC.#KZNshutdown #ZumaArrested SANDF pic.twitter.com/JuQzEMJZe1

— Rorisang Setshedi (@RoriSetshedi) July 9, 2021
I am watching a video of people looting and I said to my self "I would never do this" then I remembered that I am saying this in a comfort of my home. Tucked under a warm throw and a gas heater, with food and a job. Sometimes our utterances are blinded by privilege #ShutdownSA

— Black Identity®™ (@Solely_Blacks) July 12, 2021
Cato Ridge KZN. #unrest pic.twitter.com/svC6jCtQ9u

— Yusuf Abramjee (@Abramjee) July 12, 2021
Brookside Mall in Pietermaritzburg is on fire. This as unrest intensifies in KwaZulu-Natal and other parts of Gauteng. @Karinda_J is at the Brookside mall. #Newzroom405 #KZNshutdown #KZNProtest pic.twitter.com/ovWR09WRVw

— Newzroom Afrika (@Newzroom405) July 12, 2021
UPDATE, Monday afternoon: The South African army has been called in to help SAPS quell violent protests in Gauteng and KZN.