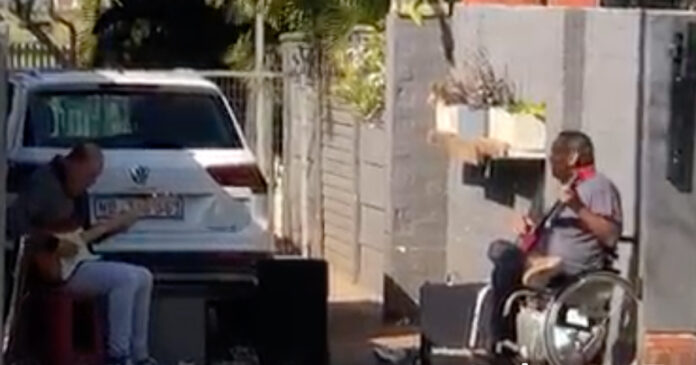 A band in Durban, South Africa, has taken to lifting local residents' spirits by rehearsing in their drive-way so that members of the public, sitting in the park across the road, can enjoy the music for free.
Local resident Beverley Cooke-Tonnesen first saw the band, Laminated Rotis, rehearsing last weekend. She told SAPeople: "They are totally wonderful! All old professional guys – black, white, Indian, coloured – and they play for the joy of it."
Beverley was tutoring a kid in Moolla's Park, above Greyville Racetrack, when they started playing. She was delighted to see them again this past weekend.
"I'm so happy!" she wrote on Saturday. "The Laminated Rotis are generously rehearsing in their driveway again, with their amps facing the park opposite where I work. They did this last Saturday and I'm hoping it becomes a weekly thing. Neighbours are starting to appear, with picnic blankets. It's a beautiful and lovely and almost 'normal' experience. Thank you, guys – your music is divine and we love what you're doing for this little community. ?"
According to Beverley, who last night could smell burning rubber and hear gun shots ringing out, stun grenades and hooting, as #Free Zuma protestors looted shopping centres and petrol bombed houses in Reservoir Hills, the Laminated Rotis' music has been "like balm".
The enclave where they play is well looked after by the people who live on the park, continuing to maintain it themselves and keep it clean, safe and looking great, she says.
As one of Beverley's friends says, this is an amazing thing that Laminated Rotis are doing – "music brings people together and we so need it in times like these. Love it."
More musicians are due to join the band for a rehearsal in their driveway on Moolla's Park on Saturday 24 July between 11h30 and 12h30.
"Bring a blanket and/or your dancing shoes and COME!!" says Beverley.
WATCH Durban band Laminated Rotis entertains locals from their driveway