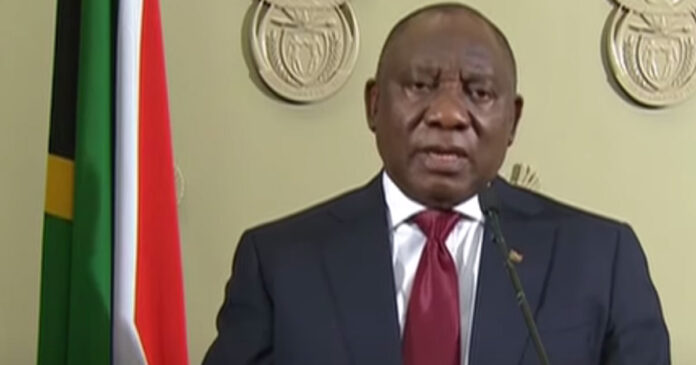 President Cyril Ramaphosa tonight addressed the nation in connection with the violent protests that have torn through parts of KwaZulu-Natal (KZN) and Gauteng. In reference to the hashtags #ShutDownKZN, #ShutdownGauteng and #ShutDownSA, the President said "we are building up, not shutting down".
The protests were sparked by the imprisonment of former President Jacob Zuma, who was given a 15-month sentence by the Constitutional Court for contempt of court (since he failed to appear before the Zondo Commission of Enquiry when ordered to do so).
President Ramaphosa said on Monday night "we know the high cost of this violence to property, livelihoods & businesses; the loss of human life is the greatest cost of all. As a nation our thoughts & prayers are with those that have lost their loved ones."
He said parts of the country are reeling from days and nights of public violence, destruction to property and looting of the sort rarely see. Police confirmed earlier today that at least six people have died during the protests.
Ramaphosa said tonight that 166 suspects have been arrested in KZN and 323 have been arrested in Gauteng in relation to these incidents.
"Nevertheless, violence is continuing in these two provinces and may be spilling over to other provinces," said the President.
He said "our constitution guarantees the right for every person to protest, to organise, to engage in free expression and free association. It gives every person an equal protection before the law."
He said the constitution is the foundation for the rule of law and this is a right that was fought for by many in South Africa, and many people died for the people today to have this right.
He then pointed out that the victims of the violence that is unfolding now, "the victims being the workers, truck drivers, business owners, the parents and families of those who have lost their lives, have done nothing wrong".
On top of that, SA's vaccination programme has been severely disrupted just as it was gaining momentum.
"This will have lasting effects on our ability to consolidate some of the progress that we are recording in our economic recovery as well," he said.
"These disruptions will cost lives by cutting off the supply chain that sustain our food and health and production systems.
"It is a matter of importance that we restore calm and stability in all parts of the country without any delay. It is vital that we prevent any further loss of life or injury or destruction of infrastructure that sustains the lives of our people."
The President said "we are therefore mobilising all available resources and capabilities to restore order in our country." Today the SANDF was deployed in parts of Gauteng and KZN to support the police in handling the protests.
Ramaphosa said: "As the commander of the SANDF and our security forces, I have authorised the deployment of the SANDF personnel in support of the operations of the SAPS
"The NatJOINTS operations has intensified deployments in all the affected areas in KZN and Gauteng. The SAPS is putting measures in place to call up operational members from leave to increase the presence of law enforcement personnel
"In addition to greater visibility and an intelligence-driven presence in potential hotspots, we will be prioritising the prosecution of suspects alleged to be involved in this violence.
"The National Security Council, which I chair as Commander-in-Chief, will be meeting twice a day to coordinate all measures necessary to restore stability."
He said action will be taken to "protect every person in this country against the threat of violence, intimidation, theft and looting. We will not hesitate to arrest and prosecute those who perpetrate these actions
"We will restore calm and order so that we can get on with the task of rebuilding this country and creating a better life for its people.
"This afternoon, Ministers and senior officials in the economic and the security clusters met with Business Unity South Africa to take stock of the situation and to develop coordinated actions.
"We have agreed to work together to ensure the safety of drivers, cashiers, patients and customers. We have agreed to share information and resources to ensure that we restore key supply chains
"We are making arrangements for government leaders and public representatives as part of their responsibilities to meet with leaders in various communities to promote stability
"As part of our ongoing engagement with key sectors of society, I will be meeting with leaders of political parties to discuss the current situation.
"We are called upon – wherever we may be – to remain calm, to exercise restraint, and to resist any attempts to incite violence, create panic or fuel divisions
"This violence and destruction takes place in the midst of a devastating pandemic. There is a danger that these events will lead to an even greater surge in infections, putting many more lives at risk and placing a greater burden on our health facilities and personnel."
The President implored South Africans: "Let's work together to bring this violence to an end."