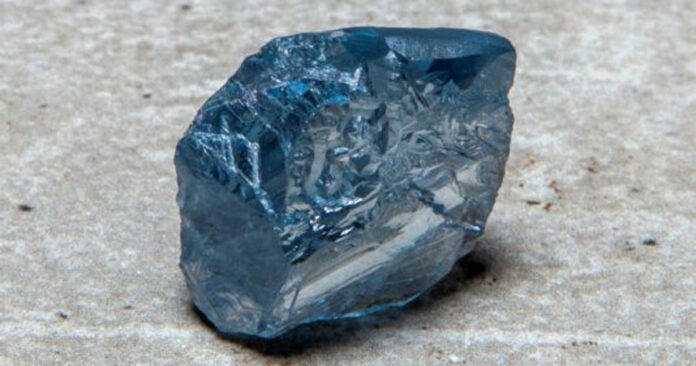 A rare blue diamond from South Africa, which was recovered at the Cullinan diamond mine in April, has been sold for a whopping $40,180,180 (over R580-million). At just under 40 carats, this equates to over $1-million per carat.
Petra Diamonds said in a statement that it was "pleased" to announce that the 39.34 carat exceptional Type IIb blue diamond has been sold to a partnership between De Beers and Diacore for US$40,180,180; payable in cash prior to delivery of the stone.
Richard Duffy, Chief Executive Officer, said:
"This sets a new milestone for Petra in achieving its highest price for a single stone and follows the sale of the 299 carat Type IIa white diamond in March this year and the five blue diamonds comprising the Letlapa Tala Collection in November 2020, purchased by the same De Beers Diacore partnership."
The diamond achieved a price of $1,021,357 per carat. Mined from the Cullinan C-Cut, this exceptional blue diamond adds to the famous diamonds that have originated from this iconic mine, located at the foothills of the Magaliesberg mountain range.
The world record price per carat remains that set by the 12 carat polished Blue Moon of Josephine which sold for US$48.5 million in 2015, representing a remarkable $4 million per carat. (The rough blue diamond from which it was cut had been sold for US$25.6 million in 2014.)
Famous diamonds from Cullinan Mine
The mine is most famous for the Cullinan diamond, discovered in 1905, which is the largest rough gem diamond ever found at 3,106 carats. The stone was cut into two important diamonds – the First Star of Africa and the Second Star of Africa which form part of the Crown Jewels in the Tower of London.
Other notable diamonds produced from the Cullinan Mine include the Premier Rose (353 carats rough); the Niarchos (426 carats rough); the De Beers Centenary (599 carats rough); the Golden Jubilee (755 carats rough); and the Taylor-Burton diamond (69 carats polished).
What makes a blue diamond blue?
Type IIb blue diamonds are so rare that their age has not been established. According to recent studies, research shows these diamonds were created at depths of over 500km below the Earth's surface. The boron that gives them their unique blue colour has been linked to seawater suggesting that these diamonds are a record of rocks from the ocean floor that have been transported to the lower mantle by plate tectonics, according to Petra's website.