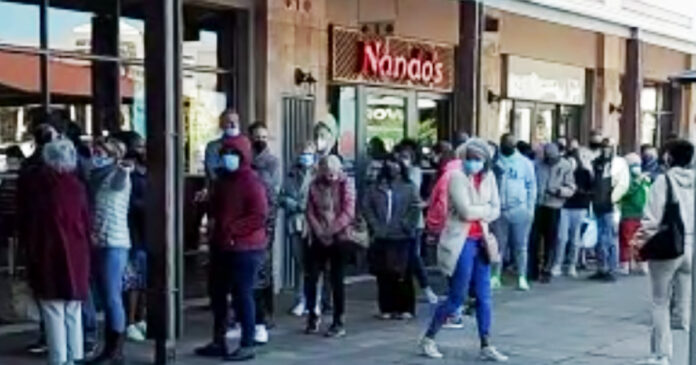 After days of looting, shopping malls being desecrated and highways blocked, South Africans in hard-hit parts of KwaZulu-Natal (KZN) and Gauteng are having to queue for hours for food and fuel, raising the risk of further riots as more people could face starvation.
In Durban North there's a queue over 3km long for Checkers. People are desperate for food. Some haven't been able to buy even milk or bread for days. A petrol station on Botha's Hill, which opened on Thursday morning, has a line of vehicles 6km long waiting to fill up. In Hillcrest the queue for vegetables stretches down the road (see videos below). In Durban, most malls can't even open. There's nothing left on their shelves, and their properties are destroyed, some even burnt to ashes.
Desperation is setting in. DA Leader John Steenhuisen is advocating for the use of the SANDF deployment in KZN to protect food, medical and fuel security.
While welcoming the deployment of 25,000 soldiers to help restore law and order in riot-affected areas; Steenhuisen warned on Thursday that the next "big crisis" will be the threat to food security in KZN… along with the supply of medication and fuel.
In a media statement this morning, Steenhuisen advised that "protecting these supply chains must be a priority of the SANDF deployment".
In Gauteng the situation is similar. DA Gauteng Shadow MEC for Social Development, Refiloe Nt'sekhe, said the party is "very concerned that all residents of Gauteng are at risk of starvation, especially those who are dependent on NGOs for food, and those that are working at malls, shopping centres and all other affected sectors."
Gauteng, like KZN, has been experiencing continuous violence and looting, particularly in townships and CBDs across the province.
In a statement on Thursday, Nt'sekhe said "food security in the province is at risk due to road closures, preventing trucks from delivering necessities to the shops, while fuel shortages are looming due to the halt of supply.
"Thousands of workers are at risk of being left unemployed and without an income, as some of the businesses may not have the capital to restock and rebuild, already having suffered due to covid-19 restrictions."
He said many NGOs in Gauteng have already reported they won't be able to continue with their feeding programmes "due to the increased dangers of contracting Covid-19 as well as the slow rollout of vaccinations".
Steenhuise said that in KZN "with warehouses, bakeries and distribution centres looted or destroyed throughout the province, it is impossible to re-supply supermarkets and shops locally. And with trucks still being looted and burnt on the major arterial roads in the province, these supplies cannot reach the shops from elsewhere.
"It is critical that a large part of the military deployment is used to open up and guard the N2 and N3, along with other major routes and intersections, as well as to provide security for shops as they re-stock.
"The SANDF has the vehicles, equipment and personnel for this crucial task. And while they must also assist SAPS with law enforcement duties, protecting the province's food security and supply chains must be a top priority.
"Along with food supply chains, it is critical that the province's medical supply chains are restored and protected, as pharmacies, warehouses and medical practices throughout the province have also been ransacked. A shortage of chronic medication, medical consumables and oxygen supplies will have devastating effects.
"This same military protection must be applied to the supply of Covid-19 vaccines to vaccination sites so that the province's vaccination programme can be restarted as soon as possible.
"And the third supply chain that needs to be urgently guarded is that of petrol and diesel both into the Ethekwini metro and into the rest of the province. Already we are seeing fuel stocks running dangerously low and it is crucial to keep the province's entire supply chain network fuelled up and operational.
"Failure to restore and guard these three critical supply chains will see the looting that has mainly targeted retail stores, warehouses and factories until now move to residential areas, as hunger coupled with the suspension of SASSA grant payments inflames an already volatile situation.
"The SANDF's armoured vehicles, helicopters and troops can and must be used in this important role," said Steenhuisen.
The protests have also disrupted vaccinations across the two provinces, and disrupted hospitals struggling to cope with a third wave of COVID-19.
The National Hospital Network (NHN), representing 241 public hospitals already under strain from Africa's worst COVID-19 epidemic, said it was running out of oxygen and drugs, most of which are imported through Durban, as well as food.
Yesterday President Cyril Ramaphosa "cautioned that several areas of the country may soon be running short of basic provisions following the extensive disruption of food, fuel and medicine supply chains."
The Acting Minister in the Presidency, Khumbudzo Ntshavheni, called for calm and asked South Africans to resist the urge to stock up on supplies, and to avoid spreading COVID-19.
The mayor of Ethekwini, a municipality that includes Durban, estimated that R15 billion ($1 billion) had been lost in damage to property and another billion in loss of stock.
WATCH Queues in Hillcrest, South Africa for a supermarket and vegetables.
Videos by ANDREA SANDERS.
Another #SouthAfricanQueue yesterday after #SouthAfricanLooting in KZN. Today there are Qs over 3km long for food, and over 6km for petrol…? pic.twitter.com/bRctNunQhm

— South Africa People – SAPeople.com (@sapeople) July 15, 2021
#Queues yesterday in Hillcrest #SouthAfrica for the supermarket after #SouthAfricaLooting. Today they are even longer… pic.twitter.com/jeKZtPTYNl

— South Africa People – SAPeople.com (@sapeople) July 15, 2021