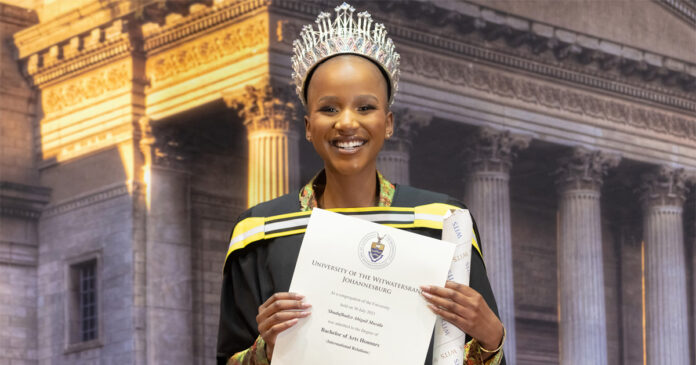 Reigning Miss South Africa 2020 Shudufhadzo Musida proudly graduated today from the University of the Witwatersrand with a BA Honours in International Relations. She is one of 6,712 students who will graduate from Wits during the July graduation season.
Musida, who turned 25 just two days ago, tweeted: "The best day! I'm a Witsie." Wits University congratulated her and described the new graduate as "outspoken on issues related to mental health and gender-based harm in society, amongst others".
South Africa's foreign affairs department (DIRCO) said: "Congratulations to Miss South Africa, Shudufhadzo Musida, on your graduation. Best wishes to you, as you continue to realise your dreams."
An elated Musida said today: "Dreams are valid, I never thought I'd be sitting here today… to every single graduate, to every single student who feels like this is really tough, you are going to make it through, you are going to succeed, you are going to graduate."
She acknowledged that the pandemic has led to "trying times and uncertainty for everyone", and commended all students who've persevered in these less than ideal times.
Musida's advice to those still studying is "be kind to yourself and focus on the small victories".
Graduations Provide Moment of Hope for Humanity
Wits University congratulated all Wits graduates on reaching this milestone in their lives. "We are proud of you & your quest for knowledge. You now have the edge and we hope that you will use your knowledge for yourself, others & the broader society. Halala!"
According to Wits Vice-Chancellor and Principal Professor Zeblon Vilakazi these graduations are a 'moment of hope' for humanity.
"We live in a historic moment characterised by uncertainty and change. You are graduating amidst a global pandemic, for which there is not yet a cure. Our young democracy is under threat, and civil unrest is widespread. Our society is plagued by inequality and poverty. Our economy is flailing, and unemployment is rife," said Vilakazi.
"Yet, I remain hopeful because of you. And because I know that great societies can flourish in times of flux… This ceremony represents a fortuitous moment of hope and inspiration, an opportunity to chart a new course that can propel us into a new beneficial world order, for good."
A South African first
Apart from Miss SA graduating today, PhD student Silvia Delsanto provided a South African first by graduating with a joint degree from Wits University and Turin University in Italy, in the field of physics.
"Our graduates give us hope that we will rise and meet new challenges with the same bravery and intellect demonstrated in the past. We will continue to develop excellent graduates who advance society, conduct world-class research and foster innovation, and use our location in Africa to lead from the Global South," said Vilakazi.
WATCH Shudufhadzo Musida graduates from Wits
???WATCH: "Dreams are valid, I never thought I'd be sitting here today…to every single graduate, to every single student who feels like this is really tough, you are going to make it through, you are going to succeed, you are going to graduate," Miss SA, Shudufhadzo Musida. pic.twitter.com/VQwajUcsmt

— Wits University (@WitsUniversity) July 20, 2021
After my virtual graduation today, I had an interview opportunity with VC Prof Zeblon Vilakazi & of course I went in my grad attire. This pandemic has led to trying times & uncertainty for everyone. To all students who had to persevere even in the least ideal times… phambili✊? https://t.co/AZRqJq9bk2 pic.twitter.com/UMUHA1pJZ2

— Shudufhadzo (@abigailmusida) July 20, 2021
Dreams are valid ??‍?? #2 pic.twitter.com/lWLyk5HZJ4

— Shudufhadzo (@abigailmusida) July 20, 2021