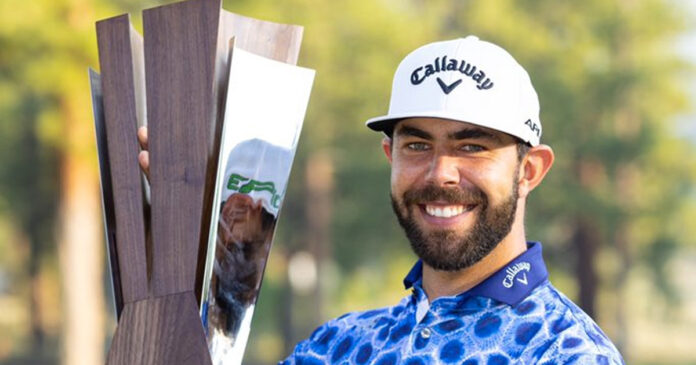 South African golfer Erik van Rooyen is celebrating one of the best months of his life – becoming a father and winning his first ever PGA Tour title.
On Tuesday afternoon Erik – who describes himself on Twitter as a Dream Chaser – tweeted a photo of himself holding his award, and said:
"A dream come true! Still buzzing from everything that happened on Sunday! This one goes to my amazing wife Rose and our baby daughter Valerie. What an incredible month it's been!. Thanks for everyone's support!"
The PGA Tour published a gorgeous picture on Facebook of baby Valerie with her father on TV in the background, and said: "Erik Van Rooyen became a dad a month ago and a first-time TOUR winner (Sunday). Life is good."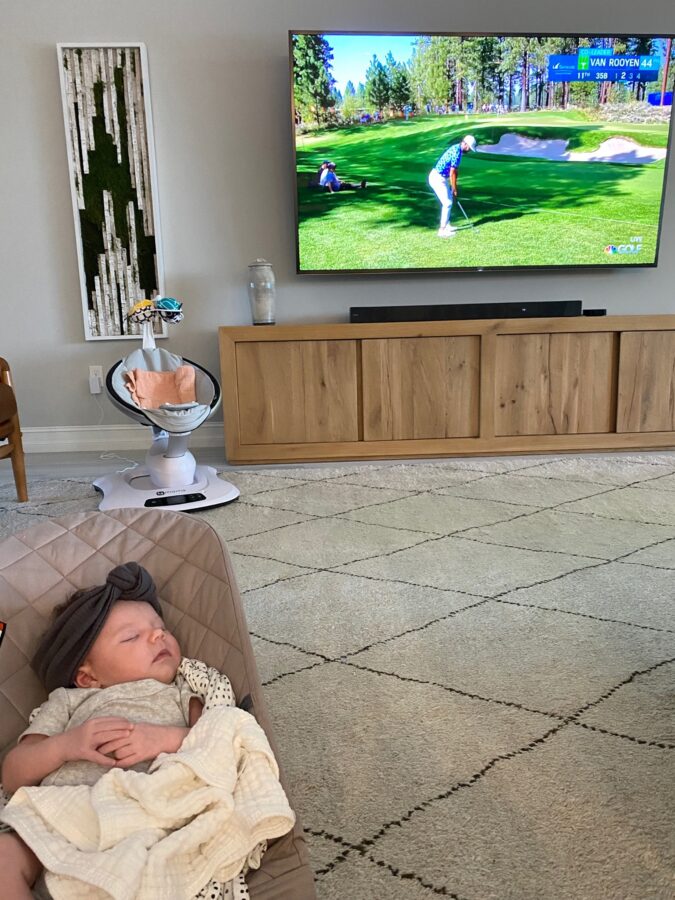 The ambitious 31-year-old and his wife recently relocated to the USA. "We wanted to start our family here," says Rose. It was also to make the next jump in Erik's career to a place where he believes he belongs.
They've moved to Jupiter in Florida, where some of the world's best golfers live… including South Africans Ernie Els, Louis Oosthuizen, Gary Player and others. Erik says "they're not just my heroes anymore, I've got to go beat them as well."
In a video interview (watch below), Erik says he's making a "leap into a place where I feel like I belong". However, there is the downside of being so far away from South Africa, the place he still calls home. Erik says he talks to his mom every day who "misses her 'little boy'".
The move to Florida is already paying off though. And, as Erik says, "I'm going to get better playing with the best in the world every day".
The South African – who actually attended the University of Minnesota in the US when he was younger – won the 2021 Barracuda Championship (and a prize of $630,000) on Sunday, at Tahoe Mountain Club in California. He finished with 50 points in the modified Stableford scoring system. Erik told the PGA Tour:
"Obviously, this was, in my mind, kind of the next step for what I wanted to achieve. I've got big dreams and aspirations, and winning on the PGA TOUR was certainly part of that. I'm really, really happy."
The PGA said Erik "eagled the par-4 eighth and closed with a birdie on the par-4 18th for a five-point victory over (American professional golfer) Andrew Putnam".
The win has seen him jump from 139th to 78th in the FedExCup standings, and earned him a spot in the PGA Championship next year! Erik said:
"It's massive. It's massive. It's been a difficult sort of 18 months for me golf-wise. I haven't been playing well. There's been glimpses of it the last six months. But I haven't been able to put four good rounds together. So I was well aware of the position I was in going into the playoffs, knowing that I've only got eight rounds left to make that cut.

"And to win here this week, I mean, under the conditions, you know, the pressure that I was under, I'm going to take so much confidence from this."
Adam Schenk, who came third, said Erik "didn't really make many mistakes. And he just deserved it more than I did, for sure."
South African Golfer Erik Van Rooyen is a PGA TOUR Champion! | The JUMP 2021