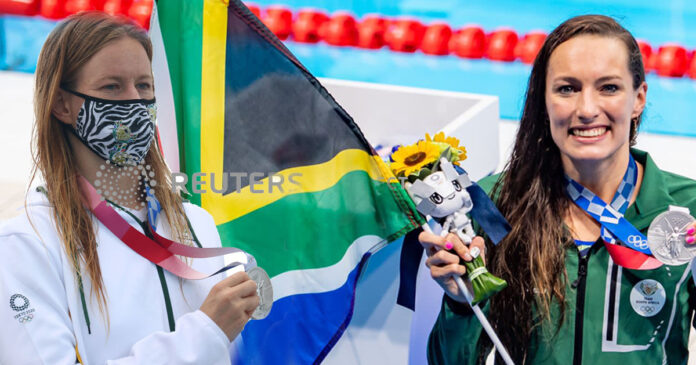 AfriForum, which originally launched a medal fund on 10 August for Olympic and Paralympic medallists, says it has now joined hands with Atterbury Trust's medal fund so that the athletes can receive their rewards collectively. (See details at bottom of page if you'd like to contribute.)
The fund-raising amongst South Africans for Olympic medallists – swimmer Tatjana Schoenmaker (Gold and Silver) and surfer Bianca Buitendag (Silver) – and upcoming Paralympic medal-winners, kicked off after reports in the media that the South African Sport Confederation and Olympic Committee (SASCOC) has very little to no funds with which to reward these medallists. (These reports have been refuted by SASCOC who say they're in negotiations with partners over financial rewards for the athletes – see statement below.)
For South Africans, nobody has been more deserving of financial incentives than these dedicated and humble athletes whose achievements lifted the spirits of the nation from the ashes of the recent SA unrest. So humble in fact that Tatjana told Carte Blanche that she plans to pay back her parents with her medal bonus for all they've done to make her an Olympic star. (If you missed last night's celebration of Tatjana, watch on DStv Now… and if you're abroad, you can stream Carte Blanche from Tuesday on Showmax International.)
International rewards for other Olympic athletes
Around the world, other athletes have been rewarded. According to SwimSwam magazine, Singapore's athletes were offered the highest incentive of $744,000 for bringing home a Gold, while Australian Gold Medal winners 'only' received $20,000 (US). The US athletes got $37,500 while Russian winners walked away with $61,000 each.
Closer to home, Botswana gifted a two-bedroom house to each member of the 4x400m relay team, that won an Olympic Bronze medal, according to Africa Facts Zone. Although the Philippines really went to town with their Gold medal athlete – female weightlifter Hidilyn Diaz won the country its first Gold medal in 97 years, and has been rewarded with two homes, $660,000 in tax-free cash prizes, and free flights for life.
Fundraisers give hope for future of SA sport
Ronald Peters, Manager of AfriForum Sport, said the fact that several funds were established by the private sector in South Africa, to support the country's athletes, gives hope for the future of South African sport.
Singer Adam Tas suggested the medal fund on Twitter, which is being managed by AfriForum. The organisation has already made the first donation of R50,000 to the fund and encouraged the public, businesses, organisations and companies to support the fund. Donations are currently closing in on R100,000. Peters said:
"The purpose of this campaign is to support and compensate the athletes that performed excellent on one of the biggest stages in sport for their hard work, and not to highlight any organisation or institution in any way through this initiative. The fact that so many individuals, organisations and companies are prepared to take a stance gives me hope that South Africans really care about the development and the future of sport in South Africa. We hope that this is the beginning of a bigger initiative where people start to become involved with projects where individuals and institutions are taking responsibility themselves for the promotion of sport in South Africa."
SASCOC says negotiations underway for financial incentives
SASCOC President Barry Hendricks confirmed on 10 August:
"It is true that the amounts have not been finalised given that the negotiations are ongoing. However, there has never been a point whereby a decision has been made to not offer medallists incentives.

"We did not want the issue of financial incentives to distract from the performances of the athletes at both Games. We are now between the Olympics and the Paralympics and we believe that we should be consistent in our treatment of athletes. So, we didn't want to say, 'yes, we are offering incentives for the athletes and the incentives are x, y and z.

"All along we wanted the athletes to concentrate on their performances without distraction. Both the Tokyo Olympics and Paralympics are being held in unprecedented times due to the Covid-19 pandemic. We will be rewarding medallists and the amount for each medallist will be announced in due course once we have finalised negotiations with our partners."
In the meantime, while the negotiations are ongoing, South Africans have made other plans.
Atterbury and USN jointly donate R500,000 to Olympic medal winners
Atterbury (which develops and manages top real estate projects) and USN (Ultimate Sports Nutrition) announced last week that the two companies would be jointly donating R500,000 to Olympic medal winners.
The Atterbury Trust also launched Spansaam, a crowdfunding project to reward the medal winners, as well as their coaches.
Armond Boshoff, Atterbury's CEO, said: "We are proud of Tatjana and Bianca and believe that excellence should be rewarded."
Albé Geldenhuys, founder and CEO of USN which promotes sports and scholarships amongst the underprivileged, said: "We love South Africa very much, and there is so much talent and potential in our country. We have respect for the perseverance of athletes who have continued to train throughout the Covid Pandemic to give their best in Tokyo. These medal winners are an inspiration to young athletes and must be retained for South Africa."
Sea Harvest awards Bianca Buitendag
Sea Harvest awarded Bianca Buitendag with a R50,000 gift as a reward for her Silver medal in surfing at the Tokyo 2020 Olympics in Japan.
The fishing and food business, which operates in SA and Australia, said the R50,000 was for Bianca's "contribution to the Olympic team and the upliftment of surfing in South Africa 🏄‍♀️."
Sea Harvest also pledged to increase its contribution to Surfing SA annually to be one of the biggest sponsors in the country. The company said its focus will be on Junior Surfing development and transformation in the sport. "We now look forward to seeing more surfing stars at the 2024 Paris Olympic Games!" said Sea Harvest.
How to donate funds for South African medallists
AfriForum said today that the goal is to collect sufficient funds by Friday 20 August 2021 to thank these athletes for the hope that they brought to thousands of young athletes as a result of their hard work and excellent performance.
People that want to contribute to the fund can deposit funds into AfriForum's account with "Medalje" as reference, or it can be deposited directly into the Atterbury Trust's account by following this link: https://atterburytrust.org/shop/spansaam/.
AfriForum will also deposit the funds that were paid into its account into the trust's account by Friday 20 August 2021 so that the payment to the athletes can be done collectively.
Companies and organisations that want to become involved with this fund can send an email to sport@afriforum.co.za.
DON'T MISS: Carte Blanche celebrates Tatjana Schoenmaker, streaming from Tuesday on Showmax International if you live overseas (in most countries).