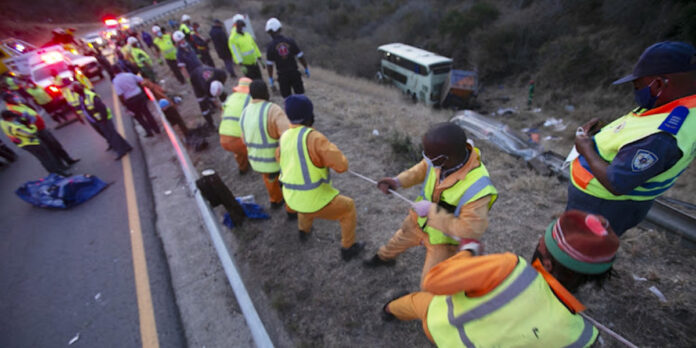 A team from the Road Traffic Management Corporation (RTMC) is investigating a luxury coach crash which claimed the lives of at least 28 people, including about three children and a baby boy, at Kei Cuttings in the Eastern Cape, South Africa, yesterday (Monday 16 August).
According to the RTMC, the crash occurred when a luxury coach went off the N2 between Butterworth and East London, plunging 200 metres down a steep slope. This winding stretch of road is known for accidents.
It has been reported that the driver of the bus, who also died in the crash, possibly lost control before navigating the last bend in the road.
A spokesperson from the Eastern Cape Transport Department, Unathi Binqose, said: "He lost control just before he could cross the river on the last curve."
RTMC has reported that six other people were seriously injured and transported to Frere Hospital, and 18 others sustained no injuries.
A report will be released on the incident once the RTMC completes its investigation.
Meanwhile, Minister of Transport, Fikile Mbalula, has sent his condolences to families who lost loved ones in the crash:
"The loss of life is tragic and brings untold suffering to families who have lost breadwinners and loved ones. I convey my heartfelt condolences to the bereaved families and their loved ones. We must all continue to work together in making our roads safe and ensuring responsible driving."
– SAnews.gov.za
***BREAKING NEWS***

Luxury Coach overturned on the Kei Cuttings between East London and Butterworth in the EC, preliminary report indicates 22 passengers lost their lives.

Rescue services on the scene still trying to recover those trapped under the bus.#ArriveAlive pic.twitter.com/OdmtlbPWGD

— Road Traffic Management Corporation (@TrafficRTMC) August 16, 2021