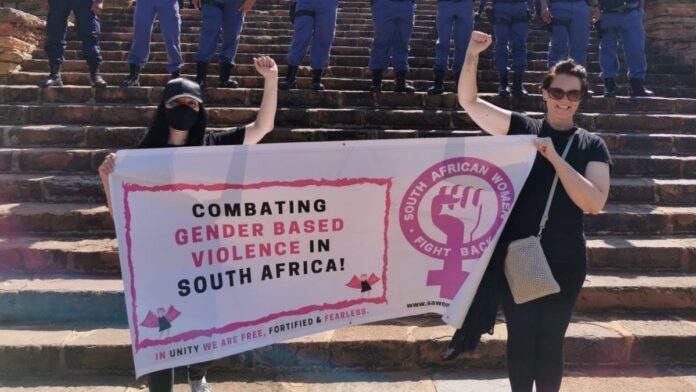 In response to the tragic murder of 29-year-old,

Meghan Cremer

, the vibrant Western Cape show-jumper and bakery manager, who was assaulted and murdered in Cape Town in August 2019, Bronwyn Litkie launched Facebook group SA Women Fight Back.
The group, which was founded on 8 August 2019, the day before Women's Day, began as a safe place for women to share their stories of abuse, seek help and confide in each other, soon grew to nearly a quarter of a million members, putting gender-based violence in the spotlight.
With the help of remarkable volunteers, the group formalised and established an NPC, to give a voice to the slain, forgotten and silenced women in our society. Bronwyn says:
"Through the stories that we read we came to realise just how many womxn have remained silent and suffered for sometimes decades at the hands of their abuser. Most women had never shared their stories. Gender-Based Violence has been silenced for too long, and we need to lift this veil and let womxn know that they are not alone and that there is always help for them."
Over 40 000 GBV cases are reported each year in SA
Turning words into action, SA Women Fight Back collaborates with sister organisations to offer gender-based violence survivors counselling and healing courses after they have experienced trauma, among other helpful initiatives.
This women's month, the organisation hopes to expand their care pack drive, through a crowdfunding campaign launched on BackaBuddy, to help restore dignity to the brave women who come forward to report a sexual assault.
These packs, which cost approximately R100 to put together, including transportation costs, contain underwear, sanitary pads, a pamphlet on where to find help, and other much-needed items to help survivors on their road to rehabilitation.
 "We currently have relationships with 16 police stations across SA but would like this program to reach all stations with high Gender-Based violence statistics. There are over 40 000 gender-based violence cases reported each year and we would like to be able to supply care packs to every victim."
With generous support from the public, the organisation has thus far been able to accumulate 250 care packs, which will serve as a life-line to those who need them.
To donate a care package, visit SAWFB's crowdfunding campaign: