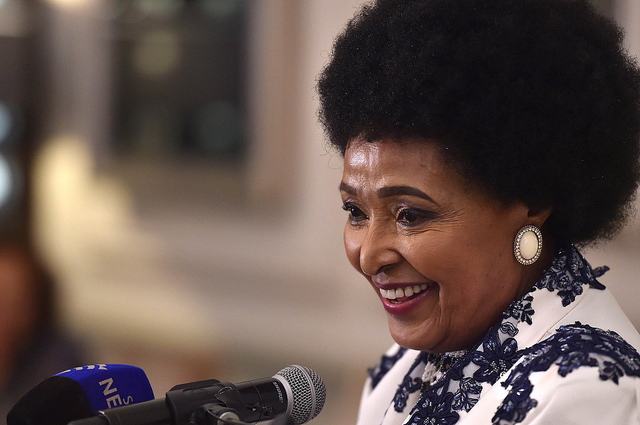 The South African Cabinet, which held a virtual meeting yesterday, said in a press statement today that it welcomes the renaming of Brandfort in the Free State to Winnie Mandela, "in honour of the Struggle and liberation icon who was banished to the town during the height of apartheid".
Plans to unveil the name were announced in a press release by the Free State Department of Sports and Culture on Monday (16 Aug) BUT they were ordered to put the plans on hold by SA's Minister of Sports and Culture Nathi Mthethwa.
The Minister apparently advised that a 'cooling-off period' of 30 days be allowed. According to the SA Geographical Names Council Act, objections are allowed to be submitted to the Minister within 30 days of a name change being published in the Government Gazette. The name change was published in the Government Gazette of 6 August 2021, and a petition has already received over 300 signatures from the small community.
Brandfort was the hometown of Apartheid architect Hendrik Verwoerd. Changing Brandfort's name to Winnie Mandela would be one of the ways to honour anti-apartheid activist Winnie Madikizela-Mandela who died in April 2018, Mthethwa said when he approved the name earlier this month.
MP George Michalakis – DA Constituency Head for Brandfort – said Free State MEC Limakatso Mahasa "can't see through the egg on her face" as the provincial department's planned ceremony "embarrassingly has to be cancelled".
Michalakis said its "a reflection on the whole process of this name change since it was first proposed: continuous acts of feverish desperation to win favour before the elections. If the provincial department respected the legal process, why are they in such a hurry?"
The Brandfort DA Head said if Mahasa "would take a moment to wipe the egg off her face resulting from this fiasco, she would see that there is a real need within this community to be heard, and not to be side-lined, on this matter."
According to eNCA reporter Michael Appel – who was in the area in October 2020 – there were "kids from nearby Slovo Park walking several kilometres a day, skipping school, to fetch water", and he says "residents begged for services over any name change".
The DA says it has received more than 300 signatures in a single week from members of the community "stating that they were not notified of any consultation process". The opposition party has also requested access to the records to confirm the extent of consultation, "if any".
Michalakis said: "In the meantime, we urge MEC Mahasa and her department to calm down for a while, to familiarise themselves with democratic principles and due process and to take some time to listen to the whole of the community of Brandfort – something that should have been done in the first place."
I see #Brandfort is to be renamed after #WinnieMandela. I was there in Oct last year reporting on kids from nearby Slovo Park walking several kilometres a day, skipping school, to fetch water. Residents begged for services over any name change @DWS_RSA.
👇🏽https://t.co/FtjZumObgY pic.twitter.com/vZ9TWkyXEw

— Michael 🍏 (@TheMikeAppel) August 6, 2021
On this day, 16 May 1977 Nelson Mandela's wife Winnie Mandela was banished to the rural town of Brandfort pic.twitter.com/JQN9o9SZ1Z

— NelsonMandela (@NelsonMandela) May 16, 2020