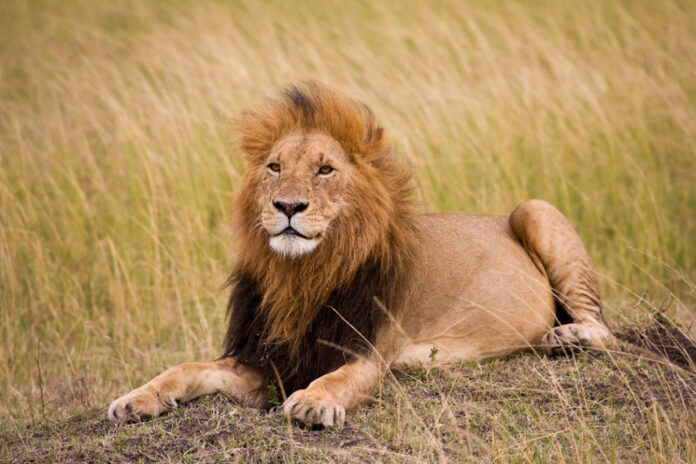 There has been an international outcry after a wild lion, named Mopane, was allegedly killed by an American trophy hunter outside of Hwange National Park in Zimbabwe, in disturbing similarities to the killing of 'Cecil' which made headlines six years ago.
The trophy hunter is allegedly again an American – named as Phillip Smith (not a dentist, but this time a 46-year-old physical therapist from Missouri) – who reportedly paid tens of thousands for the 'privilege', also shot the lion with a bow and arrow and also lured the lion out of the park with bait. One of many international headlines asked: "How could this savagery roar back?"
Mopane (also known as Mopani) was well-known to local tour guides and international tourists; and there had been a petition to keep the majestic lion protected from meeting a similar fate to that of Cecil.
As reported by SAPeople a couple of weeks ago, 12-year-old Mopane was killed "in a bow hunt after being baited in a hunting area on the outskirts of Hwange", according to Captured in Africa founder Drew Abrahamson who was informed by sources on the ground.
Conservationists are devastated. Kitty Block, CEO of Humane Society International (HSI) and president and CEO of the Humane Society of the United States (HSUS) said this week:
"Mopane was a father and played a significant role in his pride. Without him, his pride is now vulnerable to takeover by another male or group of males, which may lead to the killing of the cubs and females in his pride. Yet, as with Cecil six years ago, the perverse pleasure some people derive from killing iconic animals brought this noble lion's life to a tragic end. Another trophy hunter spending tens of thousands of dollars on a globe-trotting thrill-to-kill escapade shows humanity at its worst. It is shameful that the U.S. has the distinction of being the world's biggest importer of hunting trophies. Enough is enough."
Mopane's vulnerable pride – the Somadada Pride – now consists of two adult females and six sub-adults of about 16 to 18 months of age.
According to Humane Society International/Africa, one wild lion killed is one too many.
"With only approximately 20 000 mature African lions left in the wild, and a population decline of 43% in the last three generations, this species is under severe threat. When coupled with unscrupulous and possibly illegal actions such as baiting and luring out of protected areas – as was allegedly the case with this iconic male – these lions are even further imperilled. We must do all that we can on a local, regional and international level to preserve the species and keep protected areas functioning," says Humane Society International/Africa wildlife director, Dr Audrey Delsink.
Between 2009 and 2018, 7 667 lion trophies were traded internationally, including into the U.S. and the European Union. In addition to advocating to eliminate the import of lion trophies into the U.S., HSI is working in South Africa to prohibit the export of lion trophies; and in the U.K. and European Union to prohibit the import of imperiled species trophies.
Some African Lion Facts:
An estimated 20 000 mature lions remain in the wild in Africa.
Lions are infanticidal species. Infanticide occurs when adult males take over a new territory and kills the dependent cubs to increase mating opportunities with resident females that have dependent offspring.
Human-induced removal of lions, such as trophy hunting, disrupts social group and results in infanticide. More information on African lions can be found
While the U.S. is the largest importer of hunting trophies, the EU has surpassed the U.S. as the largest importer of lion trophies between 2016 and 2018 according to a new report by HSI/Europe.
According to Abrahamson, many are healthy lions being taken out of the gene pool, and lions which are still breeding and actively part of a healthy pride.
Supporters of hunting claim that the sport's focus is on sustainability, and that the areas in which hunting takes place are not suitable for photographic safaris, and that therefore by using them for hunting it generates revenue to maintain these wild habitats.
"But how are you protecting the wildlife if you are taking out males from prides who frequent the National Park?" Abrahamson asked. These lions traverse the park, contradicting the hunters' philosophies.
Earlier this month Abrahamson posted screenshots showing "distressing" evidence online that Big Game Safaris International was "openly advertising and targeting Mopane in Dec 2020". The promotion boasted that Mopani was one of the oldest and most aggressive lions in their hunting block, and admitted that Mopani travelled between their block and Hwange Game Reserve.
"Do you want the chance to take a big free roaming lion? Book a hunt with us!" said the advert. See the images here.
The conservationists are currently compiling a document to be sent to the Zimbabwean government to stop all big-cat hunting on the Hwange border, Abrahamson told SAPeople.