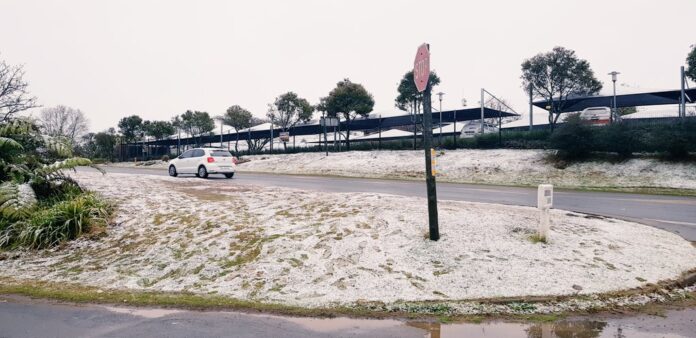 Snow has fallen on parts of the KwaZulu-Natal Midlands in South Africa, transforming the area into a winter wonderland. Delighted locals, many of whom have never seen snow in their area, have taken to social media to share a blizzard of photos and videos of the rare scenes.
The South African Weather Service (SAWS) had issued a yellow level 4 Warning yesterday of "disruptive" snow in the Drakensberg as an intense cold front crept across South Africa… but the snow has fallen further afield too… coming down in Hilton, Hillcrest, Dalton and other parts of the province.
SAWS said "widespread snowfall expected on the high-lying areas with disruptive snow in the south-west."
Even in Drummond, sleet fell – the first time ever in Drummond history. "It melted as it was hitting the ground but there was huge excitement in neighbouring areas where it actually snowed in some places close to us," Drummond resident and SAPeople contributor Carol Malley said. "Very rare indeed, and with lots of snow in the Midlands."
KZN – #Snow in the Hilton area pic.twitter.com/SSHO5ke9yl

— Rob Beezy (@TrafficSA) August 28, 2021
Snow coming down in Dalton, KZN misdlands @FordSouthAfrica @SnowReportSA pic.twitter.com/TkIA25tlJY

— Gabriel Sithole?? (@GabrielSithole) August 28, 2021
It was even snowing in Killarney, for the first time in living memory. Juandre Vorster (aka The Weather Hooligan) said: "Staff arrived at Killarney before dawn on the morning of Saturday 28 August, to find some sections of the infield still lightly blanketed with snow!"
Juandre shared several photos from residents in KZN of their areas covered in snow for the first time… just like he had predicted in a video last week (although his prediction of snow falling close to Joburg has so far not materialised).
Motorists have been urged to postpone their trips to avoid those areas experiencing snowfall, especially in Kokstad, Bulwer and other inland areas.
Temperatures dropped with the cold front, and rain also swept in, causing residents to 'overload' on electricity usage and leading to a high volume of electricity faults across KZN. Eskom issued a statement, saying it would endeavour to restore power "as quickly as possible".
"Eskom apologises for any inconvenience caused and reminds those affected by the loss of supply to treat all electrical installations as live and dangerous, as electricity supply may be switched on without notice," said the power utility.
Eskom also warned of unplanned power interruptions tomorrow (Sunday 29 August) as parts of the country will continue to experience the inclement weather conditions. (You can report faults here.)
Snow in Underberg KZN today
?️ Mo McCann pic.twitter.com/v8geHMKEn5

— Weather?️by AfriWX (@afriwx) August 28, 2021
⚠️Yellow level 4 Warning for Disruptive snowfall for parts of KZN tomorrow (Saturday 28 August 2021)). It will be cloudy, cold to very cold and rainy over many parts of the province. Widespread snowfall expected on the high-lying areas with disruptive snow in the south-west. pic.twitter.com/QY7q9Om9G1

— SA Weather Service (@SAWeatherServic) August 27, 2021
Its a cold day across most parts with wet weather in KZN and eastern provinces. Disruptive snow expected for Drakensberg mountains. pic.twitter.com/1q1tG5L290

— SA Weather Service (@SAWeatherServic) August 28, 2021
KZN Midlands, Hilton, I captured that at about 16:30, and the snow was still falling ❄❄☃️☃️☃️ pic.twitter.com/CWHG5nygCD

— Zizikazi MaDlamini Fakade (@Lele26439058) August 28, 2021
#KZNSnow. Out for some fun in the snow pic.twitter.com/DZUqJzKXsB

— Nozuko (@nozuko_zuky) August 28, 2021
Meanwhile, in other parts of the country, particularly in the Eastern Cape, there was also snowfall, with Philip Tibshraeny capturing this amazing photo at Hogsback this morning:
Hogsback vanoggend 28/08 ?Philip Tibshraeny @peoples_weather @JoelGuy_ @maroelamedia @AgriSA1904 @SAWeatherServic pic.twitter.com/InlVjVty2n

— ReenvalSA (@ReenvalSA) August 28, 2021