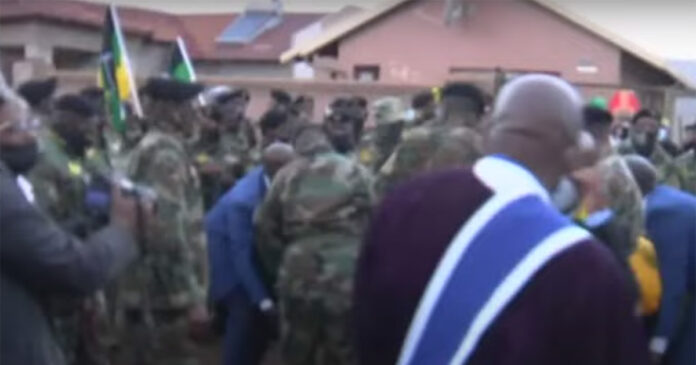 Shots fired into the air at the laying to rest of Kebby Maphatsoe appear to have wounded one elderly person and crashed into the bedroom of another, in a Johannesburg suburb in South Africa.
At the laying to rest in Westpark cemetery of the MK Veterans leader yesterday, funeral goers fired multiple shots into the air (which can be heard in the video below).
At the same time a resident of an old age home in Westdene was hit in the leg by a mystery bullet, which appears to have come from an AK47. AND in neighbouring Montgomery Park, a 9mm bullet smashed through the bedroom window of an 87-year-old man, missing him by about 3 metres.
Residents of the surrounding suburbs say gunshots went off during the funeral, and continued for about half an hour, with one barrage of some 50 shots obviously coming from an automatic weapon, according to James Lorimer who is DA Constituency Head of Westdene and Montgomery Park.
Lorimer said in a statement on Monday:
"Firing into the air has been common practice at gangster funerals for some years. Despite frequent complaints to the South African Police Service and the Johannesburg Metro Police, nothing has been done to stop the practice.

"Reports from yesterday's Maphatsoe burial indicate some senior police officers were present. There is no sign they did anything to stop the shooting, which took place in a cemetery surrounded by residential areas.

"The sheer irresponsibility of firing multiple live rounds into the air in densely settled areas is difficult to believe. The fact that it was at the funeral of a one-time senior member of the ANC government speaks volumes about the type of organisation the ANC has become."
Lorimer called for an immediate "proper" police investigation immediately. He said with at least two bullets having been recovered, there should be forensic tracing to see from which weapons they were fired, and added that the people who fired them should be jailed.
Lorimer also said that "leading police officers who have ignored the practice of shooting at funerals in the past, and those who were present at this funeral yesterday, should face consequences for turning a blind eye to such reckless behaviour They do not deserve to hold senior rank in the police."
WATCH Kebby Maphatsoe's funeral
Gunshots can be heard being fired at the start of this video: