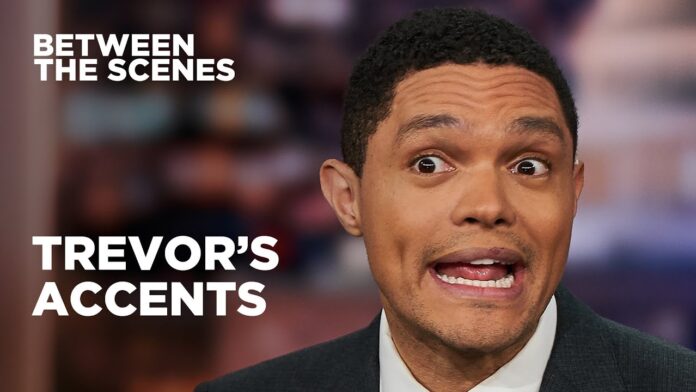 A video compilation of South African comedian Trevor Noah doing various accent has gone viral. Watch below as Trevor muses on French raps, imagines Donald Trump speaking Arabic, recalls speaking to emergency operators in South Africa and nails the Aussie accent (apart from slipping into a Kiwi accent for a few of the words).
Australian fan Anna Alness said: "Being an Aussie who already Loves your work, you are the Only comedian/actor I have heard who can do justice to the Aussie accent.. albeit the "Bogan" Aussie/slang style… but it still sh*ts over all other comedians/actors who have attempted Aussie so far."
The recordings all happened while Trevor was talking to the audience 'Between the Scenes' during the recording of The Daily Show in New York. The Daily Show calls Trevor the accent G.O.A.T. (Greatest Of All Time).
He reveals how his love for accents came about through growing up with so many accents around him (his mom being Xhosa and his dad German Swiss), and remembers how he used to watch Rescue 911, starring William Shatner, on TV with his mom as a child.
Trevor says he never tries to learn the accent of a country – since there is no one accent – so much as learning the accent of a friend from the country. His own accent, it turns out, is now helping some foreigners learn how to identify a South African accent.
Lovetta Epperson Downes in Western Australia said: "I was in Target last year in WA state, and the checker had an accent. I asked her if she was from South Africa. She was totally shocked that I nailed it! She said no one ever gets it right. I told her she sounds like Trevor Noah whom I watch daily. I recognized it from him! She said that South Africans love Trevor and he does a lot of great charity work for the people of S.A. ❤️❤️❤️"
WATCH VIDEO: The Best of Trevor's Accents – Between The Scenes | The Daily Show