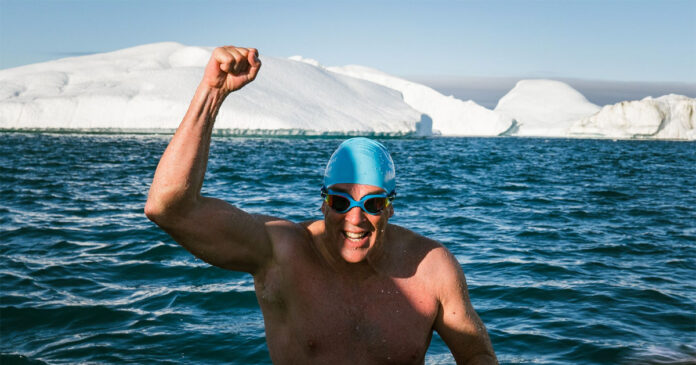 Incredible South African (and British) endurance swimmer Lewis Pugh has completed his gruelling Climate Swim in Greenland, undertaking 7.8 kilometres in icy cold water to raise awareness about rising temperatures, and help focus attention on the world's climate crisis.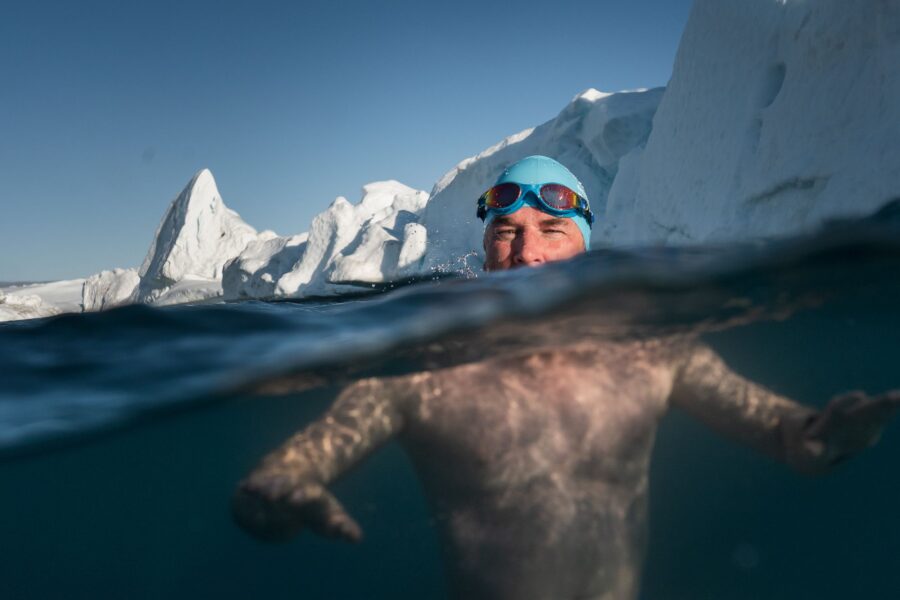 Taking to social media after the insanely challenging swim – which he calls the 'coldest swim on Earth', Lewis said:
"I feel relieved, exhausted, cold. And worried. The melting we have seen on the Greenland Ice Sheet will impact all of us. We have a very small window to act. We now need all hands on deck to solve the Climate Crisis. #COP26"
Lewis thanked his team of seven on the boat, as well as the 80 others behind the scenes, for helping make the Climate Swim – across the mouth of the Ilulissat Icefjord in front of the world's fastest moving glacier – possible.
Answering questions from fans, he revealed that he always ate a hearty meal a couple of hours before his swims (morning and afternoon). He said a big omelette and fruit was normally his morning meal, and he stopped eating two hours before each swim to give his stomach time to settle. (And a dog called Qaqu gave him "the biggest hug after each swim".)
Lewis revealed that on those days when the going got tough, when getting in the water was incredibly hard, he would "always try to think of just one reason why I should get in the water". That reason changed each time – like doing it for his family, not letting the team down, raising awareness about what's happening in the Artic – but he said the important thing is to always have just one reason. "That reason will make all the difference," he said.
Navigating through ice-filled waters, Lewis says that "to swim past icebergs is to swim through history. All you can hear is bubbling – the sound of air being released from the ice; air that was trapped there thousands of years ago."
Whilst in Greenland, Lewis said he was "surrounded by spectacular beauty. But it hides a harsh reality. Everywhere in Greenland are warning signs of the climate crisis."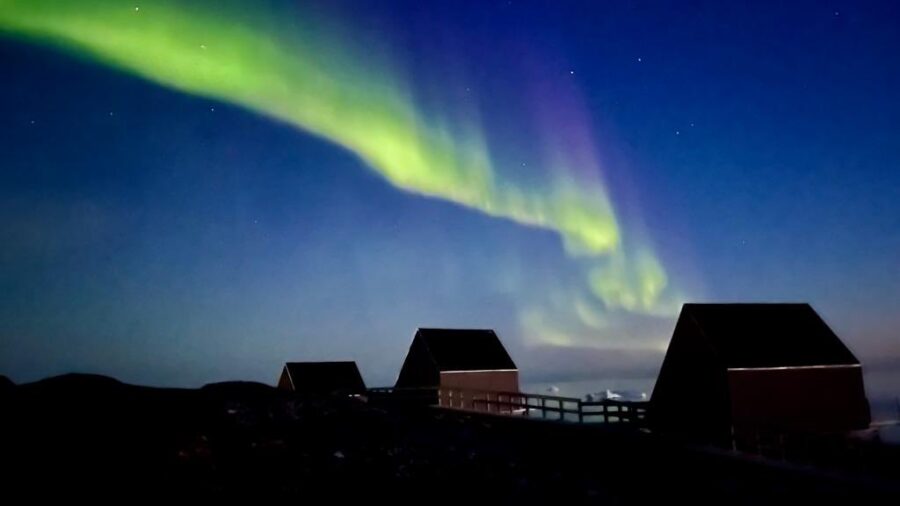 He is swimming across the 10-kilometre mouth of the Ilulissat Icefjord – in front of the world's fastest-moving glacier – in near-freezing waters with a wind chill that can plummet temperatures to negative numbers.
Before embarking on the swim, Lewis explained that what happens in the Arctic will determine the future of Earth and everything that lives on it.
"The polar regions are feeling the effects of the climate crisis more dramatically than anywhere else on Earth. If temperatures continue to increase, the polar ice caps will melt and sea levels will rise. Unless we take urgent action to decrease global temperatures by seriously lowering our global carbon dioxide emissions, low-lying islands and coastal cities will, quite literally, drown."
In a blog on his website, Lewis – who is the UN Patron of the Oceans – said: "Scientists tell us that a 2°C increase above pre-industrial temperatures will push us past a point of no return. The latest IPCC report suggests that we have already exceeded 1.5°C…
"I'm freezing here, to remind world leaders that if we push our planet too far, all our lives are at risk.
"There is a world of difference in just 2°C. Let's not put this number to the ultimate test."
Read Lewis Pugh's full blog post here and follow him on Twitter here. 
WATCH spectacular footage of Lewis Pugh's Climate Swim
Yesterday I did 560m in the morning. And 650m in the afternoon. 1,210m in total. We can now see the end in sight. #ClimateSwim pic.twitter.com/i8D8ErCueI

— Lewis Pugh (@LewisPugh) September 5, 2021
The end is in sight. Just 200m to go. #ClimateSwim pic.twitter.com/bSQMcDfMnx

— Lewis Pugh (@LewisPugh) September 6, 2021
Will miss this boy so much. Every day Qaqu has given me the biggest hug after each swim! #ClimateSwim pic.twitter.com/Fa4rGLifVV

— Lewis Pugh (@LewisPugh) September 6, 2021
I've completed the #ClimateSwim. 12 days, 7.8 gruelling kms. I am relieved, exhausted, cold. And worried.

The melting we've seen on the Greenland Ice Sheet will impact all of us. We have a very small window to act. We need all hands on deck to solve the Climate Crisis. #COP26 pic.twitter.com/Y7FJkeQO08

— Lewis Pugh (@LewisPugh) September 7, 2021
Meet Anika Krogh, our skipper for the #ClimateSwim. She was born and raised in Nuuk, Greenland. Anika chooses the route and helps @LewisPugh safely navigate ice-filled waters. We are delighted to have such a talented and committed skipper! ⛵?? pic.twitter.com/XQaiCnDcMv

— LewisPugh Foundation (@LewisPughFDN) September 3, 2021