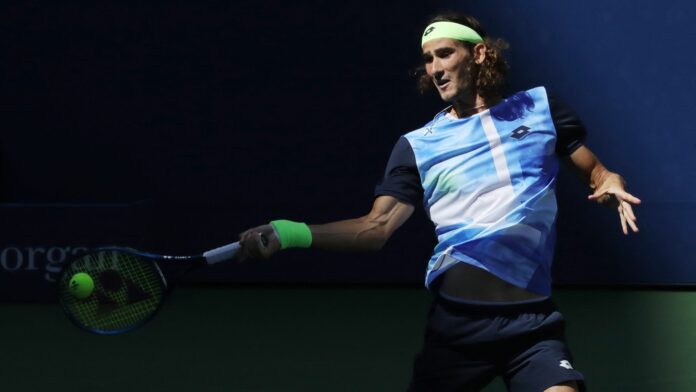 South African tennis player Lloyd Harris is on a roll at the US Open. The Mzansi sports star on Monday continued his dream run at the tournament in New York, overcoming US player Reily Opelka in a brilliant performance to reach his very first quarter-final in a Major ever!
Lloyd toppled the 22nd seed 6-7(6), 6-4, 6-1,6-3 – in front of a crowd that included many SA expats – to continue his journey at the US Open. US Open Tennis tweeted afterwards: "His name is Lloyd."
According to USA Today, Lloyd has become only the third unseeded player to make the final eight at the US Open.
Before this year, Lloyd had won only one match at the US Open. Now he has beaten Karen Khachanov (Russia), Denis Shapovalov (Canda) and Opelka to make it to the Quarter finals!
As a jubilant Tennis South Africa said after the match: "There's no stopping Harris! ✌?"
The 24-year-old's next contender will be World Number 4, Alexander Zverev from Germany.
Lloyd told the ATP Tour this week: "Everything has been coming together this season. I feel confident in my game, and I want to keep the momentum going."
Lloyd, who is currently SA's top-ranked tennis player, has an ATP singles ranking of 46 (his highest ever, which he achieved last month). The 6'4″ athlete turned pro in 2015 and has so far almost $2-million in prize money.
The last time a South African was in the men's singles quarter finals was Kevin Anderson in 2017. Kevin was unfortunately knocked out of the US Open on Wednesday evening when Tropical Storm Ida disrupted play.
WATCH Lloyd Harris through to US Open Quarter Final
His name is Lloyd.

?? Lloyd Harris continues his dream run into the #USOpen quarterfinals! pic.twitter.com/GoQbwemvmZ

— US Open Tennis (@usopen) September 6, 2021
Wow! South African Lloyd Harris played brilliantly in the round of last 16 to win, and now going to the quarters of the US Open! GREATEST achievement of his career.

Well done, Hippie Harris! ? pic.twitter.com/Q77cITkSN0

— Eusebius McKaiser (@Eusebius) September 6, 2021