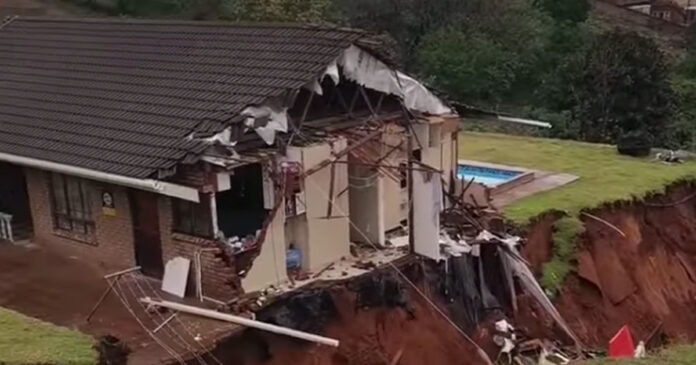 Following heavy rains on Tuesday morning in La Mercy, north of Durban, a house and part of the adjacent road have partially collapsed. The family were reportedly in the home at the time and have been left understandably "traumatised".
According to local reports a burst storm-water pipe, running under the road in front of the house, is most probably to blame for causing the erosion of soil that led to the side of the house collapsing.
eNCA said that fortunately the family were on the other side of the house from the collapse, and have since safely escaped with some of their treasured belongings.
There have been no injuries reported, and all relevant stakeholders including civil engineers are on the site.
The Municipality's Disaster Management Team was on site. The immediate concern is for the family to have somewhere safe to stay since an entire portion of their house has fallen away.
According to eNCA, the family had already become "alarmed" last night when their boundary wall collapsed during the rains. The rain began again Tuesday afternoon, leading to fears there could be further damage.
Reporters said that in the long run, local authorities will need to fix the storm drainage in the area. In the short term, the water supply needs to be restored to the community.
WATCH VIDEOS: House collapse in La Mercy, Durban