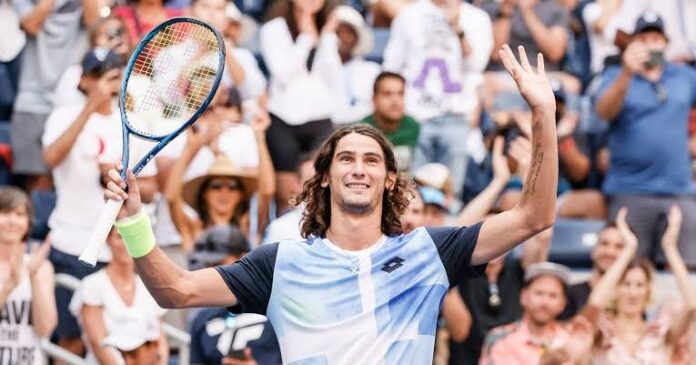 Lloyd Harris put up a strong fight in New York in the quarter-finals on Wednesday, but sadly ended his brilliant run at the US Open going down 7-6(6), 6-3, 6-4 to Germany's Alexander Zverev.
It was a fantastic effort from the Capetonian who went into the tournament unseeded, whilst Zverev was seeded fourth. Playing in the Arthur Ashe Stadium at the USTA Billie Jean King National Tennis Center, Lloyd very nearly won the first set… which could've changed everything. He was 5-3 up, serving for the set… but unfortunately didn't clinch it, and then lost the tie break.
One South African fan noted: "So proud of his fighting spirit. I do believe that delay in serving for the first set in the tie breaker caused by Zverev was a frustration for him that might have cost him the set. Like the commentator said, Zverev stole the first set…"
In what some are calling a "crazy scene", Lloyd took out his frustration on losing that set by throwing two bottles of water onto the court. Many commenters said they'd "never seen anything like it". However it then got a little more weird – and warm and fuzzy – when he and Alexander helped the ball people wipe the court dry… and chatted whilst doing so!
The US Open commentators emphasised that Lloyd is definitely one to watch, a very talented tennis player who has a great future ahead of him. Despite losing, Lloyd was able to push Alexander out of his comfort zone.
Tennis SA said: "Congrats on reaching the quarters, Lloyd! Thank you for flying the 🇿🇦 flag high 🙌"
Davis Cup next
Next up, Lloyd will be playing for South Africa at the David Cup, as part of the five-member national squad named yesterday. The match – for the Davis Cup World Group II tie against Venezuela – will be played at the West Side Tennis Club in New York on 18 and 19 September, a week after the US Open ends.
Captain Christo van Rensburg announced Lloyd along with Raven Klaasen, Ruan Roelofse, Sipho Montsi and Philip Henning.
🇩🇪 @AlexZverev does it!

The 2020 finalist is through to the final four for a second consecutive year! pic.twitter.com/LBm6aHtrrE

— US Open Tennis (@usopen) September 8, 2021
Lloyd Harris leaves the #USOpen with a career-best run!

See you in 2022, Lloyd. 💪 pic.twitter.com/NDDoOzzLlF

— US Open Tennis (@usopen) September 8, 2021
Crazy scenes at the end of the first set on Arthur-Ashe.

Frustrated after serving for the set and getting a set point during the tie-break without winning it, Lloyd Harris threw bottles that emptied on the court. Alexander Zverev helped to dry it with the South African. #USOpen pic.twitter.com/dWH2sxjNnI

— Tennis Majors (@Tennis_Majors) September 8, 2021
How's this for a cool message from 2015 from a friend who was a tennis coach…😉🇿🇦 @usopen #LloydHarris pic.twitter.com/6a1kVQBY97

— Rob Koenig (@RobKoenigTennis) September 8, 2021