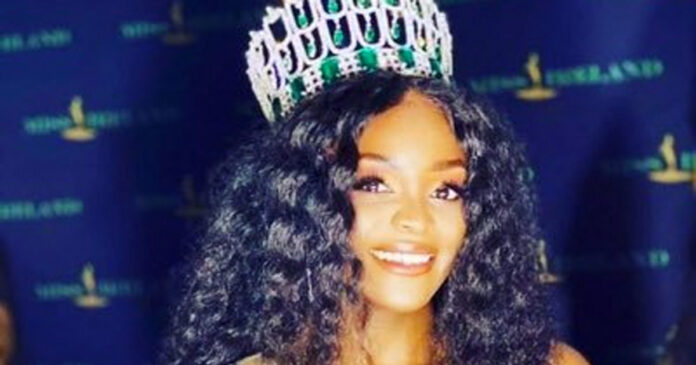 A South African expat has made history by being crowned Miss Ireland, becoming the country's first black beauty queen to hold the title since the competition's inception in 1947. Twenty-six year old Pamela Uba was named Miss Ireland on Sunday, after a lengthy 18-month wait as Miss Galway for the final contest, delayed by the pandemic.
"It was a surreal experience and I'm so delighted," Pamela said after being crowned Miss Ireland. "I couldn't believe this actually happened. Even being Miss Galway for a year and a half, it was a long time coming, I thought the pageant would never happen. I am so happy and the outcome is amazing."
Speaking to the Irish Times, Pamela said: "I am so grateful I can show girls that colour is not something that holds you back and it doesn't matter where you come from, the world is your oyster."
Pamela Ashley Uba's family (including five brothers and sisters) moved to Ireland, from Johannesburg, when she was seven-years-old. "I remember thinking it was strange that I couldn't hear gunshot when I arrived," she told Irish press.
Now a "very proud" Irish citizen, Pam said – like most expats – "I cried when I got my Irish passport". She had to fight for it though, after her family were left in limbo for 10 years in asylum-seeker accommodation, called 'Direct Provision' in Ireland.
She told the Independent.ie that living in direct provision – where "you're left in a standstill" with appalling conditions, not knowing if you're going to get out of it – made her want more for her life.
Thanks to the financial support of her hard-working mum, as well as her own money saved babysitting, and her desire to have a career where she could help people, Pamela enrolled at a local university to study medical-science.
Fortunately, from her second year onwards she got residency and qualified for State grants. She subsequently studied for her master's degree in clinical chemistry at prestigious Trinity College in Dublin.
Pamela now works as a medical scientist at Galway University Hospital in Ireland, and has been one of the frontline workers during the pandemic.
When she was first named Miss Galway, Pamela says while most people were delighted, there were some racist trolls, and admits it was "horrible to hear people telling me to go back to my country when I've worked so hard to make Ireland my home".
As the country's first black Miss Ireland, she says she's looking forward to representing a more diverse culture.
Miss Ireland's director Marc Sully said Pamela "put her heart and soul into her Miss Ireland journey" and "has a very bright future ahead of her".
Irish Green Party politician Hazel Chu tweeted: "Love love love this. Massive well done @Pamela_Uba! A proud day for Ireland."
It's also been a proud day for South Africans abroad. Fellow SA expat Erika Ravenscroft told SAPeople: "Miss Ireland 2021, fabulous South African!!!!!! Sooo proud!!!!!!"
Pamela will head to the Miss World contest in Puerto Rico in December. The SA expat says: "I can't even describe how excited I am to represent my country on such a huge platform. I can't wait."
Rosemary is not the first SA expat to win a beauty title in her new country. In 2012, Soweto-born Nana Meriwether (now 36) was the first runner-up in the Miss USA contest. (The former professional volleyball player is now a philanthropist.) And more recently Jeanette Akua (27) – a singer and songwriter – who moved from South Africa about 10 years ago, was crowned Miss Universe Great Britain 2020 in March this year.
WATCH Pamela Uba covers Amy Winehouse's Back to Black
Pamela submitted this beautiful video, made with friends, as the talent part of her Miss Ireland journey:
All teary-eyed listening to newly crowned #MissIreland @Pamela_Uba on @RTE2fm w/ Jennifer Zamparelli who came from South Africa and lived as an 8-yr old in direct provision. Now she REPRESENTS Ireland as Ireland's first African-Irish wearer of the crown!!! ❤️❤️❤️❤️ pic.twitter.com/oxwleK6A0j

— Eimear Noone (@eimearnoone) September 7, 2021
To my amazing @Variety_Ireland family, it has been such a pleasure to work with a charity like yourself that's soo transparent in every they do and does exactly what they say they will do. Which is helping kids no matter their ability or who they are ❤️ https://t.co/LKINwQt1jV

— Pamela Ashley Uba (@Pamela_Uba) September 6, 2021
History was made last night as @Pamela_Uba was crowned the first ever black Miss Ireland.
She's talking to @andreagilligan now on @NewstalkFM about how it feels to take the crown, her 10 years in direct provision and her career in medicine pic.twitter.com/aBFzabakCP

— Lunchtime Live (@LunchtimeLiveNT) September 7, 2021
Love love love this. Massive well done @Pamela_Uba! A proud day for Ireland.

Miss Ireland 2021: 'I am so grateful I can show girls that colour does not hold you back' https://t.co/wScssgSbhL

— Hazel Chu (@hazechu) September 7, 2021
View this post on Instagram
Pamela Uba's personal message on Instagram after her Miss Ireland win:
View this post on Instagram
Pamela's Journey: