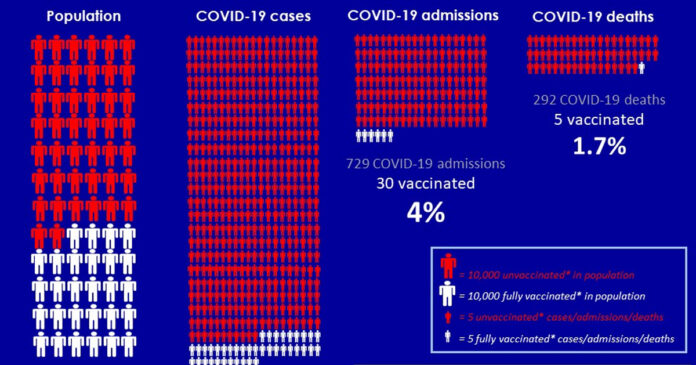 The Western Cape Department of Health has undertaken an analysis of COVID-19 infections, admissions and deaths amongst residents over 60 years old to determine the real-time effectiveness of the vaccine programme in the Western Cape of South Africa. The results, they say, are clear as day: the vaccine is saving lives!
WC Premier Alan Winde tweeted: "The Western Cape Department of Health data confirms that vaccines significantly reduce COVID-19 hospital admissions and deaths. Vaccinate to save lives and jobs in the Western Cape. #LetsDoThis"
Earlier this week a fake image had gone viral, claiming to show stats from Groote Schuur Hospital, but actually taken from a US Twitter page, Sanford Health.
The WC has now created its own image, based on real data collected between 14 -20 August 2021 when the province was at its peak of COVID-19 infections in the third wave.
The Premier said the following was noted:
There were 2455 COVID-19 cases, of which only 8% of infections occurred among those who were fully vaccinated;
Of the 729 COVID-19 admissions to hospitals, only 4% of admissions occurred among those fully vaccinated; and
Of the 292 COVID-19 deaths, only 1.7% occurred among those fully vaccinated.
"To put it simply, over 98% of the people in the Western Cape who died of COVID-19 during this time were not fully vaccinated," he said in a press statement.
"It is clear that the vaccine is a highly effective way to reduce hospital admissions and save lives. That is why I urge every person to get vaccinated as soon as possible. We need to save our summer, and our economy, and we can only do this if we all fully vaccinate and if we save lives."
"We have exited the peak and are on track to exit the third wave too"
The Premier also said: "We have exited the peak of the third wave, and all indicators show us that we are coming off the third wave and that we are on track to exit it too.
"According to the South African COVID-19 Modelling Consortium, there is a 20% probability that the third wave will end by 18 September 2021. We continue to monitor this.
"We will know that we have exited the third wave once case numbers are at 15% of the peak of the current wave, or approximately 530 cases diagnosed a day. We are continuing to monitor these indicators closely."
He has therefore called for the National State of Disaster to be lifted.
The Western Cape is predicting fewer cases next week as the downward trend continues. There are an average of 1505 new diagnoses each day, down from over 3,500 which is was at its highest point in mid-August.
Hospital admissions have decreased from 362 new admissions at their highest point on 1 August to 215 new admissions daily.
Average deaths stand at 65 deaths compared to 122 deaths at their highest point on 30 July 2021. Excess deaths for the Province continue on a downward trend.
The Western Cape's objective is to fully vaccinate 70% of 50+ by December.