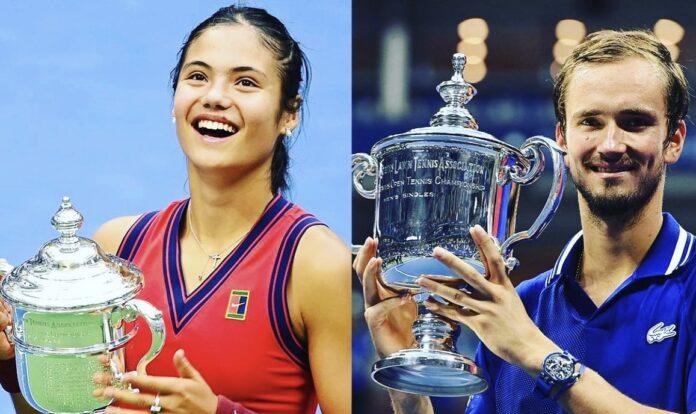 Novak Djokovic had a dream. The Serbian tennis superstar wanted to make world history at the US Open by becoming the first male player to win 21 Grand Slam singles titles. But that dream was dashed by a young Russian, Daniil Medvedev… who outplayed him on Sunday to win 6-4, 6-4, 6-4.
If there were awards for being a good loser (at least publicly), 34-year-old Djokovic would win. Last night he sent a message to his 25-year-old opponent telling him how much he deserved to win. The congratulatory message has gone viral – liked on Facebook by over 124,000 people in less than 16 hours, with another 66,000 on Twitter.
Writing on social media on Monday evening, the world's number one tennis player addressed both US Singles Open winners – England's Emma Raducanu (18) and Medvedev:
Congratulations to both Champions. Amazing fairytale story on woman's side with 2 teenagers competing in the finals. @emmaraducanu you are fantastic ?? Daniil,you absolutely deserve your first Grand Slam title Молодец! Аплодирую (Well done).
Like South Africa's Lloyd Harris, Emma (18) was a qualifier at the US Open, not expected to advance all the way to victory. (Lloyd was knocked out in the quarters, but not before making a name for himself on the world tennis stage.)
Djokovic sat in silence after Sunday's loss, after losing what had arguably become the most important match of his career. But rather than express anger or sadness, he revealed only relief:
"I was glad it was over because the buildup for this tournament and everything that mentally, emotionally I had to deal with throughout the tournament in the last couple of weeks was just a lot."
If you've ever watched Djokovic play in real life, you'll know that he plays with every fibre in his body united in an intense determination to win. But in loss, he has displayed his true sportsmanship and the heart of a winner.
And despite being graceful in his defeat, it is not over for Djokovic… just yet. As tributes poured in for his handling the big disappointment so well, many pointed out that Djokovic has had a spectacular season and that it's not finished yet.
Many of the accolades to his name include: 85 ATP singles titles, 20 Grand Slam singles titles (along with Roger Federer and Rafael Nadal), five ATP Finals titles and a record – along with Nadal – for 36 ATP Masters titles. He's the only male tennis player who has won all nine of the Masters tournaments, a feat he has accomplished twice!
A winner shows how to lose gracefully
Congratulations to both Champions. Amazing fairytale story on woman's side with 2 teenagers competing in the finals. Emma you are fantastic ?? Daniil,you absolutely deserve your first Grand Slam title Молодец! Аплодирую ? #USOpen pic.twitter.com/cw0h7UXNTN

— Novak Djokovic (@DjokerNole) September 13, 2021