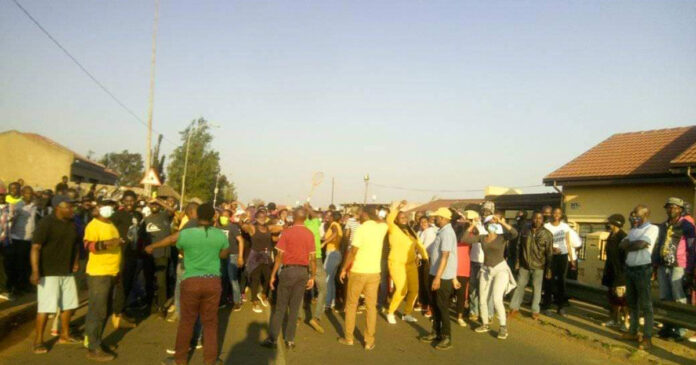 President Cyril Ramaphosa was booed and chased away by the Naledi community in Soweto today, during the ANC's voter registration drive. The residents, who are apparently living without power, accused the ANC of only caring about them when it comes time to vote.
People in Soweto reportedly protested outside Ramaphosa's family homestead, demanding better service delivery and the re-installation of power to end loadshedding in the area.
Police are trying to stop some angry community members from disrupting ANC President Cyril Ramaphosa's campaign in Naledi, Soweto. VIDEO: Kailene Pillay/IOL Politics #Elections2021 #RegisterToVote pic.twitter.com/3fa655uWs5

— IOL News (@IOL) September 18, 2021
Natasha Mazzone, Chief Whip of the Official Opposition, said today's events in Soweto show the "ANC's precarious position in this election".
The ANC has consistently been polling below 50% for months, according to Mazzone, and failed to register candidates in 94 municipalities around the country due to "internal disorganisation and failure to pay their staff".
Tomorrow on Carte Blanche (or from Tuesday if you're abroad) Carte Blanche takes a closer look at the ANC, which after 28 years in power is facing tough challenges: dogged by crippling factional battles, declining electoral support, claims of corruption and mismanagement and now the party can barely pay salaries. Watch Carte Blanche on Showmax International if you're overseas | Watch in SA on DStv Now
"Although it receives the lion's share of funds from the Electoral Commission, its accounts have been garnisheed by SARS for failure to pay PAYE on behalf of employees," says Carte Blanche. "To compound its problems, new legislation around party funding means substantial donors can no longer hide in the shadows but must disclose funds in excess of R100 000.
"The once mighty juggernaut of its election machinery has been reduced to a shadow of its former self – the party will be going into the November elections limping, hardly assured that all its candidates will even make it on the ballot paper. Is South Africa's governing party on the brink of financial ruin?"
Carte Blanche Presenter Bongani Bingwa says:
"After 28 years in power, the ANC has long-delayed its proper transition from a liberation movement to a modern political party running a sophisticated economy. That mistake has not yet proved fatal, but is certainly catching up with it."
DA ready to negotiate new coalitions
In a statement on Saturday afternoon, Mazzone said: "Election 2021 stands to be the moment of reckoning for the ANC, as voters use the polls to boo the ANC out of office in cities and towns throughout South Africa.
"The DA is more ready than ever to negotiate new coalitions where it is possible for us to implement the DA's manifesto pledges. If the voters want to turn from the failing state, to a path of recovery, the DA offers them that chance as the only party big enough to beat the ANC.
"Protests are part of a democracy, but they do not change governments. Votes do. That is why this registration weekend is so important. It is the last opportunity to register before the election on 1 November."
{BREAKING NEWS}

Citizens of Tshiawelo Soweto are protesting outside a family house of Cyril Ramaphosa demanding better service and re-installation of power in Soweto.

Ziyakhala. pic.twitter.com/WilqW7UYzW

— #ZumaIsFree (@ComradeMDU) September 10, 2021