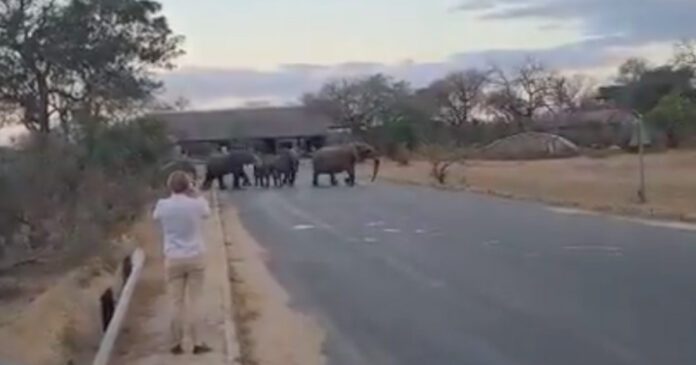 There was much excitement and laughter – and near tragedy – at an entrance to the Kruger National Park today where some visitors were taking photos of elephants outside of their cars.
In a video post by Edward the Guide (@EdwardthembaSa) on Twitter, he said: "Hey…hey…hey….It almost ended in tears at Paul Kruger gate today! (video sent by fellow guide) ??????"
In the video, tourists can be seen outside their vehicles. Some were taking photos of an elephant in the road ahead. However, when that elephant was joined by others in the herd including young calves, the first elephant started running in the direction of two women in the veld. The women can be seen running for their lives back up to the road, while male voices can be heard shouting 'HEY HEY HEY' and hooting wildly to scare off the elephants.
The comments have been a mix of hilarious reactions to others quite troubled that people would put their lives at risk in this way.
Edward explained to all those who were outraged that the tourists had gotten out of their cars in the Kruger… that in fact they were outside the Kruger and were allowed to alight from their vehicles.
He explained the video was taken "next to the reception where one obtains a permit to get into the park! So you can get out of the vehicle and walk as far as the (Paul Kruger) statue but at your own risk!"
He said there were other areas as well in the Kruger where you can get out of the car, but at your own risk, and posted a photo of a relevant sign.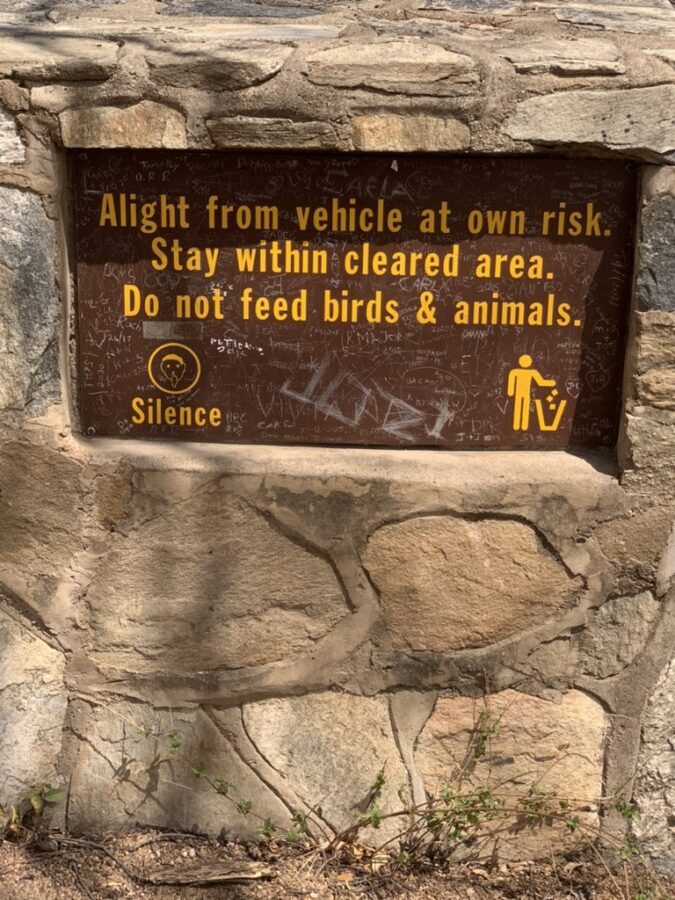 However, just because you're allowed to do something, doesn't always mean it's a smart idea! As one popular tweet said: "Whether inside or outside the gate, if anything comes between the Matriarch and the herd, they consider it a threat and will charge. People need to educate themselves."
Others said the tourists were lucky that 'Simba' wasn't around.
Edward himself joked that "this is why I want to take @MbalulaFikile and @GwedeMantashe1 on bush walks but ke Magwala!??? "
Of the ladies who ran to their cars, Edward quipped: "It's like (they're running) the comrade's marathon, I don't think they'll sleep well, Cramps!???"
Others commented: "How can people walk randomly in the vicinity of elephants? (It was) only the noise that saved them… Thanks to the noise makers." And other said: "I read that you can't outrun an elephant. The 2nd lady didn't look like she can run. That was a little careless."
Hey…hey…hey….It almost ended in tears at Paul Kruger gate today!(video sent by fellow guide)?????? pic.twitter.com/6mTAtyurTO

— EdwardTheGuide (@EdwardthembaSa) September 20, 2021