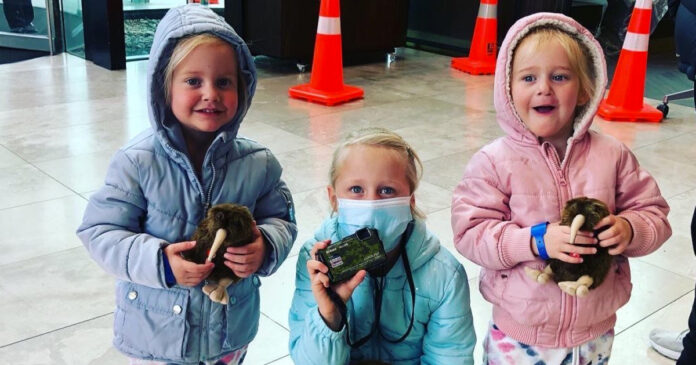 As several hundred New Zealanders held a candlelit vigil on Thursday evening for the three young South African girls who were allegedly murdered by their mother, Lauren Dickason, her husband Graham said forgiving her is the key to healing. In a statement read out to those gathered to mark the one week anniversary since the children's tragic death, the brave and heartbroken father said he has already forgiven his 'lovely Lauren'.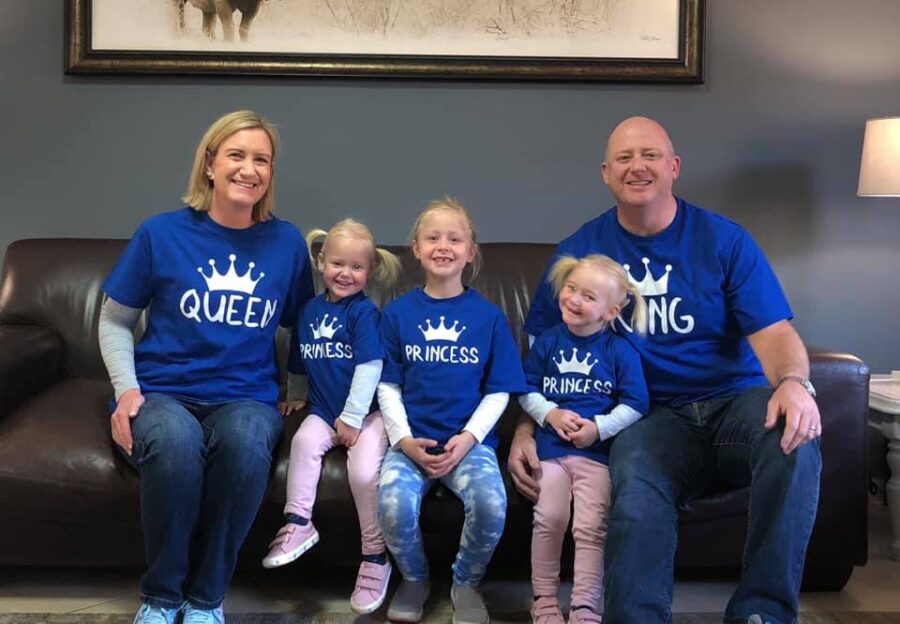 Last Thursday evening at around 22h00, Graham had returned from a work function to the family's new home in the port city of Timaru on South Island where he made the gruesome discovery. Wife Lauren was "unresponsive and in a critical condition", according to NZ Herald. She was rushed to hospital where her condition stabilised.
The family had only recently moved from SA to New Zealand. Graham had a job at the local hospital. A photo of the girls clutching cuddly toy kiwis at  the airport was posted on 30 August. The Dickasons then spent time in quarantine, and had apparently moved into their new home just a week before the tragedy.
Graham's statement on the tragedy read:
"My words are few at the moment. On Thursday the 16th of September 2021 my life and Lauren's were turned upside down when our three precious angels were ripped away from us.

"It is a loss that I will carry with me for the rest of my life. In this time of terrible tragedy and adversity, I can only ask for prayer for myself, my family, and my friends – prayer for strength, and for healing.

"Please also pray for my lovely Lauren, as I honestly believe that she is a victim of this tragedy as well. People that know her well will testify to that – I have no doubt.

"I've already forgiven her, and I urge you, in your own time, to do the same. It is the key to healing from this loss we have all experienced.

"For the people touched and affected by this – look after yourself. Look after your wives, your husbands, your partners. Look after your children.

"For those with faith in Jesus Christ – hold on to that. For the parents with young kids – remember them.

"Remember to let them run free, remember to let them play wild, allow them to laugh as much as they can.

"And they are never too young to be introduced to Jesus. I thank you for your love and support."
Graham also thanked "the people of Timaru, New Zealanders, South Africans and many people from all over the world". 
Speaking about the overwhelming support in their darkest hour, he said: "We have been blessed with love and support. My faith in humanity has been restored, I thank you all."
Forty-year-old Lauren appeared in court last Saturday where she was charged with the murder of her twin daughters May and Karla (2), and their older sister Liane (6); and remanded to a hospital in Christchurch for psychiatric evaluation.
7News in Australia quoted the family's nanny as calling the Dickasons an "awesome family" and said both parents "loved their kids like nobody's business". In one of Lauren's posts on Facebook, a month or two before she left SA, she had posted a photo of the nanny, and highly recommended her, praising her for the significant role she played in helping bring up the children.
The nanny told Associated Press: "I'm torn apart, a part of mine is gone. And it's like those kids, they are my kids too because I raised them. I don't know what to do about this because the only question that I've got now is, what happened? What went wrong? Because Lauren cared for her kids."
Lauren (a medical doctor) and Graham (an orthopaedic surgeon) both worked at Pretoria East Hospital before moving. They celebrated their 15-year wedding anniversary on 1 May this year. At the time Lauren wrote a loving tribute to Graham and the "beautiful family" they had created, but mentioned sleepless nights, saying "may the next years be more blessed, more happy and may the kids let us sleep".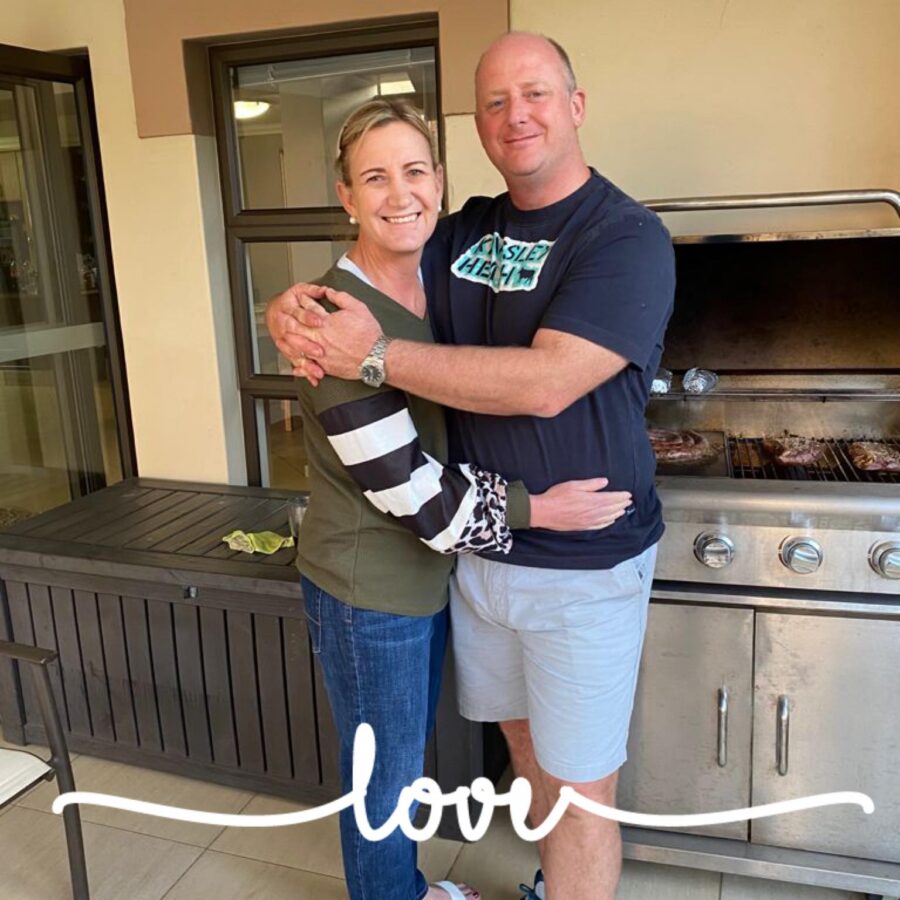 A few years ago, another South African expat family suffered a similar tragedy in London when mom Tania Clarence killed her three children when she was alone and her husband was visiting relatives back in SA. In 2015, she pleaded guilty and said she had become "overwhelmed" after the birth of her 4-year-old, and hadn't had a full night's sleep since her twins' births a year later. Like Graham, her husband was also supportive, pointing out how loving she had been, and how she had always put the children's wellbeing before her own.
About a month before leaving SA, Lauren posted an Afrikaans quote that referred to tough times and alluded to needing to try to be strong despite not feeling it. One relative responded: "Moeilike tyd in julle lewens, Lolly. Sterk wees, jy het hierdie!" (Hard times in your life. Stay strong, you've got this.) Another said: "Absolutely my love you have the strength to do anything you are an amazing beautiful woman and mother we love you endlessly 
".
At last night's vigil a letter was also read from the girls' granny, Graham's mom Betty. She said: "We are all struggling to comprehend how and why this happened … the girls were much loved by us all. Liané was a typical big sister … always holding hands." 
According to NZ Herald, Liane had started at her new school a couple of days beforehand. In a video sent by the family to Betty, Liane's granny said how she "seemed so excited about the new friends she had made". Betty also revealed how Maya always carried dolls around and how "Karla was the brave one born with a cleft lip, she didn't have the best start in life, but she overcame that and became an explorer".
Last week a neighbour said: "We need to come together as a community and support them." And last night the community came out in its hundreds to pay tribute to the girls and show support for the family.
Lauren's parents, Wendy and Malcolm Fawkes, also sent a message to their "angels", wishing they could see them one more time and saying "You were the light of our lives … our hearts are broken, our tears are flowing."
Lauren's next court appearance will be on 5 October.
Read Also: