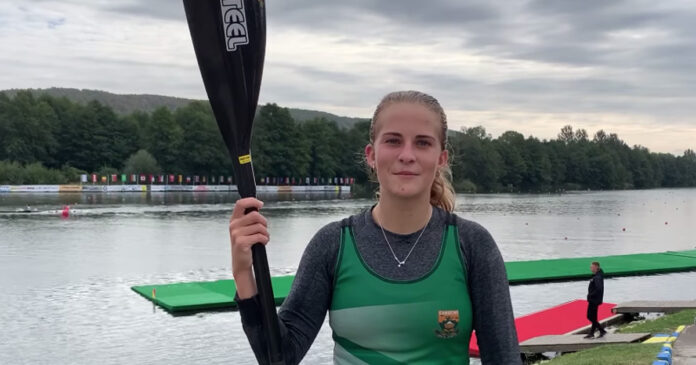 Team South Africa has already bagged its first medal of the ICF World Marathon Championships on the Arges River in Romania. As racing began on Thursday morning with the Junior Girls K1, SA teenager Saskia Hockly finished third in the opening event, earning a bronze medal for her country.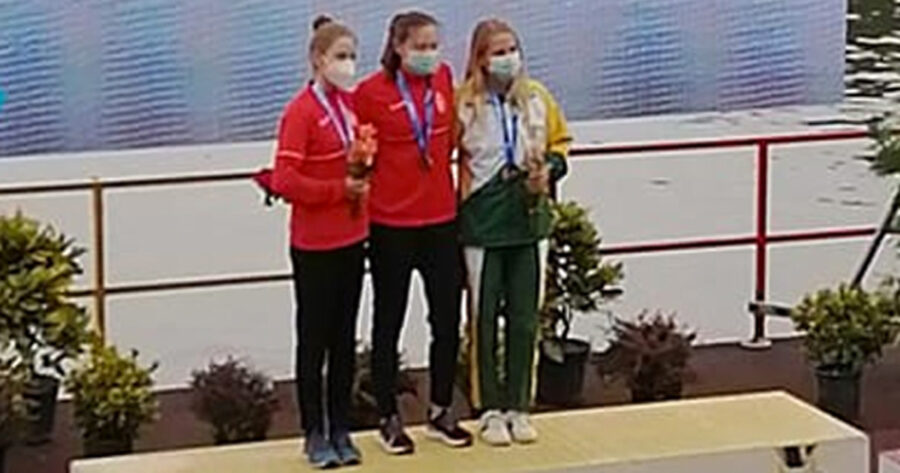 The 17-year-old Durban schoolgirl is a rising star to watch – she won the junior girls surfski world title in Lanzarote earlier this year. She's joined on the paddling team by her younger sister Valma Jean. Both attend Danville Park Girls' High School and are members of Umhlanga Rocks Surf Lifesaving Club.
But for now, they're far away from KZN, settled in with the rest of the SA marathon paddling team in the central romanian city of Pitesti… which serves as the team's base as South Africa competes for titles on the global stage, after a two year Covid-19 induced absence.
After a disappointing showing at the last World Marathon Champs in China, the South African team is keen to make inroads across the senior, Under 23 and junior traditional and short course marathon events.
Eleven times world title holder Hank McGregor spearheads the challenge in Pitești, keen to prove that he can challenge for another title at 43 and show that his partnership with Hamish Lovemore can pose a threat in the K2 races as well.
McGregor was forced to watch from the sidelines in China in 2019 as a bout of shingles prevented him from racing any of the events.
McGregor and Lovemore will take on the 2019 world champion Mads Pedersen of Denmark and a stacked field of K1 marathon stars on Saturday afternoon, while the women's title will be contested by South African's Jenna Ward and Melanie van Niekerk.
The unique course in the Argeș River is shorter than many marathon course laps and is devoid of any current, and includes a portage of 210 metres in length, making it one of the longest used for a World Marathon Championships.
The South African contingent is excited that the longer-than-usual portage will play into their hands as the domestic season includes many Dusi-style races where boats are carried on the shoulder for long distances. Saskia says:
"The people who do the Dusi (are) at an advantage because they are used to running with the boat on their shoulder rather than carrying it in your hand for so long."
The event finishes on Sunday.
SOUTH AFRICAN MARATHON TEAM
Junior Girls K1: Saskia Hockly, Tannah Smith
Junior Girls K2: Georgina Howard/Melonie Croeser, Valmajean Hockly/Tannah Smith
Junior Boys K1: Matthew Millward, Josh Smith
Junior Boys K2: Matthew Millward/Jack Edmonds, Joshua Simpkins/Matthew Coetzer
U23 Ladies K1: Christie Mackenzie, Kira Bester
U23 Men K1: Uli Hart, Alex Masina
Senior Ladies K1 – Short Course : Bridgitte Hartley, Kira Bester
Senior Ladies K1: Jenna Nisbet, Melanie Van Niekerk
Senior Ladies K2: Saskia Hockly/Jenna Nisbet, Christie Mackenzie/Bridgitte Hartley
Senior Mens K1 – Short Course: Nick Notten, Clinton Cook
Senior Mens K1: Hamish Lovemore, Hank McGregor
Senior Mens K2: Hamish Lovemore/Hank McGregor, Uli Hart/Kenny Rice
Programme of events:
Race. DATE | SA TIME CATEGORY
1 Thurs 30/09/2021 7:45:00 K1 Women Juniors
3 Thurs 30/09/2021 9:45:00 K1 Women – Short Race Heat 1
4 Thurs 30/09/2021 10:15:00 K1 Women – Short Race Heat 2
5 Thurs 30/09/2021 10:45:00 K1 Men – Short Race Heat 1
6 Thurs 30/09/2021 11:15:00 K1 Men – Short Race Heat 2
10 Thurs 30/09/2021 16:00:00 K1 Women – Short Race Final
11 Thurs 30/09/2021 16:30:00 K1 Men – Short Race Final
12 Fri 01/10/2021 7:45:00 K2 Women Juniors
14 Fri 01/10/2021 13:00:00 K1 Women Under 23
16 Fri 01/10/2021 15:00:00 K1 Men Under 23
17 Sat 02/10/2021 7:15:00 K1 Men Juniors
20 Sat 02/10/2021 12:15:00 K1 Women
21 Sat 02/10/2021 14:45:00 K1 Men
22 Sun 03/10/2021 7:45:00 K2 Men Juniors
24 Sun 03/10/2021 11:00:00 K2 Women
25 Sun 03/10/2021 13:00:00 K2 Men
More details can be found at www.canoesa.org.za
WATCH Live Streaming: 2021 ICF Canoe-Kayak Marathon World Championships Bascov Romania
Written by Jenni Baxter and Dave Macleod