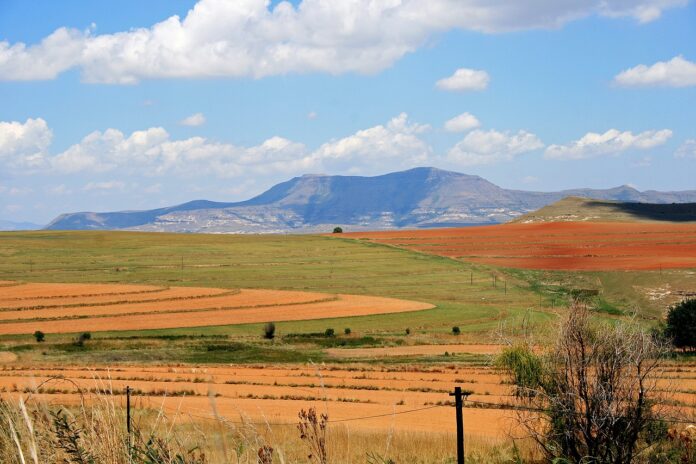 A 51-year-old farmer in the Free State, South Africa, was murdered on Wednesday night, 29 September, on a farm he and his family had long dreamed of living on and were reportedly due to move to in October.
The murdered man – Petrus Steyn – farmed near Heidelberg according to Pretoria FM, but was planning to finally settle with his family at Holfontein farm, between Heilbron and Frankfort in the northern part of the province.
It was on Holfontein where the father of three was allegedly attacked by three men as he walked from the farm house to the store room.
Local police spokesperson Brigadier Motantsi Makhele reported that a farm worker found Steyn's body, after his wife Annette had called the worker to look for her husband after she couldn't get hold of him.
Proudly Heidelberg said Petrus, who would have celebrated his 52nd birthday on 31 October, was well known and loved in the Heidelberg community. He had been a great stalwart for over a decade, serving on Laer Volkskool (primary school) in Heidelberg until recently. On behalf of the school, Dr Schalk Potgieter paid tribute yesterday, saying: "Today is a difficult day for us here at Laer Volkskool. We say goodbye with great sadness to one of our pillars. Peter, your untimely death is too much for us to process. We have lost a Volkie parent, leader, friend, father and community man. Rest softly on your heavenly farm."
Leona Kleynhans, DA Member of the Free State Provincial Legislature, said the DA is "extremely shocked" by the farm murder, and revealed Steyn had been "brutally attacked".
She said the motive appeared to be robbery – a safe had been broken open and an unknown quantity of weapons stolen. According to some reports, at least two firearms – Steyn's revolver and pistol – are missing. Vehicles were not stolen.
The horrific trauma has left the community heartbroken. Local farmers, as well as the South African Police Service (SAPS), investigated the scene and followed tracks left by the attackers, but no arrests have yet been made.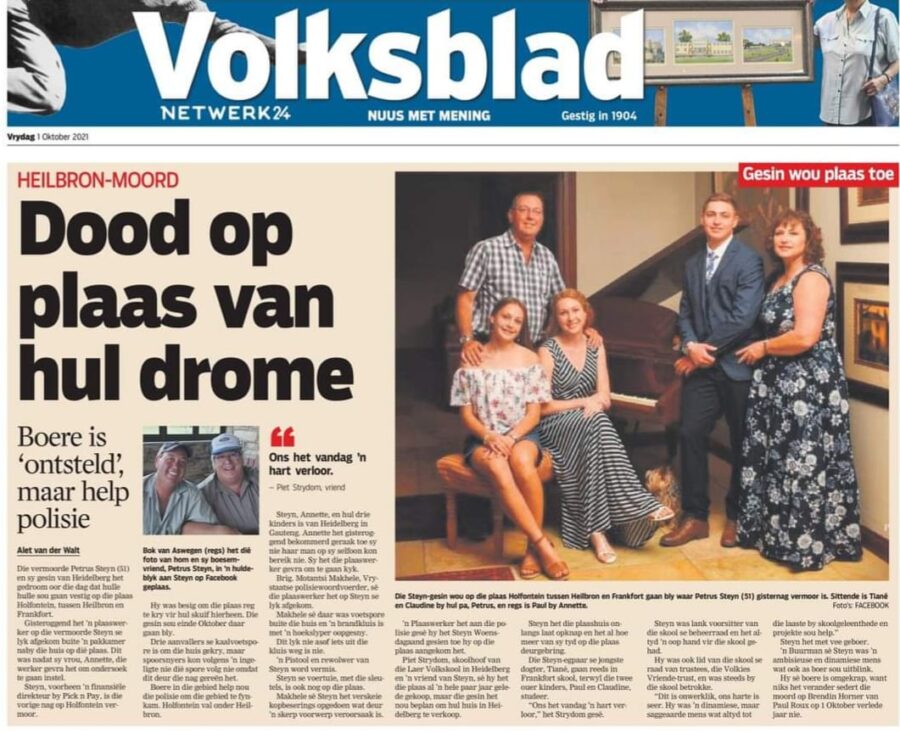 In a statement on Thursday, Kleynhans said politicians in the area incite racial violence with "radical statements" that target minority groups. She alleges that farmers and rural communities have been "handed over to criminals and murderers who will not hesitate in their cruelty to achieve their goal".
The DA has long called for the SAPS' rural security plan to be fully implemented, but manpower and funding have left many police stations "barely" able to function. Local security groups are sometimes all that's around to provide a barrier to criminal elements, she said.
Kleynhans said the DA has submitted a Bill to the Free State Legislature to empower community security groups and formalise ties with the SAPS. All political parties have supported the initiative but there are delays in implementing it.
Kleynhans stressed that "the current situation should not be tolerated under any circumstances".