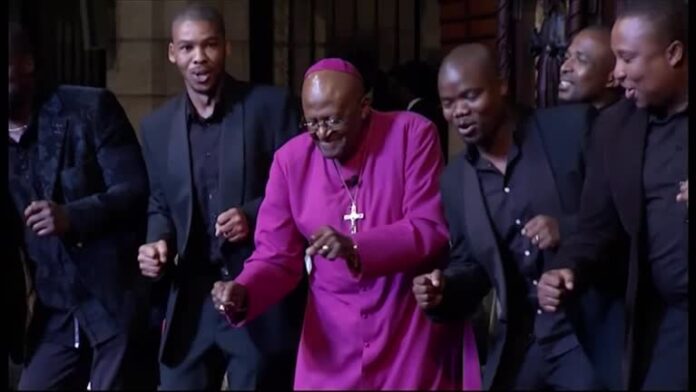 Archbishop Desmond Mpilo Tutu will turn 90 on Thursday (October 7). To celebrate this momentous occasion and honour the life of South Africa's beloved African Anglican cleric and human rights acvitist, Reuters has compiled an 18-minute video (watch below) which includes his meetings with politicians, royalty and special humans like Mother Teresa.
Desmond Mpilo Tutu was born in October 1931 and ordained an Anglican priest in 1961. He was thrust into the limelight in 1978, when he was appointed secretary-general of the South African Council of Churches.
A small figure with a puckish sense of humour and an infectious giggle who radiated genuine warmth, Tutu often used his sharp wit to make serious points.
Talking and travelling tirelessly throughout the 1980s, Tutu forced the West to focus on the suffering of South Africa's black majority under white rule, urging sanctions against a government clinging to power in the face of rising international opposition.
He was awarded the Nobel Peace Prize in 1984 for his non-violent campaign to win racial equality for his people, and used it as a shield to work beyond the grasp of the white-minority government.
Tutu continued to preach negotiation and peaceful protest and as a result made enemies in both camps. Black radicals accused him of compromising with apartheid while supporters of apartheid saw him as a dangerous revolutionary.
In 1986 he became the first black head of the Anglican church in South Africa when he was enthroned as the Archbishop of Cape Town, a position he retained for ten years.
When black nationalist leader Nelson Mandela was released from his 27-year imprisonment in 1990, he stayed with his long-time friend Tutu on his first night of freedom and gave his first news conference in the grounds of Tutu's official residence.
Four years later, an ecstatic Tutu was able to vote for the first time in South Africa's historic all-race elections.
What hopes he may have had of a gentle retirement faded when President Mandela asked Tutu to head the Truth and Reconciliation Commission, charged with the delicate task of probing political crimes committed during the apartheid era. On the eve of stepping down as Archbishop, Tutu took up the task of chairing the TRC and was visibly affected by the harrowing testimonies of inhumanity, torture and murder.
In spite of failing health and undergoing treatment for potentially terminal cancer, Tutu continued in his role as the nation's moral guardian. He regularly criticised the ruling African National Congress (ANC) for abusing privilege, and was not averse to attacking Mandela's successors Thabo Mbeki and Jacob Zuma.
When the Tibetan spiritual leader, the Dalai Lama, cancelled plans to attend Tutu's 80th birthday celebrations in October 2011 because he was not issued with a visa in time for the visit, a furious Tutu warned President Zuma that one day people would pray for the demise of the ANC.
Tutu, who retired from most public duties in October 2010, is still seen as a voice of integrity. "The Arch", as he is affectionately known, will be remembered as one of the leading lights of the struggle against apartheid who has not been afraid to condemn injustice wherever he sees it.
WATCH Archbishop Desmond Tutu turns 90! Happy Birthday to the Arch!
The video was produced by Paul Warren and Vanessa Romeo. It includes footage from: SOWETO, JOHANNESBURG, DUDUZA, PRETORIA, CAPE TOWN, GUGULETU, EAST LONDON, MILNERTON, STELLENBOSCH, BLOEMFONTEIN, MARCONI BEAM AND UNIDENTIFIED LOCATIONS, SOUTH AFRICA / WASHINGTON, D.C., UNITED STATES / PORT-AU-PRINCE, HAITI / LONDON, UNITED KINGDOM / MABAN, SOUTH SUDAN