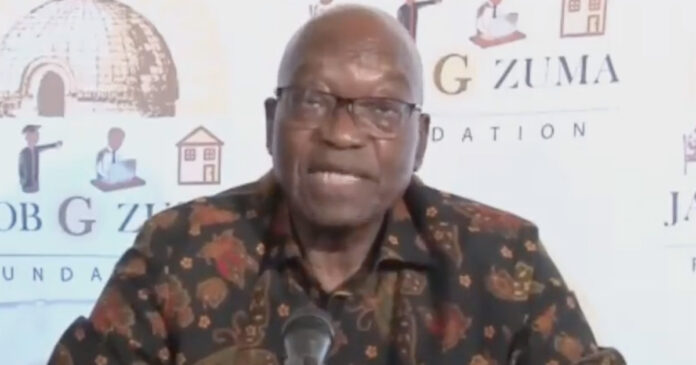 Former South African President Jacob Zuma today reiterated that there had been attempts to remove him from power within the ANC party since the mid-1990s. He claims that his imprisonment was the final move by those who fear him.
Zuma was speaking remotely to supporters gathered at the 'National Welcome Prayer' event at Moses Mabhida People's Park in Durban, in Zuma's home province of KwaZulu-Natal (KZN). The prayer meeting was organised by the Jacob Zuma Foundation to celebrate Zuma's release from prison (on medical parole) and welcome him back into society.
Zuma was sentenced to a 15-month sentence, which began in July this year, for contempt of court after he failed to appear before the Zondo Commission of Enquiry. The former leader was later hospitalised and allegedly underwent surgery in August. He was then granted medical parole, although the nature of his ailment has not been disclosed.
Supporters arrived on Thursday with banners declaring their undying support for Zuma, some wearing ANC regalia, some in traditional outfits.
Reading from a statement, Zuma said:
"Today I wish to address my gratitude for the support and prayers as a prisoner of the democratic state in which the black majority controls, delivers of state power. The fact that you have come to support me with prayers means a lot to me. Today we have state governed by those what it is like to be oppressed and denied fundamental human rights. It is this state that has imprisoned me for contempt of court, without trial. Something has gone terribly wrong in our country. The main aspects of the unconstitutional debacle that ended with my current imprisonment bears repeating…"
This morning, Zuma's foundation declared "God has created the most beautiful day today.
The sky is blue and the sun is shining bright on the People's Park near Moses Mabhida Stadium eThekwini. God is providing his own vitamin D." It turned out however that along with the blue sky came a howling south westerly wind in the afternoon, which dismantled the stage, and led to several supporters having to head home as the sound quality (of Zuma's broadcast) was poor and hampered by the wind.
While addressing supporters, former president #JacobZuma said there have been attempts to remove him from power within the ANC since the mid-1990s. Zuma says his imprisonment was the final move by those who fear him. #TheLead #DStv403 pic.twitter.com/9PBYPZ6W64

— eNCA (@eNCA) October 14, 2021
[WATCH] "The rule of law is becoming a source of conflict rather than a mechanism to resolve civil and political conflict," says former President #JacobZuma.

Tune into #Newzroom405 for the live proceedings. pic.twitter.com/306arz929D

— Newzroom Afrika (@Newzroom405) October 14, 2021
[ON AIR] Former president #JacobZuma addresses his supporters following a prayer meeting in his honour. Watch it live on #eNCA #DStv403 pic.twitter.com/NJjSTGJCti

— eNCA (@eNCA) October 14, 2021
Maskandi artist, Sgwebo Sentambo serenading the supporters.#JacobZuma#Durban#Nxamalala pic.twitter.com/JKzLeat894

— IzikoDUT (@izikodut) October 14, 2021
People making a clarion call. pic.twitter.com/mjbdiSb26L

— JGZuma Foundation (Official) (@JGZ_Foundation) October 10, 2021
Academics who were beneficiaries of the Jacob Zuma Foundation have arrived at the prayer day. @WitnessKZN #jacobzuma pic.twitter.com/ALHLYRDox8

— Thabiso Goba (@ThabisoGoba2) October 14, 2021
WATCH Prayer service for former President Jacob Zuma