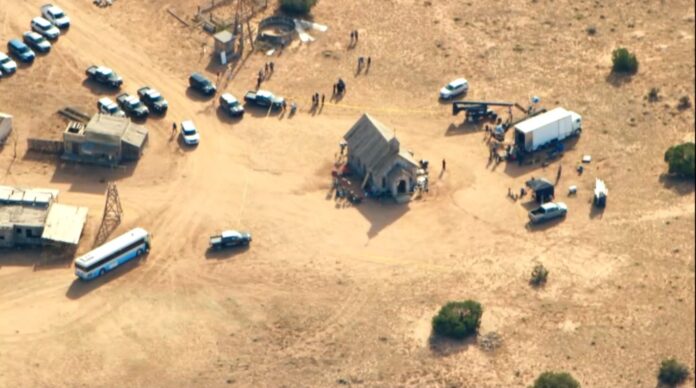 American actor Alec Baldwin has accidentally killed a cinematographer and wounded a film director with a prop gun on the set of indie film, Rust, which is currently being filmed in New Mexico, USA. Please see Update at bottom of article with Alec Baldwin's tweets on Friday evening (SA time).
The local Sheriff's department said in a statement that the tragedy took place on Thursday (21 Oct) on the popular movie set at Bonanza Creek Ranch, south of New Mexico capital, Santa Fe. Police confirmed that "two individuals were shot on the set of Rust. Halyna Hutchins, 42, director of photography, and Joel Souza, 48, director were shot when a prop firearm was discharged by Alec Baldwin, 68…"
Baldwin is not only acting in the western, but is a producer of the film too. Police were dispatched after a 911 caller reported the shooting.
Hutchins was flown by helicopter to the University of New Mexico Hospital, where she was sadly pronounced dead. Souza was taken by ambulance to a separate medical facility for treatment to his injuries which have not been disclosed. He has since been discharged.
Helicopter footage showed the film set is now on lockdown. No charges have been filed. Police are investigating, and detectives are interviewing witnesses. According to most reports, it is not Baldwin who would have been responsible for the prop, but the film's "armorer" or weapons master.
In 1993, Brandon Lee (28) – son of martial arts legend Bruce Lee – was shot dead during the filming of The Crow. A police investigation found the shooting was due to negligence on the part of the film's crew.
A haunting tweet by Baldwin about killing someone, posted in 2017, has gone viral. In it, Baldwin was criticising a policeman who fatally shot someone in California, saying: "I wonder how it must feel to wrongfully kill someone."
A spokesperson for Alec Baldwin said in a statement to People magazine on Thursday: "There was an accident today on the New Mexico set of Rust involving the misfire of a prop gun with blanks."
LATEST UPDATE FRIDAY EVENING: Alec Baldwin has tweeted the following message (Friday day time in the US):
"There are no words to convey my shock and sadness regarding the tragic accident that took the life of Halyna Hutchins, a wife, mother and deeply admired colleague of ours. I'm fully cooperating with the police investigation to address how this tragedy occurred and I am in touch with her husband, offering my support to him and his family. My heart is broken for her husband, their son, and all who knew and loved Halyna."
PREVIOUS UPDATE: A Rust Pictures spokesperson said: "The entire cast and crew has been absolutely devastated by today's tragedy, and we send our deepest condolences to Halyna's family and loved ones. We have halted production on the film for an undetermined period of time and are fully cooperating with the Santa Fe Police Department's investigation. We will be providing counseling services to everyone connected to the film as we work to process this awful event."
Baldwin was reportedly seen sobbing after the accidental killing, and his first words after the shooting were: "Why was I handed a hot gun?"
BREAKING: A distraught Alec Baldwin, after he accidentally shot & killed the cinematographer on the set of his new movie, & wounded the writer-director. How on earth could this have happened?
Pics: Jim Weber ⁦@thenewmexican⁩ pic.twitter.com/xrvcheLaCK

— Piers Morgan (@piersmorgan) October 22, 2021
Actor Alec Baldwin fired a prop gun on a movie set in New Mexico, killing cinematographer Halyna Hutchins and wounding director Joel Souza, authorities said https://t.co/oqAGhnR2ot pic.twitter.com/OG8q09OLz6

— Reuters (@Reuters) October 22, 2021
Alec Baldwin now knows the answer to his question. pic.twitter.com/HIt4RYX3yo

— Undoomed (@Undoomed) October 22, 2021
I see more than enough pictures of Alec Baldwin, while y'all should honor and post more pictures of the cinematographic Halyna Hutchins who lost her life today in such a tragic accident.

Rest in peace, Halyna! My deepest condolences to her family and loved ones. pic.twitter.com/obNvFWrxfF

— Wirjil (@Wirjil) October 22, 2021
Alec Baldwin has done a lot of good for years. My deepest condolences to everyone affected by this tragedy. I know Twitter can be cruel but this was a freak accident and he deserves his privacy while he grieves. Anyone who harasses him during this tragedy is getting blocked.

— Fifty Shades of Whey (@davenewworld_2) October 22, 2021
Halyna Hutchins last couple of posts showed how excited she was to be working on this Alec Baldwin western, and then it ends in tragedy. So sad ?? #RIP pic.twitter.com/1ctrVQHUF5

— Joshua Chenault (@joshuachenault1) October 22, 2021
For anyone interested in the legal ramifications for Alec Baldwin pic.twitter.com/61WheN9QDL

— Alex (@alexfate98) October 22, 2021
There was an incident on the set of 'Rust' starring Alec Baldwin & Jensen Ackles while filming.

Alec Baldwin fired with a prop gun which caused the death of cinematographer Halyna Hutchins and wounded director Joel Souza.

Our thoughts go to families and everyone involved. pic.twitter.com/EU7CYTwazP

— SoundsOfSeries (@SoundsOfSeries) October 22, 2021