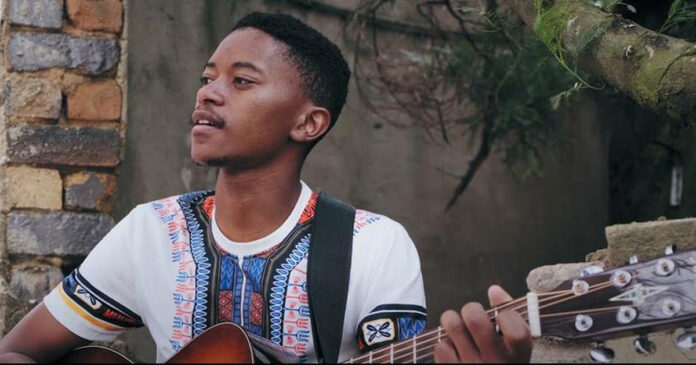 Gift Matjila admits that with tears in his eyes, releasing his very first single is a dream come true. For South Africans hearing the new track – 'Ek Staan By Jou' (I Stand By You) – it's bringing tears to their eyes too, and giving them goosebumps.
With lyrics like "Ek staan by jou soos ń seun by sy PA, Mag die Here jou in sy hande dra / Jy vir ons / En ons vir jou / En ons vir jou Suid Afrika ???" it's the perfect anthem for these times. (I stand by you like a son by his dad, May God hold you in His hands, you for us, us for you, and us for you South Africa.)
The gifted student from Varsity College in the Midrand appeared on Jacaranda FM last year to share his love for music. Since a young age Gift had a natural talent (a gift of course!) for music.
Jacaranda FM revealed in February 2020: "When Gift Matjila was nine-years-old he tried to play the guitar – but he failed to master it – and decided to leave it until when he was in matric. In 2016, he finally decided to teach himself to play the guitar." He had recently joined Studio Cha for singing and writing lessons.
Gift told the radio station: "If I finish my degree, I will be the first one in my family with a degree. After my studies I want to take my music further."
And here we are, 20 months later, and Gift – who describes himself on Instagram as a teacher and singer songwriter – has made his dream come true with his very first single. Thanking all those who helped him produce 'Ek Staan By Jou', Gift said (in Afrikaans): "It's an honour to work with you, and with tears in my eyes I can say that a dream came true."
Friends have been blown away. Rudi B said on Friday, when the song was launched: "As we were blessed with the rain on the beautiful Friday morning, as the goosebumps filled my whole body and the tears strayed to roll I was filled with joy, Gift Matjila well done brother keep it up. ??PLEASE SHARE AND GO LISTEN ITS WORTH IT!!??"
Dit is flpn hoendervleis moooi
Belinda V was one of many who added: "Wow, wow ?? Dit is flpn hoendervleis moooi!!! Sooooo trots op jou!!!" (It's flipping goosebump beautiful. So proud of you!)
Take a listen below. The song is available on @spotifysa @applemusic @youtubemusic, @youtube and @deezerza
WATCH Gift Matjila – 'Ek Staan By Jou'
Follow Gift on Instagram here.