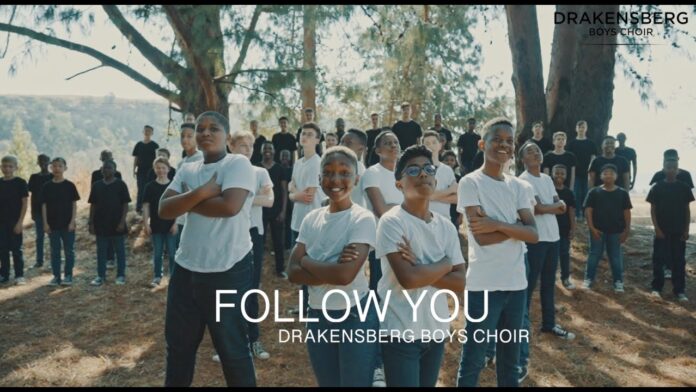 The Drakensberg Boys Choir in South Africa has dropped its latest single – their version of Imagine Dragon's 'Follow You' – and the joy is contagious!
As the school's English teacher Pamela Couzyn told SAPeople: "So much energy and happiness from our boys now that we are performing to larger audiences again."
The enthusiasm and joy is palpable, as the choir emerges from the long lockdown, celebrating life again with their voices raised to the skies in the beautiful Drakensberg, KwaZulu-Natal (KZN). The video – produced by Tristan Trent – has been shot at the Drakensberg Boys Choir School in Cathkin Park, Champagne Valley.
The Drakensberg Boys Choir School, one of the few South African schools which is famous around the world, offers a unique opportunity to children, stimulating their spirit of adventure in the physical surroundings while "nurturing the development of the mind and expression in innate musical talent".
Follow You's musical director is Vaughan van Zyl, and the joyous choreography is by Zakes Nkosi. The talented lead soloists are Karabo Machepa, Kwezi Msimang and Caleb Coffee.
WATCH Drakensberg Boys Choir – Follow You (by Imagine Dragons)
The Drakensberg Boys Choir's vibrant version of Imagine Dragon's Follow you, is NOW available for digital download on every platform music is streamed.
Follow the DBC:
Facebook: https://web.facebook.com/dbchoir
Instagram: https://www.instagram.com/dbchoir
Website: https://dbchoir.com