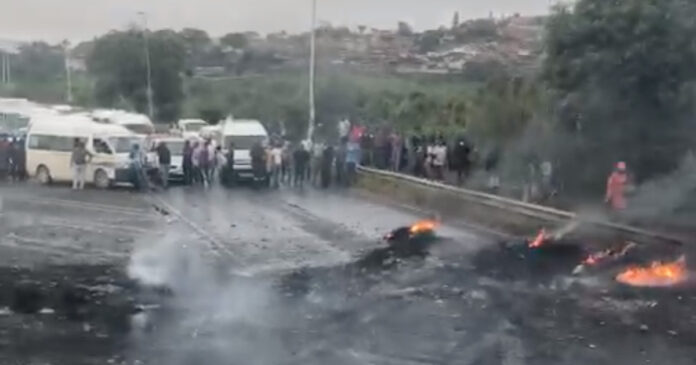 The DA is "deeply concerned about the anti-democracy protests" in Isipingo today, says DA Durban South Constituency head, Tim Bruteseth.
In a statement on Monday afternoon, Bruteseth says that it was "ANC sponsored protestors" who blocked the northern and southern end of the main arterial road running through the Isipingo CBD, about 19 km south of Durban, with burning tyres and debris.
WATCH Protesting Isipingo residents
Isipingo earlier today. MORE: https://t.co/L5TUY3RPuB pic.twitter.com/mgcZQG4rIC

— South Africa People – SAPeople.com (@sapeople) November 8, 2021
"Initial reports indicate that the protests are designed to make Ward 90 ungovernable after the ANC lost the ward to newly elected DA ward councillor, Shad Nowbuth," says Bruteseth. This is the first time the ward has been won by the DA.
"Not only does this criminal action disrespect democracy and the rule of law, but also gravely affects scholars, workers, consumers and business owners alike." Police have since cleared the debris, although the protests continued on the side of the road.
Bruteseth alleges that "like the violence of July 2021, the ANC is destabilizing communities across Durban simply because they cannot accept the will of the electorate."
According to The Witness newspaper, some residents want a vote recount because of alleged "irregularities" where some voting stations had two ballot boxes and others only had one.
A community member told The Witness: "We are asking for a recount. Our issue is not with the DA. If the DA is supposed to lead this ward, that's fine, we will accept it as long as it is done properly."
The Sowetan reports that the protests were triggered by about 300 disgruntled Isipingo residents, who were allegedly told they couldn't vote last Monday because their details weren't on the system. The Sowetan reports: "It is understood most are ANC supporters and they accused the Electoral Commission (IEC) of ignoring their complaints, which allowed the DA to snatch the ward from the ruling party." Ironically, similar complaints about being told they were not on the system were made by DA supporters in various municipalities across the country.
The DA says it is standing by Cllr Nowbuth as the democratically elected ward councillor and will resist all efforts, criminal or otherwise, to remove him.
"The DA strongly condemns any action that seeks to undermine democratic processes and calls on the SAPS to urgently intervene, stop the protests and pursue those involved," said the DA's statement.