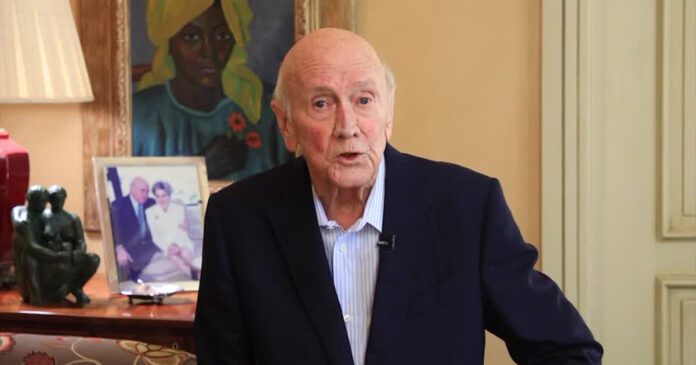 Before passing away today, former SA President FW de Klerk filmed a message for all South Africans in which he unequivocally apologised for the pain and suffering caused by apartheid.
He said despite apologising on several occasions, that while some believed him, others didn't. He admitted that in his younger years he defended "separate development" (as he preferred to call apartheid), but said in the '80s he underwent a "conversion" which ultimately led to the National Party, under his leadership, negotiating for a political transition to "bring justice to all". To his critics he said:
"Therefore let me today, in this last message, repeat: I without qualification apologise for the pain and the hurt and indignity and the damage that apartheid has done to black, brown and Indians in South Africa. I do so not only in my capacity as the former leader of the National Party, but also as an individual."
With his voice hoarse, and his face frail, De Klerk – who was suffering from mesothelioma cancer, since his diagnosis in March – continued: "Allow me in this last message to share with you the fact that since the early '80s, my views changed completely. It was as if I had a conversion and in my heart of hearts realised that apartheid was wrong. I realised that we had arrived at a place which was morally unjustifiable."
The former President did not mention any of the deaths of anti-apartheid activists during his Presidency. News24 journalist, Karyn Maughan, tweeted: "The family of the murdered Cradock 4 activists fought for years to get answers – under oath – from FW de Klerk about the apartheid State Security Council's instruction that the men be 'permanently removed from society'. De Klerk sat on the Council. They never got their answers."
The reaction of South Africans to the former leader's death has been split – some accusing him of showing little remorse for crimes committed during the apartheid regime, while others saying he was a sell-out.
SA's President Cyril Ramaphosa paid tribute to De Klerk, saying he "played a vital role in our transition to democracy in the 1990s, which originated from his first meeting in 1989 with President Nelson Mandela who was a political prisoner at that stage".
Mandela and De Klerk shared the Nobel Peace Price in 1993.
DA Leader John Steenhuisen said: "The DA notes with sadness the passing of former State President and Nobel laureate, FW de Klerk, at the age of 85 in his home in Cape Town after a battle with cancer. Mr de Klerk's contribution to South Africa's transition to democracy cannot be overstated."
WATCH An excerpt from FW de Klerk's final words to South Africa
The FW de Klerk Foundation has released a series of videos of his final words.
Watch pic.twitter.com/FcEvswUJsX

— Ndaedzo Nethonzhe (@NdaedzoNN) November 11, 2021
WATCH FW de Klerk's last message to South Africans – the full speech
Don't miss Carte Blanche this Sunday (or Tuesday if you live abroad in most countries) as the current affairs programme reflects on FW de Klerk's place in history – "a political figure feted by some, reviled by many". Watch on Sunday 14 November in South Africa on DStv Now or stream it overseas in most countries from 16 November, on Showmax International, if you're abroad. 
WATCH Nelson Mandela's speech at FW de Klerk's 70th Birthday