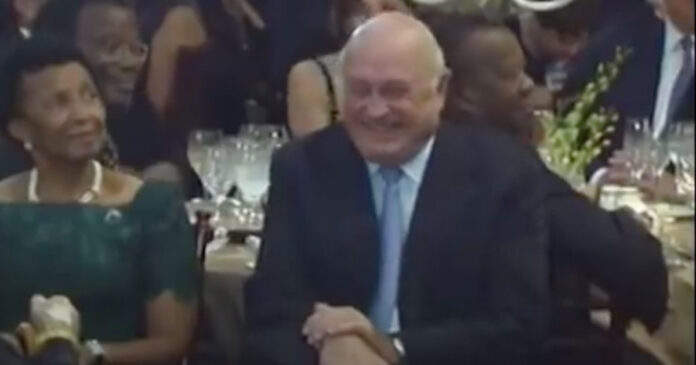 On 18 March 2006, former President Nelson Mandela delivered this powerful speech on the occasion of the 70th birthday of former President FW de Klerk, who died today. Watch below.
In the speech, Mandela said: "FW you and I have shared in some not too unimportant events over the last decade and a half. I am very happy that we as two retired and almost forgotten men also shared the gentle quietness of ageing. You may gloat that you are about twenty years behind me in this process, but remember that I spent almost 30 years idly relaxing on Islands and in other resorts while you were battling it out in the maddening crowd. So in reality we are almost equal in age and therefore welcome to this club.
"Seriously we did share and participate in moments that in all humility on our parts might have helped to shape our country, our continent and in modest ways the world. I have had on occasion in the past (had) to say that our country does not sufficiently acknowledge the crucial role that FW de Klerk played in bringing us to where we are today.
"I am happy to observe that that has changed. There is almost unchallenged recognition and appreciation that without the courageous foresight of FW de Klerk we might well have descended into the destructive racial conflagration that all were predicting. Last year's invitation to you to address Parliament and share as a major participant in the celebration was such a great demonstration of a once divided country making peace with itself. President Mbeki has acknowledged you in many ways as one of the great contributors to our peaceful transition and to the building of a new nation.
"Around the world people recognize you as a historic peacemaker and nation builder. What more can I add but to repeat what I have said so often over the last 16 years.
"You have shown courage as few have done in similar circumstances. It is not to reflect upon your forebears when I comment upon how remarkable it is that a direct descendent of Prime Minister Hans (JG) Strijdom (De Klerk's aunt's husband) and Senator Jan de Klerk (his father), both stalwarts of the National Party and therefore of apartheid, could stand up when the moment came to decisively start the total dismantling of apartheid and minority rule.
"You and I have had our differences, some of them very public. Our basic respect for one another has however never diminished, and it was that respect for the other – irrespective of all differences – that made it possible for us and our organizations to work together and to negotiate that historic compromise that the world marveled at.
"If we two old or ageing men have any lesson for our country and for the world, it is that solutions to conflict can only be found if adversaries are fundamentally prepared to accept the integrity of each other. I am certain that you woke up this morning with a sense of fulfilment, of knowing how your country has progressed and developed during these twelve years of democracy, a dispensation which courageous actions helped bring about.
"And I respect you enormously for the manner in which you have gone around the world promoting our country and commending its achievements. At home you have worked tirelessly in the cause of national reconciliation and nation-building. My wife Graca joins me in wishing you a very happy birthday. May you and Elita (FW de Klerk's wife) enjoy the happiness of togetherness for many years still, and may you continue to build on the foundations of our new nation which you helped to lay. I am proud to have been able to share with you, to share with you in so many historic moments in our country's development."
WATCH Speech by Nelson Mandela at FW de Klerk's 70th Birthday
Don't miss Carte Blanche this Sunday (or Tuesday if you live abroad in most countries) as the current affairs programme reflects on FW de Klerk's place in history – "a political figure feted by some, reviled by many". Watch on Sunday 14 November in South Africa on DStv Now or stream it overseas in most countries from 16 November, on Showmax International, if you're abroad.